Aquapedia background
Dams
Hoover Dam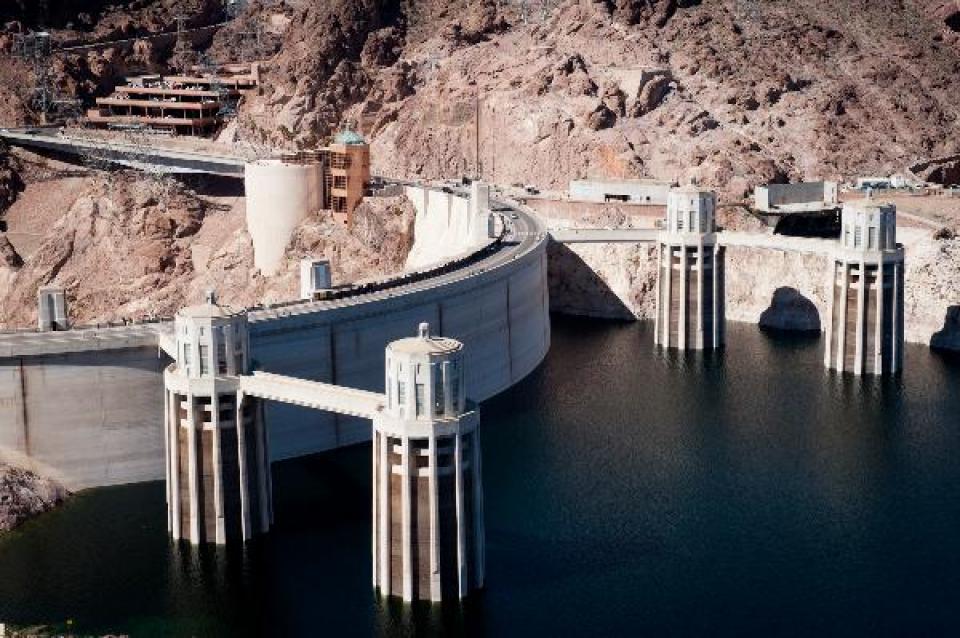 One of the largest hydroelectric facilities in the United States and a National Historic Landmark, Hoover Dam produces enough power to serve more than 1.3 million people. The dam also helps with flood control, irrigation and water storage along the Colorado River.
Early efforts by pioneer farmers to harness the Colorado had been problematic, most notably when a collapsed canal created the Salton Sea in the early 1900s. The collapsed canal caused flood water to fill an ancient lake and then form the Salton Sea.
Given these haphazard and problematic efforts, the federal government authorized the construction of the federal Hoover Dam to control the flow of the Colorado River.
Watch a video on the history of Hoover Dam.
Completed in 1936, the Hoover Dam, located 30 mile southeast of Las Vegas, captures water from the Colorado River and fills Lake Mead. At elevation, the dam's reservoir covers about 158,500 acres or 248 square miles. With the Colorado River water heavily sought after, there are legal limits as to how much water each party can take from the Colorado River.
In California—as a condition of the Hoover Dam's construction—the state has a limitation of 4.4 million-acre-feet of annual use of the Colorado River in "normal" years plus one-half of all surplus water when it is available. [See also Colorado River 4.4 Agreement centering on California living within its means of Colorado water.]
Water diversions from the Colorado continue to be source of legal battles, particularly during times of drought. The Hoover Dam has also altered the ecosystem of the Colorado River Delta, particularly causing a decline in fish populations downstream. Meanwhile, in 2013, the advocacy group American Rivers listed the Colorado River as America's most endangered river.