Lake Powell and Glen Canyon Dam
The construction of Glen Canyon Dam in 1964 created Lake Powell. Both are located in north-central Arizona near the Utah border. Lake Powell acts as a holding tank for outflow from the Colorado River Upper Basin States: Colorado, New Mexico, Utah and Wyoming.
The water stored in Lake Powell is used for recreation, power generation and delivering water to the Lower Basin states of California, Arizona, and Nevada.
The lake, the nation's second largest human-made lake, can hold up to 26 million acre-feet of water, or about two years of total average flows for the Colorado River. The reservoir assists the Upper Basin of the Colorado River with its delivery obligations to the Lower Basin [see also Colorado River Water Use 4.4 Plan].
Lake Powell and Glen Canyon Dam Overview
The dam's construction was controversial and Lake Powell flooded a natural canyon some deemed worthy of national park status.
Since then, some have proposed draining Lake Powell. Proponents list restoration of prehistoric American Indian archeological sites, riparian ecosystems and endangered fish species as key reasons to empty the lake. They also site evaporation and sediment build-up as detrimental to the success of Lake Powell and its ecosystem. The Glen Canyon Institute advocates an approach that consolidates most of the water from Lake Powell and Lake Mead in Lake Mead, with Lake Powell used as a backup in flood years.
Supporters of the reservoir say Lake Powell is needed because it supports the local economy through tourism and recreation, is a major source of hydroelectric power (80% of the Colorado River Storage Project's electrical generation occurs at Glen Canyon Dam) and ensures steady water supplies to the Lower Basin.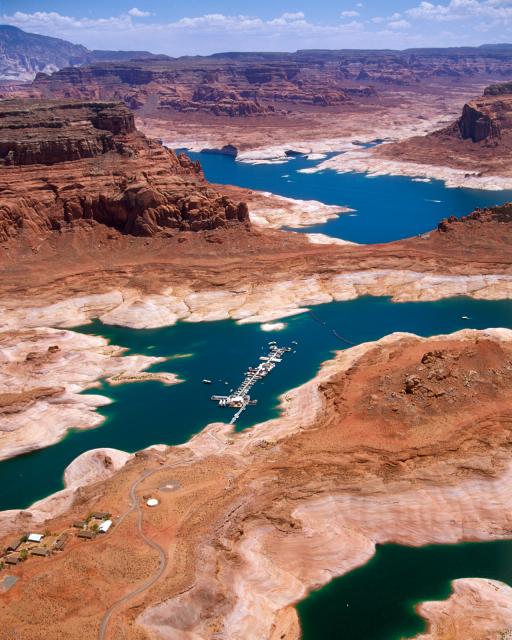 There has also been concern from water interests in the Upper Basin states (Colorado and New Mexico) that continued demands from the Lower Basin could lower Lake Powell below the minimum level required for hydropower generation.
The Bureau of Reclamation's Glen Canyon Adaptive Management Program aims to better integrate "dam operations, downstream resource protection and management, and monitoring and research information."
Much of the focus of the AMP has been the experimental high-flow releases from Glen Canyon Dam that aim to restore sandy beaches in the Grand Canyon – improving the environment for both rafters and aquatic species. Experimental flood releases conducted by the U.S. Geological Survey (USGS) to redistribute sediment along and within the river channel, scour nonnative streamside vegetation, protect cultural resources, restore native fish habitat and provide beaches for Colorado River rafters.
Subsequently, federal officials adopted a High Flow Protocol for similar releases from the dam when conditions are favorable for high sediment deposits, usually during early spring or fall, between 2012 and 2020. The first High Flow Protocol releases were made in November 2012. The volume of water released through the river outlet tubes during the five-day release was higher than usual but the total amount of water released from Powell to Mead remained the same for that year and was not altered under the high-flow releases.
A 2018 high-flow experimental release sent about 38,100 cubic feet per second (cfs) into Grand Canyon National Park for three days. The goal of the high-flow experiment was to move sand stored in the river channel and redeposit it to rebuild eroded sandbars and beaches downstream of the Paria River in Grand Canyon National Park.
Lake Powell and Glen Canyon Dam Looking Ahead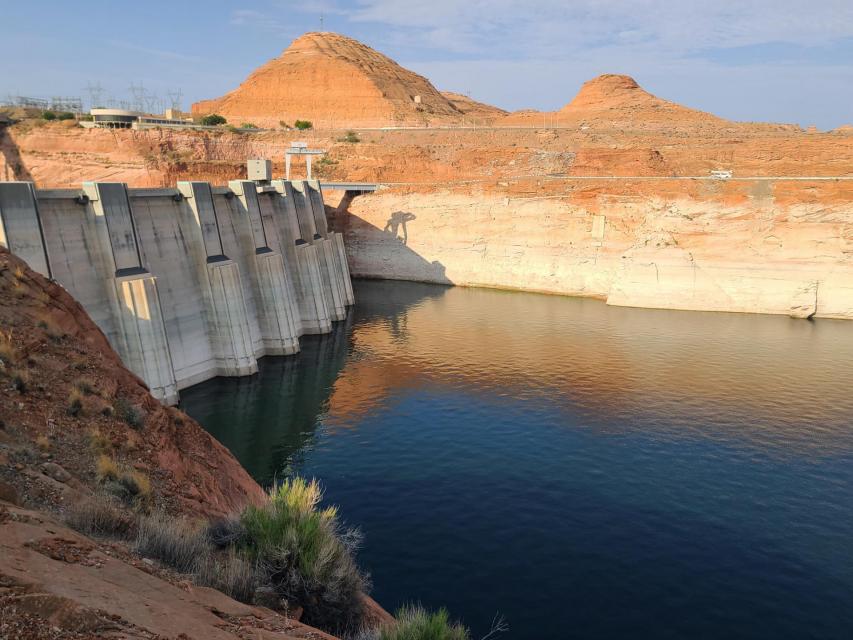 Since 2000, the Colorado River Basin has been in a prolonged drought that has dropped water levels in Lake Powell and Lake Mead to historic lows and threatened their ability to generate hydroelectricity.
As water levels at Lake Powell approached the threshold at which Glen Canyon Dam could no longer generate electricity, the Bureau of Reclamation in 2023 began analyzing potential modifications to the dam so that it could still generate electricity and release water downstream. Meanwhile, federal officials vowed to reduce water releases from Lake Powell if necessary to prop up water levels behind the dam.
Climate experts warn that the entire Southwest is likely settling into a permanently hotter, drier climate. That is expected to present water managers and water interests with difficult decisions in negotiating the next set of operating guidelines for the river, which must be finalized by 2026.