Headwaters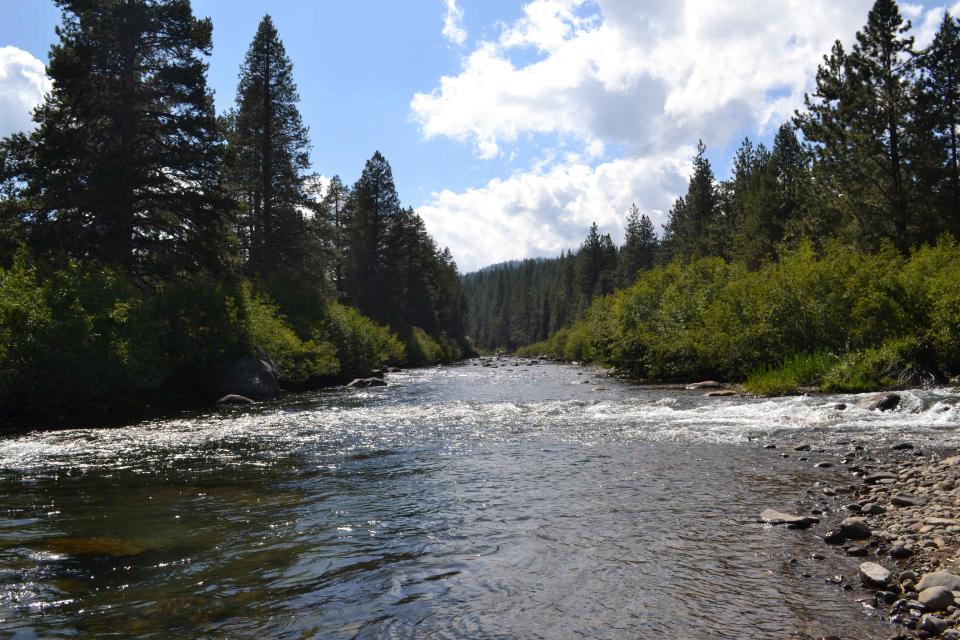 Headwaters are the source of a stream or river. They are located at the furthest point from where the water body empties or merges with another. Two-thirds of California's surface water supply originates in these mountainous and typically forested regions.
The size and strength of a river's flow are not necessarily determined by its starting point, though the physical, biological and chemical features of headwaters can have profound impacts on downstream waters. The organisms, sediments, minerals, contaminants and other chemicals either deposited by runoff or naturally occurring in these river sources are dispersed throughout the length of the body of water. Consequently, the health of headwater regions is a major focus of scientists concerned with habitats or water quality.
Meadows, key features normally found near the headwaters, act as nature's sponge and filter, accumulating high amounts of organic soils that help provide California with a year-round water supply. Acting like a mini-reservoir, the meadows store carbon as they capture and clean water.
Decades of fire suppression, an emphasis on short-term management priorities, weather extremes and a warming climate have contributed to the decline in headwaters forest resilience, according to an analysis by the Public Policy Institute of California. Agencies are pursuing changes to traditional forest management practices to incorporate greater prescribed burns and tree thinning. This reduces air quality impacts from wildfires, protects water quality from post-fire erosion and increases water supply, according to PPIC.
More than 40 percent of the inflow to Lake Shasta — the state's largest reservoir — comes from springs in the northern Sierra Nevada and southern Cascade mountain ranges.
Examples of Headwaters in California
Most headwaters are either streams – formed by melted ice and snow – or springs, which are products of overflow from aquifers. The Sacramento River's headwater is from a spring at Mt. Shasta City Park while the middle fork of the San Joaquin River's headwater is, uniquely enough, a lake in the Sierras called Thousand Island Lake. The American River, which joins the Sacramento River near the city of Sacramento, is fed by three forks originating high in the Sierra Nevada in the Tahoe and Eldorado national forests.
California's second greatest river in terms of average annual flow, the Klamath River, originates on a plateau east of the Cascade Range in south-central Oregon. It is fed by underground springs, the Wood, Sycan, Sprague and Williamson rivers and Upper Klamath Lake.
The Santa Ana River's headwaters are streams in the San Bernardino Mountains that are created by snowmelt. The Los Angeles River is an example of a waterway with headwaters formed from the confluence (or merging) of two smaller bodies of water, in this case Bell and Calabasas creeks, fed by surrounding hills and mountains in the western San Fernando Valley.