Sierra Nevada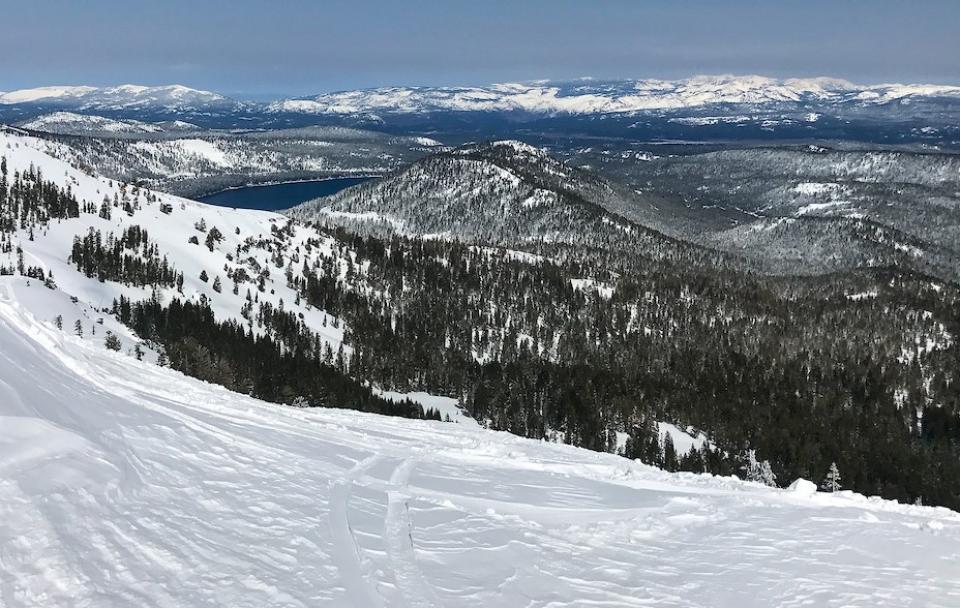 Stretching along the eastern edge of the state, the Sierra Nevada region incorporates more than 25 percent of California's land area and forms one of the world's most diverse watersheds.
On average, 60 percent of California's total annual precipitation – in the form of rain and snow – falls in the Sierra Nevada and a portion of the southern Cascades.
The Sierra Nevada is 450 miles long and 40 to 50 miles wide and includes granite cliffs, lush forests and alpine meadows on the west slope, and stark desert landscapes at the base of the east slope. Its habitats support 66 percent of the bird and mammal species and about 50 percent of the reptile and amphibian species found in California, including bighorn sheep, mule deer, black bear and mountain lions, hawks, eagles, and trout.
Snowmelt from the Sierra provides water for irrigation for farms that produce half of the nation's fruit, nuts and vegetables, and also is a vital source for dairies, which have made California the largest milk producer in the country.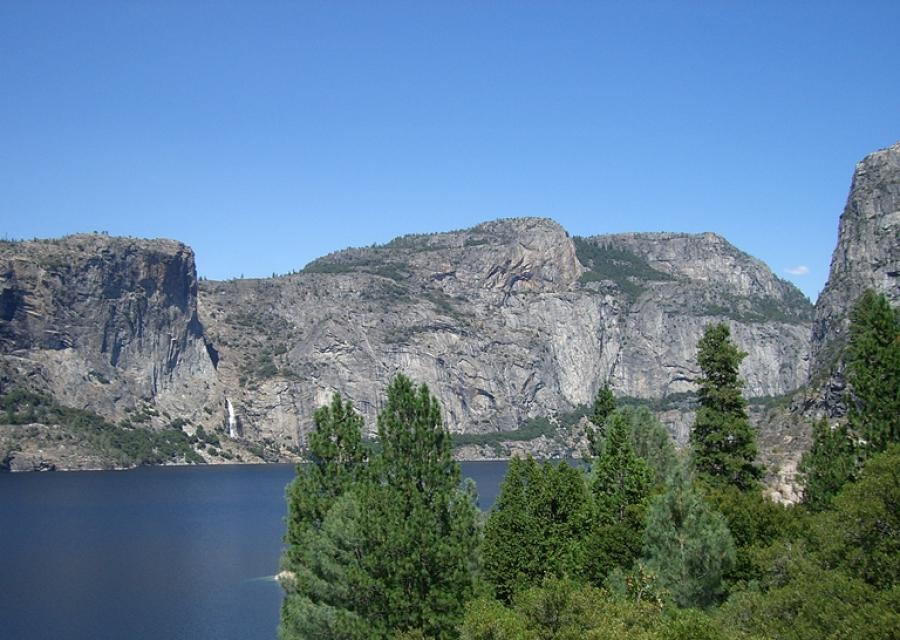 In addition, Sierra snowmelt provides drinking water to Sierra Nevada residents and a portion of drinking water to more than 27 million people living in cities stretching from the San Francisco Bay Area to Southern California.
For example, Hetch Hetchy Reservoir in Yosemite National Park provides 85 percent of San Francisco's total water needs. The Mokolumne River, which originates in the high Sierra, provides more than 90 percent of the East Bay's water and the Owens Valley in the eastern Sierra serves as a key source of water for Los Angeles.
Sierra Nevada Water Cycle
The Sierra Nevada watershed provides much of California's water because of its mountains, which "catch" eastern-moving clouds fattened by the Pacific before they reach Nevada.
In the Sierra, precipitation falls and accumulates during the winter months in higher elevations as snow. The snowpack acts as a natural reservoir that holds water until temperatures rise in late spring. In spring, the snowpack melts to provide significant runoff on the Sierra Nevada's west slope and, to a lesser extent, on the Sierra Nevada's eastern slopes.
The rain and snowmelt captured in the upper elevations flow to fill rivers and surface water reservoirs and recharge groundwater basins in the Central Valley.
Sierra snowmelt in spring typically contributes half of the total annual runoff from the region. After the high risks of floods have passed during spring, water is allowed to fill the reservoirs. By late summer, when natural river flows are at very low levels, water releases from the reservoirs provide much of the downstream water supply.
Snowmelt and rain running off from the Sierra Nevada and southern Cascades also flow through creeks and streams and into larger rivers, including California's two longest rivers, the Sacramento (447 miles) and the San Joaquin (330 miles), which come together just south of Sacramento. Here, the two rivers mingle with smaller tributaries and tidal flows to form a 700-mile maze of sloughs and water­ways surrounding more than 60 leveed tracts and islands that make up the Sacramento-San Joaquin Delta.
About half the water that historically flowed into and through the Delta is now diverted for human use — by upstream users, Delta farmers or for export.
Sierra Nevada water is pumped into California's two largest water delivery projects, the State Water Project and the federal Central Valley Project, which transport it to farms and cities throughout Central and Southern California and portions of the Bay Area.
Sierra Nevada Watershed Challenges
The Sierra Nevada faces several challenges including:
Water supply demands from a surging number of people in California — a challenge that brings with it wastewater treatment, pollution and encroachment into wilderness.
Forest fires that are increasing in severity; the fires lead to significant increases in erosion resulting in reduced storage capacity in reservoirs and water quality concerns. For instance, the 2018 Ferguson fire burned nearly 97,000 acres around Yosemite National Park, fueled in part by beetle-killed trees.
Tree mortality; 129 million trees have died across the state due to drought and bark beetles since 2010, and 85 percent of those dead trees are in the Sierra, according to the Sierra Nevada Conservancy.
Gold mining's legacy, including mercury and other pollutants used by miners that continue to find their way into streams and waterways.
With the Sierra Nevada already experiencing increased temperatures and earlier snowmelt, concerns related to climate change include loss of snowpack, more flooding, unpredictable water supplies, more and larger wildfires, and migration of wildlife to more suitable habitat.
In the past 100 years, annual runoff that occurs during April to July has decreased by 23 percent for the Sacramento basin and 19 percent for the San Joaquin basin, according to state climate statistics.
Sierra Nevada Watershed Going Forward
Many groups and agencies at the local, regional, state and federal levels are focusing efforts on management, restoration and protection of the Sierra Nevada.
Projects center on enhancing and restoring the upper watershed forests and meadow systems, reducing the risk of large, damaging fires, improving water quality and water supply reliability, and safeguarding significant habitats and migratory corridors. Significant state funds from bond measures have been invested in the Sierra watershed by the Sierra Nevada Conservancy, California Department of Water Resources, and the California Wildlife Conservation Board.
Restoration projects are ongoing throughout the Sierra Nevada by local governments and agencies, nongovernmental agencies and private enterprises. Project sizes vary from stream cleanups by community volunteers to multimillion-dollar efforts funded by several sources and involving years of planning and work.