Los Angeles River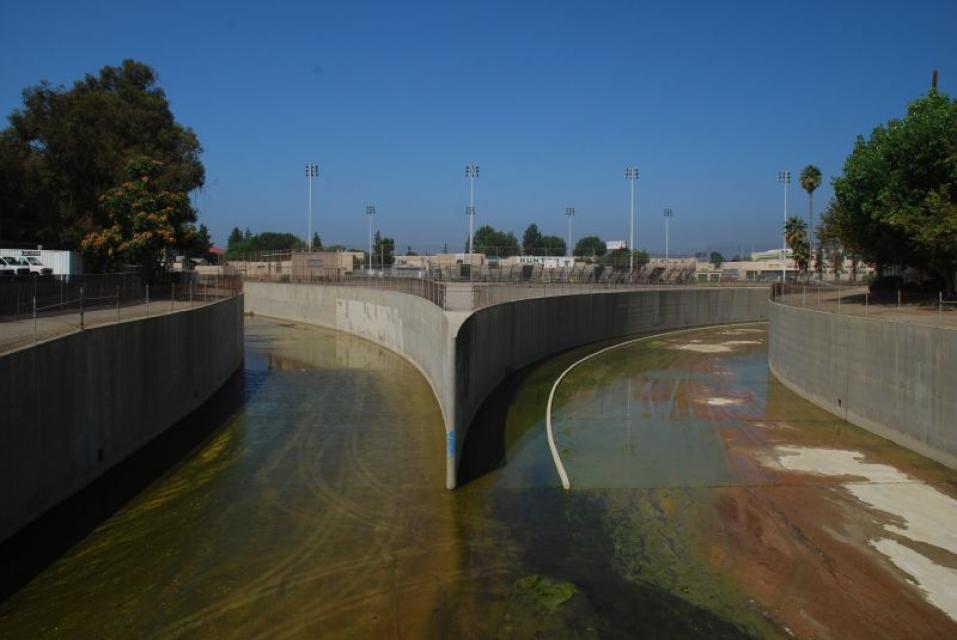 After years of decline and minimal to non-existent flows, the once moribund Los Angeles River is now being transformed into a recreational and open space corridor.
For much of its recent history, the river has been little more than bystander since the founding of Los Angeles as a pueblo more than 200 years ago.
Due to severe seasonal flooding, the Army Corps of Engineers confined the river in the 1930s and turned it into a concrete channel. The river formed a 50-mile concrete trough from the Sepulveda Basin to San Pedro Bay, fenced along its length and hidden beyond the backyards of residential and industrial development.
For most of its run, the 51-mile river, with its headwaters in the San Fernando Valley, flows through a concrete box or trapezoid, fenced off from public access.
Since the 1990s, however, river backers have worked to restore the natural character of the Los Angeles River while also continuing to include flood control programs.
Los Angeles has the lowest ratio of open space per capita of any major American city, due to rapid growth and poor urban planning.
A bill passed by the state Legislature in 1992 established a Los Angeles River Conservancy to develop comprehensive planning strategies along the concrete corridor.
Additionally, a citizens' group, Friends of the Los Angeles River, has helped coordinate the cleanup and restoration of the river.
In the past river advocates considered painting the river channel blue to give it a more natural look.
In 2010, the U.S. EPA, in partnership with the Army Corps of Engineers and local agencies, committed to protecting the Los Angeles River under the Clean Water Act.
Long-term, Los Angeles River supporters are looking beyond the river's banks towards improved management of the regional watershed. As part of this process, advocates are aiming for a strategy that includes, across jurisdictional boundaries, integration of water quality, flood control, habitat restoration and natural processes.