American River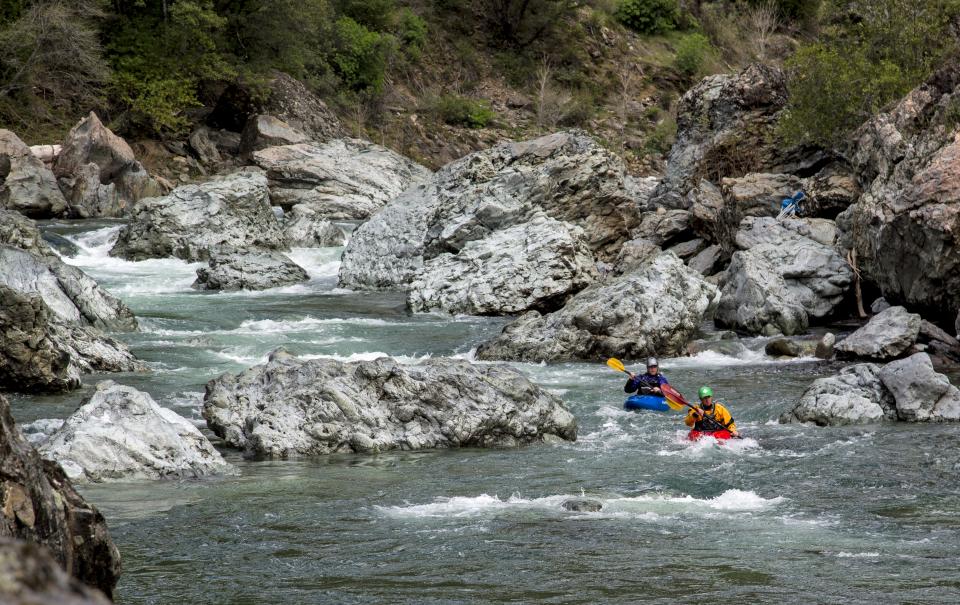 The American River, with headwaters in the Tahoe and Eldorado national forests of the Sierra Nevada, is the birthplace of the California Gold Rush. It currently serves as a major water supply, recreational destination and habitat for hundreds of species. The geologically diverse North, Middle and South forks comprise the American River or the Río de los Americanos, as it was called during California's Mexican rule.
The Different Forks
The North Fork is lined by high rock walls and is the longest of the tributaries at 88 miles. This tributary, known for rafting and trout-fishing, is protected from unnecessary development under the California Wild and Scenic Rivers Act. Because it is free-flowing, it is usually reduced to a weak stream during the summer and autumn.
It was at the South Fork of the river at Coloma, where the 1848 discovery of gold occurred and sparked the mass migration known as the California Gold Rush. While constructing Sutter's Mill, James Marshall was exploring a stream bed when he encountered specks of gold in the soil. News quickly spread and settlers went from plucking nuggets along the banks of the river to gradually more invasive mining methods. The1884 ban on destructive practices like hydraulic mining was meant to protect the emerging agricultural industry downstream from the harmful mining debris cast into the river, leading to the eventual overall decline of mining in general.
The Middle Fork was an area of immense success during the Gold Rush, rewarding its miners with one of the largest gold bounties in the state. A horseshoe bend was spotted where miners believed gold had settled, leading to a four-year project of blasting through the granite mountain until Tunnel Chute was created and the largesse uncovered. The Chute is now a famous rapid for rafters, lured by the challenge of navigating heavy dam-controlled flows.
Early History & Geography
Several millennia before the Gold Rush, the American River was home to the Maidu people, who took advantage of the salmon and lamprey eel native to the waters. Their numbers, like those of many other Native American tribes, sharply decreased after Spanish settlement and the establishment of Gold Rush communities a century later.
The Middle and North forks meet near the city of Auburn, Calif., flowing southwest to join the South Fork at Folsom Lake to become the mainstem, which merges with the Sacramento River in the city of Sacramento.