Aquapedia background
Dams
Friant Dam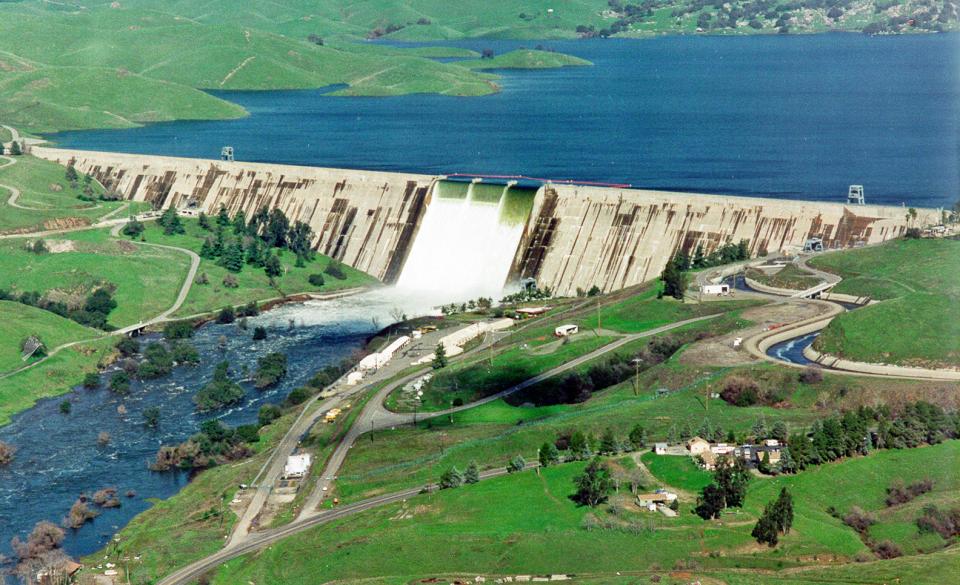 Located just north of Fresno, the Friant Dam helps deliver water as it runs towards the Merced River, though its environmental impacts have caused controversy.
A part of the federal Central Valley Project, the dam captures the upper San Joaquin River's flow and diverts the water into canals. The dam also releases water to manage floods and meet the water needs of those downstream who have riparian rights to the water.
As part of this system, the 152-mile Friant-Kern Canal delivers water south to Bakersfield, while the Madera Canal travels 36 miles north.
Friant Dam Overview
At the time of the dam's construction in the late 1930s, its waters helped transform the Central Valley into an agricultural powerhouse by nourishing the valley's major crops: alfalfa, corn, grains, grapes, vegetables, nuts and fruits.
But the Friant Dam also caused parts of the San Joaquin River to go dry for roughly 40 miles, which ultimately led to the loss of salmon runs in the San Joaquin River upstream of the Merced River.
Watch a video on the history of the Central Valley Project and Friant Dam.
In response, a group of local landowners sued the federal government in 1947. The plaintiffs claimed that Friant Dam deprived them of San Joaquin River flows valued for commercial and recreational uses directly related to salmon spawning and fishing. In July 1951, then-California Attorney General Edmund G. "Pat" Brown concluded, "the United States is not required by state law to allow sufficient water to pass Friant Dam to preserve fish life below the dam."
The controversy simmered for several decades.
In the 1980s, the end of 14 Friant Dam water supply contracts sparked an 18-year legal battle. Environmental interest groups sued the dam's administrator, the Bureau of Reclamation, for allegedly overlooking fish conservation and violating state law by wiping out two salmon runs in the 1940s.
The legal proceedings pitted the environmental and fishing community on one side and farmers and cities that rely on San Joaquin River water on the other. In 2006, a settlement was announced between the U.S. Departments of the Interior and Commerce, National Resources Defense Council, and the Friant Water Users Authority.
Friant Dam and San Joaquin River Settlement
The San Joaquin River settlement had two goals: establishing robust and self-sustaining fish populations below Friant Dam, and minimizing the water supply impacts to farmers.
The settlement runs through 2026 at a cost of $720 million, but the project may continue indefinitely.
Meanwhile, farmers have expressed concern about the loss of irrigation water under the terms of the settlement.
Part of the solution to the dilemma may come by releasing more water down the river to Mendota Pool, which is presently tapped by users who exchanged their river rights for water carried from the Central Valley Project .