With Drought Plan in Place, Colorado River Stakeholders Face Even Tougher Talks Ahead On The River's Future
WESTERN WATER IN-DEPTH: Talks are about to begin on a potentially sweeping agreement that could reimagine how the Colorado River is managed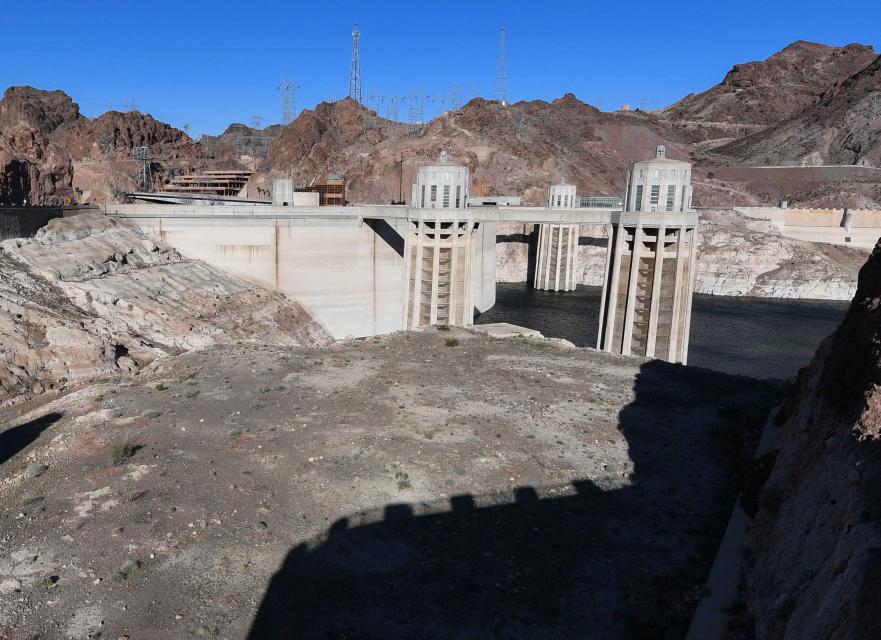 Even as stakeholders in the Colorado River Basin celebrate the recent completion of an unprecedented drought plan intended to stave off a crashing Lake Mead, there is little time to rest. An even larger hurdle lies ahead as they prepare to hammer out the next set of rules that could vastly reshape the river's future.
Set to expire in 2026, the current guidelines for water deliveries and shortage sharing, launched in 2007 amid a multiyear drought, were designed to prevent disputes that could provoke conflict.
Those guidelines have been successful so far and the drought plan — signed March 19 — is expected to help. But as the time for crafting a new set of rules draws near, some river veterans suggest the result will be nothing less than a dramatic re-imagining of how the overworked Colorado River is managed to ensure its very survival as a source of water for 40 million people from Wyoming to Mexico.
Negotiators will face some daunting challenges: Under the 1922 Colorado River Compact that divided its waters among the states, more water has been promised to users than the river carries in an average year. A two-decade drought has amplified the shortfall, particularly in the main reservoirs serving the three Lower Basin states of Arizona, Nevada and California and the country of Mexico. Scientists believe climate change is likely to make things worse.
There are other issues. The Upper Basin states of Wyoming, Utah, Colorado and New Mexico, which have never used their full apportionment of the river's waters, have their own ambitions for growth. The Lower Basin states are drawing on Lake Mead faster than it can be replenished — creating a so-called structural deficit. Native American tribes throughout the Basin, many of whom have priority rights to the river's flow, are increasingly expected to assert those rights. And in southeastern California, there's general agreement the ailing Salton Sea will need to be addressed.
Addressing the Structural Deficit
Resetting how the river is managed is critical because of the fear surrounding the once-unthinkable scenario of Lake Mead, the nation's largest reservoir that sits near Las Vegas, falling too low to function as a water supply reservoir and hydropower producer.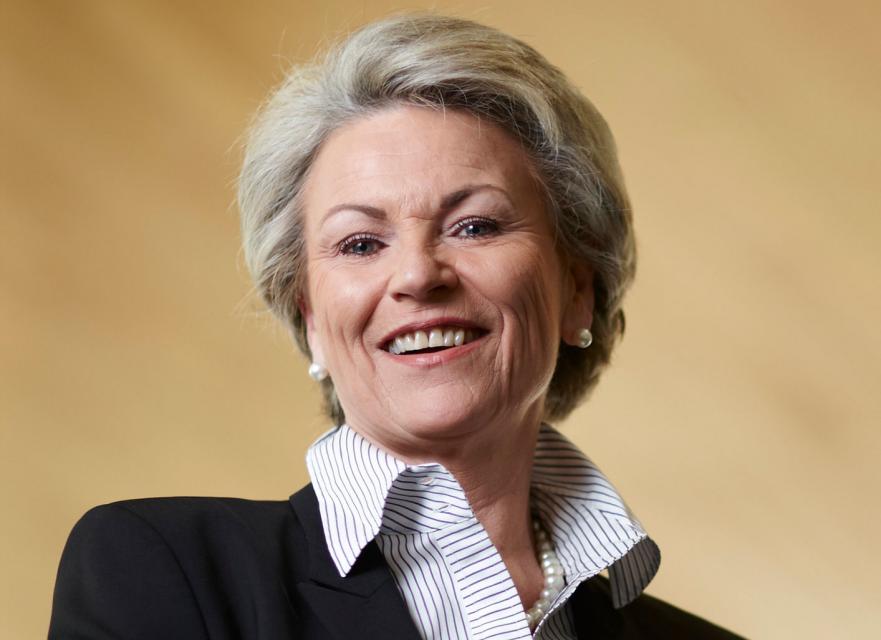 "There are some real serious issues that the next seven years have to address or there won't be a continuation of the next chapter of the 2007 agreement," Pat Mulroy, the former longtime general manager of the Southern Nevada Water Authority, said in late March at the Lincoln Institute of Land Policy's Future of Water conference in Phoenix. "The structural deficit has to be addressed. Period. End of conversation."
Solving the structural deficit could require some unconventional and controversial aspects, such as allocating water evaporation in Lake Mead (about 600,000 acre-feet annually) among the Lower Basin states.
"Those are the things that we need to look at now because we have the opportunity and space to do that creative thinking," Anne Castle, former assistant secretary for water and science at the Department of the Interior, said at the Phoenix conference.
The evaporation allocation could be justified because the Upper Basin bears its own evaporation from Lake Powell (about 386,000 acre-feet annually), meaning that in order to deliver the requisite 8.23 million acre-feet annually to the Lower Basin, more than that has to be stored in Lake Powell to account for evaporation.
"The structural deficit has to be addressed. Period. End of conversation."
~Pat Mulroy, former longtime general manager of Southern Nevada Water Authority
Mulroy, now a senior fellow at the University of Nevada, Las Vegas' Boyd School of Law, said all options must be on the table during upcoming talks. The 2007 guidelines and Drought Contingency Plan, she said, are "Band-Aid" approaches that do not provide a foundational structure for resilience.
"We can't go on the way we are," she said. "Are we willing to sit here and say we are going to work from the premise that our Upper Basin neighbors are never going to develop their supply? It's not a safe assumption, it's not logical and we can't continue to work from that."
She stopped short, however, of advocating a reopening of the 1922 Colorado River Compact that divided its waters, calling such an effort a "a fool's mission."
Indeed, water supply development in the Upper Basin is happening through efforts such as Utah's proposed pipeline from Lake Powell to St. George in the southwest corner of the state. The 139-mile pipeline would pump about 86,000 acre-feet of water annually from Lake Powell to Washington and Kane counties. The Upper Colorado River Commission estimates that Upper Basin use, currently about 4.5 million acre-feet, will reach about 5.4 million acre-feet by 2060.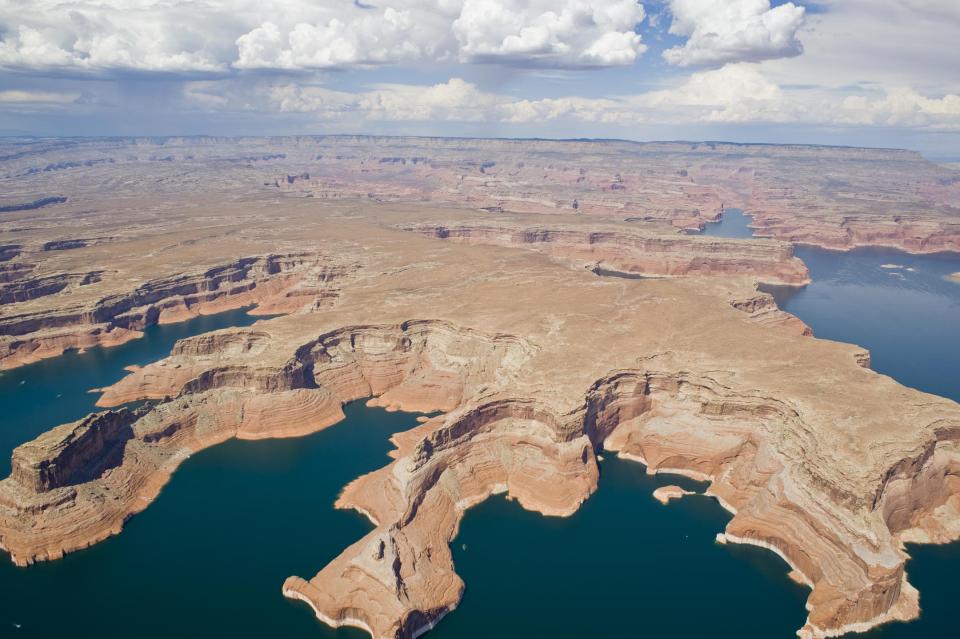 "The Upper Basin has the prerogative to develop its allocation and we are starting to see that, and when that occurs it's going to make that whole issue of the structural deficit even more complicated," Amy Haas, executive director of the Upper Colorado River Commission, said in an interview. She is especially concerned because while the Upper Basin has been providing more than its share of water to the Lower Basin, the elevation at Lake Mead continues to fall.
Jim Lochhead, longtime chief of Denver Water, said in an interview that demand for water in the Upper Basin has actually been relatively flat the past 30 years. But the combination of the structural deficit and warming conditions means the system "isn't adequate to meet today's demands."
Meanwhile, there is an increasing body of scientific evidence pointing to a warmer and drier basin on a scale previously unseen. In 2018, a report authored by climate scientists Brad Udall, Mu Xiao and Dennis Lettenmaier reported that between 1916 and 2014, streamflow in the Upper Colorado River Basin declined by 16 percent and that "pervasive warming" has reduced snowpack and contributed to the long‐term decline of runoff.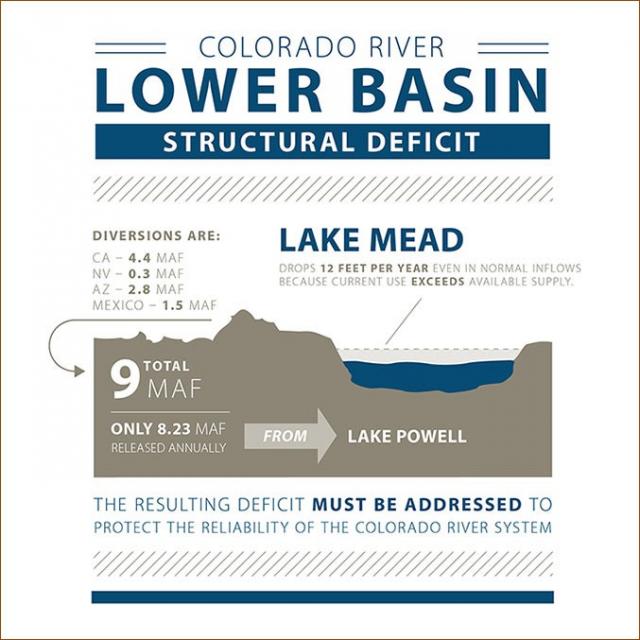 The gravity of the situation – drought and an overallocated, drying basin – pushes people to confront the reality of what's before them.
"I think folks need to have a real unvarnished conversation about what the shared vision of the basin looks like," Chuck Cullom, Colorado River Program Manager with the Central Arizona Project, said in an interview. "That conversation … has to include the aspirations of all the water users as well as a recognition that it's a shared system that benefits all the water users from Mexico to the headwaters in Wyoming and Colorado."
'Focus on Risk and Vulnerability'
Analysis of tree ring data shows that drought has frequently occurred in the Colorado River Basin. A 60-year period during the mid-1100s was marked by a 25-year stretch when river flow averaged 15 percent below normal, according to the University of Arizona.
More recently, the system has been shaken by a chronic two-decade drought that saw Lake Mead drop to its lowest level ever in July of 2016. According to Reclamation, the combined storage of Lake Powell and Lake Mead is at its lowest point, 39 percent of capacity, since Powell began filling in the 1960s. A wet winter this year has helped, but there is no guarantee that the reservoirs will ever be full again.
Cullom said that Lake Mead's precipitous decline will provide those working on the 2026 guidelines with the "visceral experience" and "emotional clarity" of knowing the possible extremes that are lurking.

Move the slider bar to see the difference in Lake Mead water levels in wet (left) and dry periods.
---
"The drought has caused everyone to focus on risk and vulnerability in a way that we didn't in the 2007 guidelines," he said.
While water managers and policymakers crave certainty, precision and specificity don't exist when the climate change variable is added to an already volatile Colorado River Basin. That doesn't mean, however, that plans can't be made.
"We cannot tell water managers what the future will look like, but we do understand the trends," Kathy Jacobs, director of the University of Arizona's Center for Climate Adaptation Science and Solutions, said in Phoenix. "If water managers understand the trends, they can make decisions."
'Tethered to the Salton Sea'
An unavoidable part of the conversation is the fate of the Salton Sea, California's largest lake and a haven for waterfowl on the Pacific Flyway that is receding, exposing a playa that generates swirling dust storms that pose a public health risk. Created more than a century ago by flooding from the Colorado River, the sea in southeastern California is in crisis as it slowly dries up, due in part to water transfers to San Diego. Officials for years have sought a Salton Sea solution that preserves it as a habitat for birds and fish while minimizing its negative impact to air quality.
The Imperial Irrigation District's insistence that the Drought Contingency Plan include $200 million for the Salton Sea (which was not authorized) ultimately resulted in the district's exclusion from the drought plan as other stakeholders pushed to get it signed.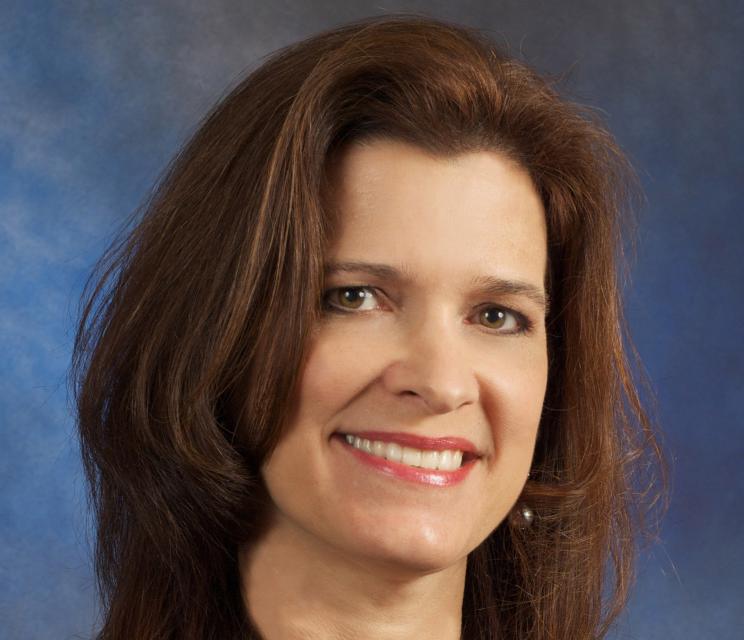 "The challenge we see on the river is, we've got everybody hooked into a smaller but sustainable Salton Sea. But evidently everybody outside of California is focused on a smaller sea, not the sustainable part," Tina Shields, Imperial's water manager, said in an interview.
Imperial in April filed suit to halt the Drought Contingency Plan, asking for a thorough analysis under the California Environmental Quality Act of the plan's impact on the Salton Sea. The episode reflected Mulroy's view that deciding what to do about the Salton Sea has to be a part of the future discussions.
"Nothing can happen on the river, whether it's exchanges, whether it's conservation, that doesn't inevitably affect the Salton Sea," she said. "We are all tethered to the Salton Sea."
Seeking Lasting Solutions
Complicated, multi-stakeholder agreements regarding Colorado River water use are tough enough in the best of circumstances. Add in more extreme drought, tribal access to long-held water rights and the uncertainty of the river's sustainability and it's clear finding a long-lasting solution will not be easy.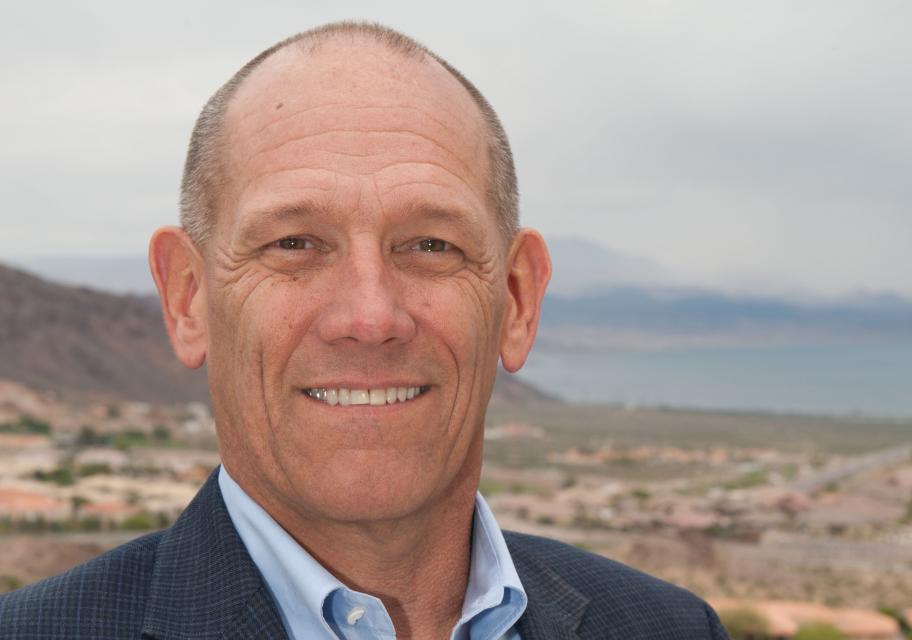 Terry Fulp, director of the Bureau of Reclamation's Lower Colorado Region, reminded the audience in Phoenix that measures such as voluntary reduction agreements and new operating guidelines are intense and complicated processes that require deliberation and patience.
"It took us 2,090 days to set up the [drought plan]," he said. "These are really hard things."
Lochhead, the Denver Water CEO, echoed that view, noting how difficult it was to reach agreement on the Drought Contingency Plan. Renegotiating the 2007 guidelines by 2026, he added, is going to be far more challenging — "maybe a circus isn't quite the right word, but not far from it."
Despite this winter's snowpack, experienced people know that hard times can be right around the corner. Near-crashing conditions in the early 2000s served as the catalyst for interstate discussions that resulted in the 2007 Interim Guidelines.
"We cannot tell water managers what the future will look like, but we do understand the trends."
~Kathy Jacobs, director of the University of Arizona's Center for Climate Adaptation Science and Solutions
That agreement was a significant achievement because it encouraged users to leave water in Lake Mead to shore up its surface level.
"Despite 12 years of dry conditions since the guidelines were put in place, there have been no shortages on the Colorado River because of the incentives to store water in Lake Mead," said Bill Hasencamp, manager of Colorado River resources with the Metropolitan Water District of Southern California, which provides water for more than 19 million people. "Additionally, those guidelines have provided Metropolitan flexibility to fill its Colorado River Aqueduct during California's record drought, which has been critically important to our region."
There is general agreement that what happened in 2007 was but a step in the continuing evolution of river management.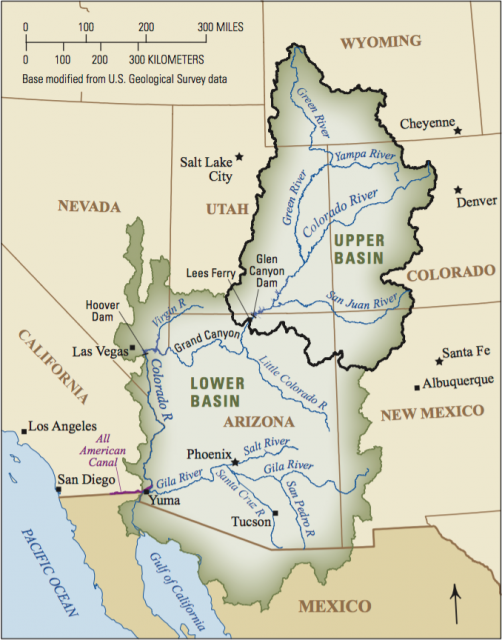 "The 2007 guidelines were put in place for a certain amount of time and that's because we had to learn about the system," Reclamation Commissioner Brenda Burman said in Phoenix March 19 at the signing of the Drought Contingency Plan. "What we learned was that it wasn't enough. The risk we expected in 2007 increased four times between then and now."
While the 2007 agreement provided a framework for getting water users through tough conditions, more action is needed beyond conservation, Mulroy said.
"Conservation is foundational. That's a given," she said. "But at what point is conservation no longer able to answer the entire question? Simply solving the structural deficit does not in any way, shape or form address the hydrologic impacts [from climate change] that we are going to see on top of the structural deficit."
What's Ahead For Negotiators
Under the 2007 Interim Guidelines, talks on a new agreement must begin by 2020, although most expect them to begin this fall. There is a small army of people dedicated to the task, including representatives of the federal government and each of the seven basin states, water users, Native American tribes, nongovernmental organizations and Mexico. Furthermore, the U.S. continues to work with Mexico to implement Minute 323 of the 1944 U.S.-Mexico Water Treaty. Signed in 2017, Minute 323 specified reductions in water deliveries to Mexico during a shortage and allows Mexico to store water in Lake Mead. It expires in 2026.
The negotiations must forego the idea of winners and losers and must ensure that Mexico and Native American tribes are part of the conversation, Mulroy said, adding that a discussion about augmentation has to be on the table.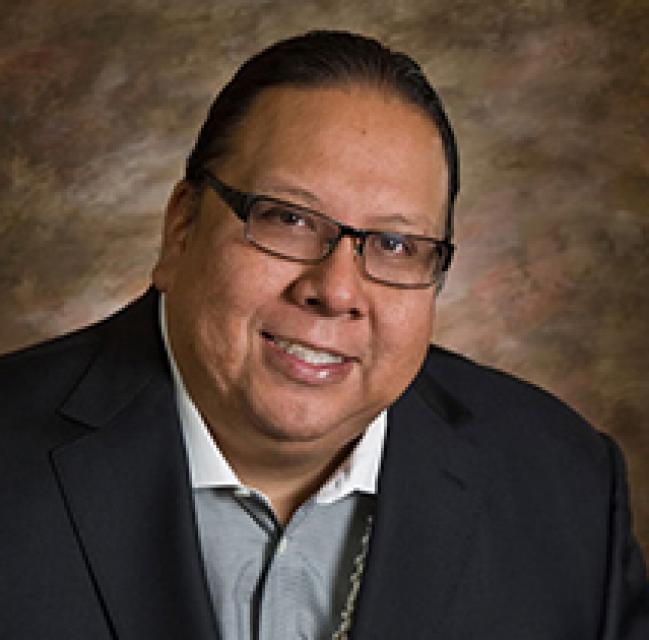 "We can't get through this next seven years simply by taking away," she said. "Trades, exchanges, reuse and stormwater capture and all of those smaller, urban regional discussions absolutely are part of the equation. The idea is to use every flexibility the Compact offers while respecting its four corners."
Stephen Lewis, governor of the Gila River Indian Community near Phoenix, said that the Drought Contingency Plan could not have been done without the support of tribes. Those same tribes, he said at the Phoenix conference, "need to be at the table" discussing the parameters of the next agreement.
The Imperial Irrigation District, the single largest rights-holder of Colorado River water at 3.1 million-acre feet, will keep fighting to protect the Salton Sea and the viability of the district's water supply.
"Anytime you talk about less supplies and potential impacts … IID always feels like everybody's looking at us with that target on our backs since we are the largest user. But they tend to forget we are already conserving and transferring more than 15 percent of that entitlement to benefit other urban water agencies," Shields, the district's water manager, said.
There is also the question of the extent of outreach and transparency. Castle, the former Interior official, said it's essential to leave room in the process for small, closed-door meetings among the state representatives and Interior because "there are things that need to get done that elected and appointed officials can't get done in public and that's just the fact."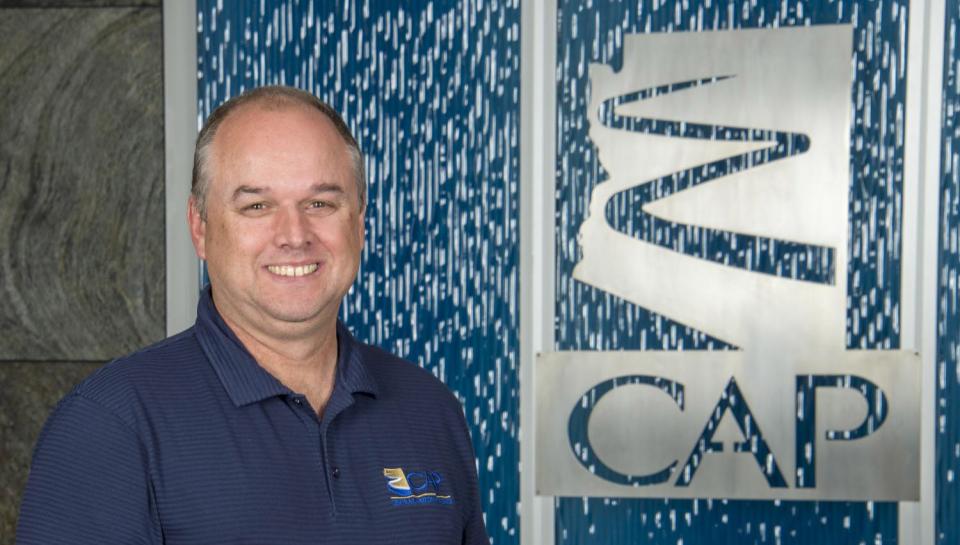 Promoting grandiose, "silver bullet" solutions distracts people from the results that can be achieved through multiple "nickel-sized" projects, said Jennifer Pitt, National Audubon Society's Colorado River Program Director.
"We are going to use less water one way or another, so the question is how do we do it?" she said. "The thought that we are going to get there one way or another because that's what the water supply is, is a reality that may help drive some of the policy discussions going forward."
Cullom said the upcoming talks will demonstrate that neither an extension of the 2007 guidelines nor the recently negotiated drought plan will be enough to carry the shared vision of the river's future. "The drought plan gives us space to develop the next set of operating rules without doing that in a crisis mode," he said, "so we can take our time and have a rational, thoughtful discussion instead of doing it before a collapse of the system."
Fulp, the Bureau of Reclamation official who has been through four presidential administrations, said the Colorado River is "essentially apolitical and it's extremely important that we keep it that way." He also pointed to the track record of success of the 2007 Interim Guidelines and the Drought Contingency Plan as proof that people can work together.
"We know how to do this," he said. And he remains optimistic that as new people come to the negotiating table, they will continue that legacy. "We have to make sure we are bringing up the right people behind us because we need the same momentum to get there."
Reach Gary Pitzer: gpitzer@watereducation.org, Twitter: @gary_wef
Know someone else who wants to stay connected with water in the West? Encourage them to sign up for Western Water, and follow us on Facebook and Twitter.