Sacramento-San Joaquin Delta Bundle Features Map and Layperson's Guide at a Special Price
Foundation offers array of bundles, maps, guides and other publications to expand your knowledge of water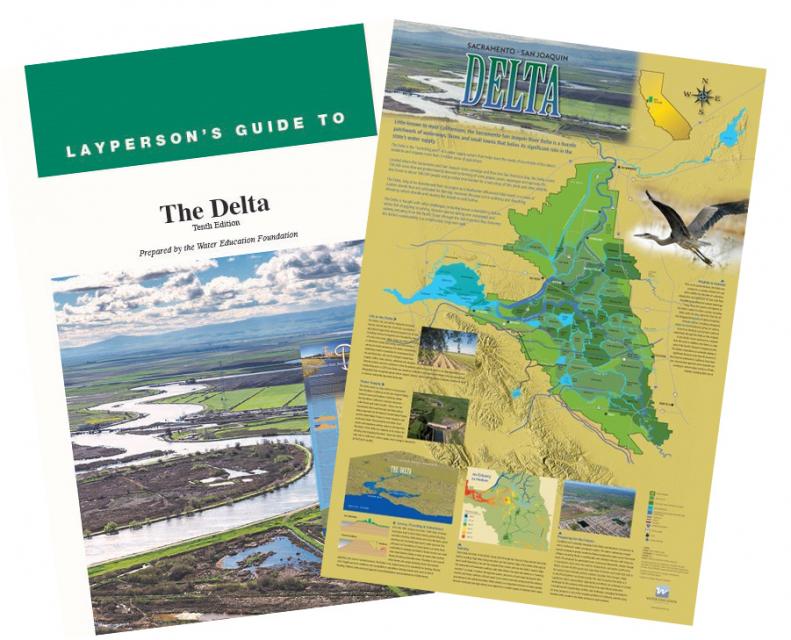 Explore the Sacramento-San Joaquin Delta, one of California's most vital ecological and water resources, with a special discounted education bundle that includes our brand-new Delta Map and our recently updated Layperson's Guide to the Delta.
Purchased separately, the map retails for $20 and the guide sells for $15. But with our Delta Education Bundle you can get both items for just $30.
Our beautifully illustrated 24×36-inch Delta Map, suitable for display in any office or classroom, highlights the Delta's place as a center of farming, its importance as an ecological resource and its vital role in California's water supply system. Our 24-page Layperson's Guide to the Delta includes sections on the history of the Delta and its many complex issues with sections on water quality, levees, salinity and agricultural drainage, fish and wildlife and water distribution.
The Delta Education Bundle is just one of our many maps and publications that illustrate important water resources and offer an easy-to-understand foundation on an array of water topics in California and the Colorado River Basin. In addition, we offer other discounted bundles that pair a map and a guide, such as:
California Water Bundle that features our California Water Map, which includes the state's natural waterways, man-made reservoirs and aqueducts and more, paired with our Layperson's Guide to California Water that provides an excellent overview of the history of water and key issues in the Golden State.

Groundwater Education Bundle that features a map of the state's groundwater basins, with graphics to explain key terms such as overdraft, and our 28-page Layperson's Guide to Groundwater, which explores the history of groundwater use and includes information on the 2014 Sustainable Groundwater Management Act.

Colorado River Bundle that includes our map of the Colorado River Basin and our Layperson's Guide to the Colorado River, giving you the resources to understand the importance of the Colorado River to nearly 40 million people in seven Western states and Mexico.
The maps and guides in each of these bundles can be purchased separately. In addition, we offer books, videos and school-age publications for students. Explore the full catalog here.