Colorado River Bundle
Special discount price for Colorado River Basin map and Layperson's Guide to the Colorado River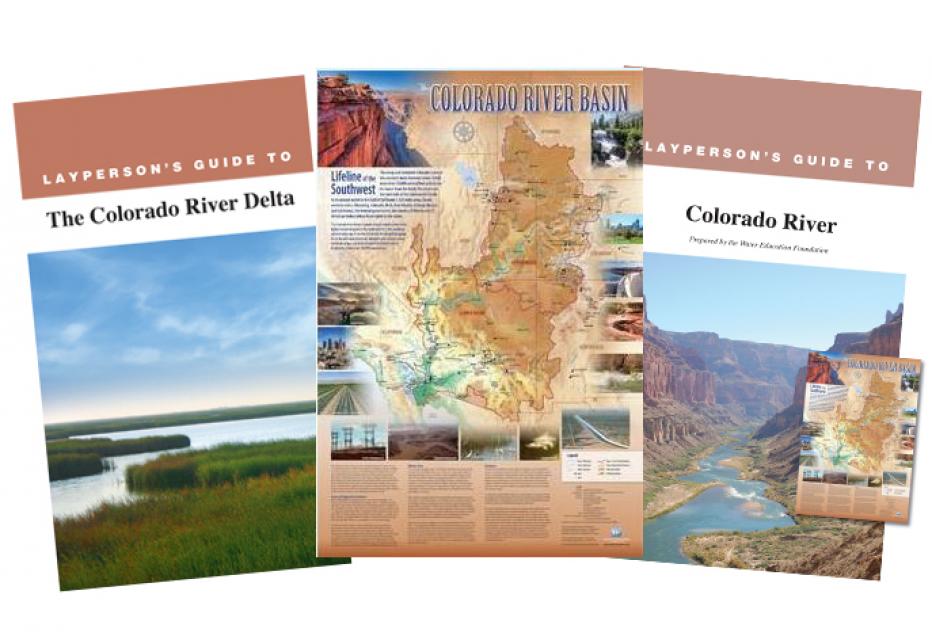 The Colorado River bundle features our beautiful Colorado River poster-size map and our Colorado River Layperson's Guide, updated in 2018. This bundle gives you the resources you need to understand the importance of the Colorado River to nearly 40 million people in seven Western states and Mexico.
Regularly priced at $22 for the map and $15 for the guide, this bundle allows you to purchase both of these high-quality products for $32. Add the Layperson's Guide to the Colorado River Delta for an additional $7.50, using the discount code COLORADODELTA. Please note the map ships separately from the guides.
Text on our 24×36-inch Colorado River Basin map, which is suitable for framing, explains the river's apportionment, history and the need to adapt its management for urban growth and expected climate change impacts. The map features rivers, dams, water projects, major cities, Indian reservations, irrigated areas, basin boundaries, and national parks and monuments.
The 32-page Layperson's Guide to the Colorado River covers the history of the river's development; negotiations over division of its water; the items that comprise the Law of the River; a chronology of significant Colorado River events; Indian water rights and efforts to draft comprehensive, collaborative solutions to the river's future water supply-demand shortfall. Also included are sections on Mexico and each of the seven states – Arizona, California, Colorado, Nevada, New Mexico, Utah and Wyoming – that share the Colorado River.
Our 24-page Layperson's Guide to the Colorado River Delta provides an overview of the history of the Colorado River Delta, its geographic scope, environmental significance, role within the Colorado River Basin, and issues related to its restoration – including the pulse flow in Minute 319 (the supplemental agreement to the 1944 U.S.-Mexican Water Treaty). Use the discount code COLORADODELTA when checking out to add this to your bundle for just an additional $7.50.