Microplastics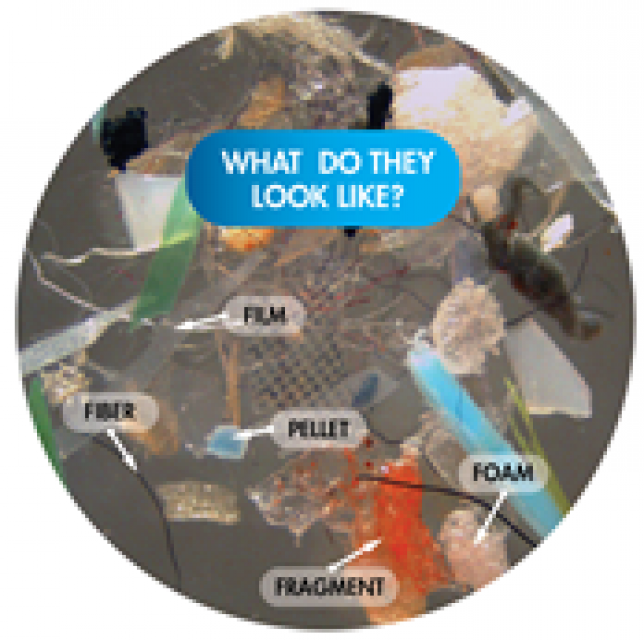 Microplastics – plastic debris measuring less than 5 millimeters – are an increasing water quality concern. Entering the water as industrial microbeads or as larger plastic litter that degrade into small pellets, microplastics come from a variety of consumer products.
Microbeads have been used in exfoliating agents, cosmetic washes and large-scale cleaning processes. Microplastics are used pharmaceutically for efficient drug delivery to affected sites in patients' bodies and by textile companies to create artificial fibers.
Part of their appeal to hygienic and medical interests is their tendency to absorb surrounding chemicals and later release them. This quality makes microplastics ideal as small commercial sponges, but especially dangerous as water contaminants, potentially carrying harmful chemicals through the food chain as they are ingested.
Challenges of Removing Microplastics
Microplastics are highly mobile, distributing easily and widely throughout surface waters and sediments. As primary and secondary microplastics continue degrading from UV light, microbes and erosion, their smaller size further complicates filtration efforts.
Additionally, these particles are usually composed of polyethylene or polypropylene plastic, which take thousands of years to naturally biodegrade. Consequently, most water treatment plants are unable to remove them, as they require prohibitively high temperatures to fully break microplastics down. Health effects from consumption are currently under investigation.
Responses
Many advocacy groups have published lists of products containing microbeads in an effort to curb the purchasing, and therefore the pollution, of microbeads.
The U.S. Environmental Protection Agency (EPA) regulates microbeads in industrial, but not domestic, wastewater.
Federal law phases out the use of microbeads in rinse-off cosmetics beginning in July 2017. Dozens of states have some kind of laws regulating microplastics, nine of which preceded the federal microbead ban.
California has the strictest microbead limitation, not leaving room for selling products with biodegradable microbeads.
Microplastics in California Water
In 2019 the San Francisco Estuary Institute released the results of a three-year study that found about 7 trillion pieces of microplastic are discharged into the San Francisco Bay annually via stormwater, about 300 times greater than the estimated annual discharge from all wastewater treatment plants discharging into the Bay.
California lawmakers in 2018 passed a package of bills to help increase the knowledge of the risks of microplastics and microfibers on the marine environment and in drinking water.
The first part of the legislative package was satisfied in June 2020 with the State Water Resources Control Board's adoption of an official definition of microplastics in drinking water. In 2022, the State Water Board followed up with the world's first policy handbook for testing water for microplastics.
The handbook includes standardized testing methods and outlines a two-phase approach to monitor for microplastics. The first two-year phase focuses on untreated source water, while the second testing phase is expected to extend to treated tap water. Many of the state's largest water systems will participate in the groundbreaking program, slated to begin in late 2023.
A progress report along with recommendations for policy changes or additional research is required by the end of 2025.