Spring 2021 California Project WET Gazette
Volume XXVl, Issue Il
Project WET and the Hierarchy of Needs
"Students have to Maslow before they can Bloom."
― Dwayne Reed – Educator​ ​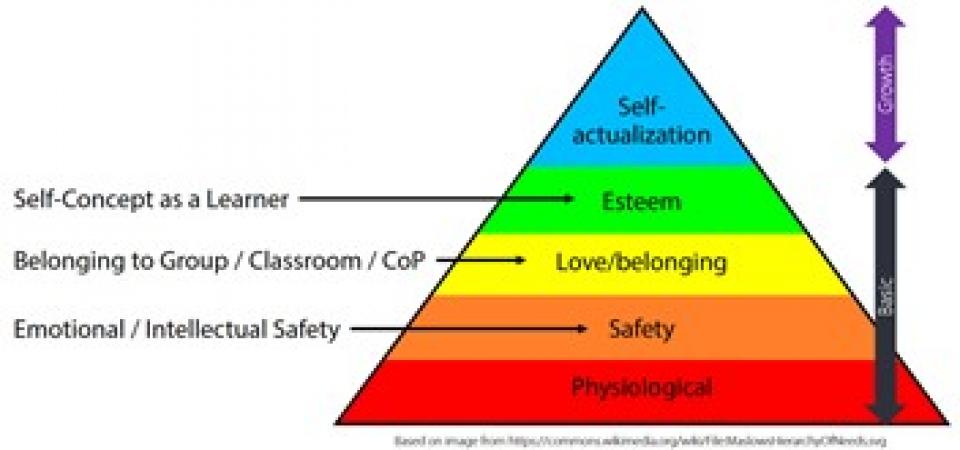 The quote above likely triggers memories of a teacher education class in college. It is as relevant today as it was then, especially as school schedules and learning plans begin returning to full in-person learning for most schools over the next month. After a year of learning under the threat and disruptions of COVID-19, a number of education researchers have suggested looking at the past year as a collective traumatic event and begin re-engaging students with a focus on their mental health needs – thus a need to address Maslow before students can Bloom.
Decades of research showing the vital psychological benefits of engaging students in the natural world is a good place to start. Nothing turns on natural human curiosity like engaging with the phenomena of the natural world that we can directly sense and experience. Indeed, a pair of Stanford researchers noted in a recent article that 'nature-rich settings provide stress relief and enhance coping skills for young learners and adults alike.' They gave examples including "breathing fresh air; feeling the warmth of sunlight; and interacting with the complex sensory stimulation of nature-rich environments – whether indoors or out."
Water is another example and one of the elements in the very foundation of Abraham Maslow's Hierarchy of Needs. It is a substance that sparks curiosity and can engage a complex sensory experience that can be quite meditative at any age. 'Stream Sense' (Portal or Guide 1.0) is a wonderful Project WET activity that immerses students in the complex sensory experience generated by a flowing stream. Teachers without nearby stream access have had students focus the sensory experience on observing water falling from the sky and flowing across the local landscape. Other educators have focused on just the sound aspect using meditative stream recordings to engage students in class and online at the same time.
'The Rainstick' (p: 529) combines art with the science of sound. It is more materials-intensive but can be done indoors or out. A great way to reduce the materials you need and a wonderful extension to the activity is to let students gather and experiment with a variety of natural materials – pebbles, small sticks, nuts, seeds, bark fragments or dry leaves – to develop their own unique sounds. This activity can engage a class still divided with simultaneous guided instruction through most of the activity if your school has a system for sending materials home.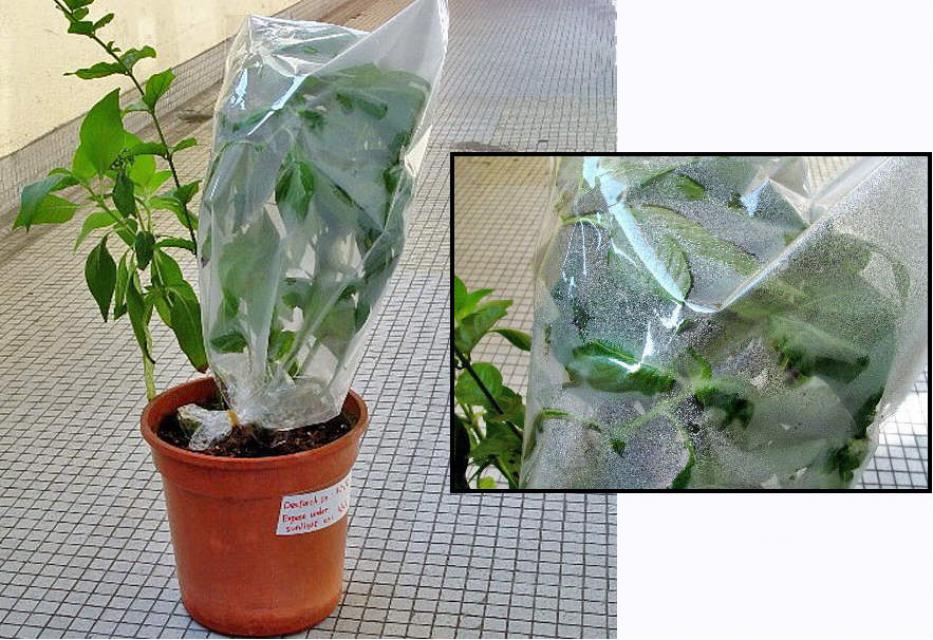 'Thirsty Plants' (Portal or Guide 1.0) gets students looking at the relationship of plants, water, energy and the atmosphere – but it can easily be more. Besides just bagging plants for a study of transpiration, I always had students observe and sketch the leaves of their plant and compare the feel and structure of the leaves with those of other students. It was usually a calming experience that sharpened student observation skills and often resulted in students asking a lot of questions for later study. And plenty more came once we returned later to measure and compare what transpired from each plant!
Water falling from the sky and flowing in streams is as mesmerizing for me as the gentle swaying of trees in a breeze. Neither is as soothing for this kid as running my hands through soil once dried past the mud stage. 'Wetland Soils in Living Color' (p: 217) is a wonderful kinesthetic activity that not only gets kids' hands literally in the 'dirt' but it too includes observation of the biological life above as well as the texture, structure and life below the ground. It can be done in a field, a garden and I'm betting through distance learning though I haven't had a chance to try it – yet.
The Stanford researchers also noted that 'time outdoors and in dynamic conditions can enhance personal and social resilience by providing opportunities to experience and deal with small actionable challenges' and 'such interactions may be critical to enhancing the effectiveness of education, whether children are attending school in person, through distance learning, or via hybrid approaches.' Below are a few Project WET activities that can provide these opportunities, while still grounding what students are doing in real-life issues, the standards – and maintaining COVID-19 distancing protocols.
This spring would be a perfect time to do the online version of 'The Long Haul' (p: 273) if you have not used it to date. Students just need two cups with water in one, a tablespoon and internet access to input data into a common spreadsheet. With students each having their own materials, they can be directed to spread out their routes between the full 'source' cup and empty 'home' cup to maintain distancing. Yet with gallery view on, the entire class can engage in the fun, inputting and analyzing results and joining the resulting discussions.
A divided class can still compare results and engage in the 'My Water Footprint' (p: 441) discussions of water use and conservation as small groups in class and on Zoom that then report out to the whole class. The whole class can even build the pocket meters together if a meter template and two pieces of ribbon can be sent to those still at home. For secondary grades, a modified 'Water Audit' (p: 469) page will allow you to engage students in a divided class in the initial setup of the activity. Students just need a large pot or pan, a measuring cup, a timer and whatever time you set to go measure water output from home or school faucets.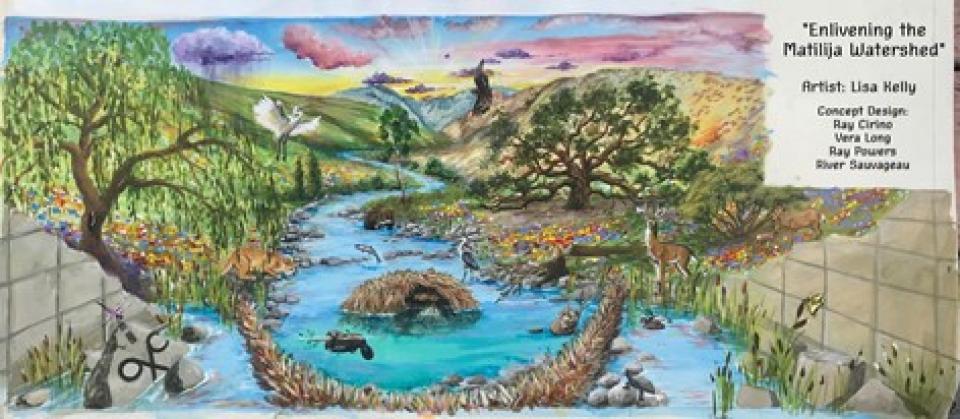 'Make – a – Mural' (p: 513) is another activity that can simultaneously engage students in online and in-person groups on a collaborative project. A theme along the lines of 'Our Watershed in the Time of COVID' may be a way to engage students in wrestling with their experience of the past year and channel it into an expression of their local watershed – with the creation of the mural acting as a final release once the whole class is able to gather in person.
Finally, for those with classes returning to campus in full, the activities 'Blue Planet' (p: 125), 'Blue River' (p: 135) and '8-4-1, One For All' (p: 299) all focus on students working together to help rebuild interpersonal skills at the core of a classroom learning community – as would many of the activities already highlighted above. The three activities also have a distancing element build into each. Gloves can be added to the first two for an added layer of protection against the coronavirus. Many teachers have noted over the past year that student gloves and an outdoor setting to spread things out would also make the activities 'H2Olympics' (p: 13) and 'The Incredible Journey' (p: 155) possible this spring!
People tend to forget that the students are not the only ones who may be experiencing trauma from the past year – most of you reading this may be feeling it as well and on a whole different level. Each activity above was chosen for its ability to bring a sense of reflection, rebuild a sense of community and collaborative action even in a hybrid learning environment, and/or bring out joy for students and teachers alike while still drilling down on academics.
The next few weeks are going to be challenging for many. I hope we are all beginning to feel like the light at the end of the tunnel is no longer a train coming our way and looking forward to what the rest of the year may be. For now, explore the Websites of Interest to find a variety of resources to go with the activities and the article above. Check out the upcoming Professional Development Opportunities, Spring Events and Grants, Awards, & Student Opportunities.
WEBSITES OF INTEREST
Article: 'Why Maslow Before Bloom Is More Important Than Ever For Our Students Right Now'
The pandemic has been identified by leading researchers as a traumatic event that is likely to have impacts both short and long-term on America's children. The phrase "Maslow before Bloom" suggests that, before students are mentally equipped to do the heavy lifting that comes with learning new things (Bloom), their Maslow needs must first be attended to.
Article: 'Environmental Education and Nature-Rich Experiences'
Nature-rich experiences are more necessary than ever for the social, physical, and emotional well-being of youth in particular. Such experiences can develop and hone pattern recognition, activate the senses, and support physical development. Indeed, such interactions may be critical to enhancing the effectiveness of education, whether children are attending school in person, through distance learning, or via hybrid approaches.
We believe that the well-being of children and the wild places we love are inextricably linked. And while research tells us that regular time outdoors is essential for children's healthy development – Physically, emotionally and academically. We support and mobilize leaders, educators, activists, practitioners and parents working to turn the trend of an indoor childhood back out to the benefits of nature–and to increase safe and equitable access to the natural world for all.
California Safe Schools for All
California's Safe Schools for All site consolidates key resources and information related to COVID-19 and schools. The online tool provides a statewide snapshot of the status of school re-openings across the state and new resources will be added on a routine basis.
Nature Stewardship Through Science, Education, and Art
Download John Muir Laws book 'How to Teach Nature Journaling' for free! The curriculum includes child-tested sketching activities and detailed tips on teaching drawing in nature to help students enhance their powers of observation while immersing them in the exercise of science and communication arts skills. Pair these skills with WET activities like 'Stream Sense' (Portal) and 'Thirsty Plants' (Portal).
This YouTube channel is loaded with videos recordings from different environments, seasons and climates intended as stress relief or help with focus and concentration while working or studying. It can't beat being physically present along a stream course but would allow a classroom split between online and in person to engage together on the sound aspect of the Project WET 'Stream Sense' (Portal) activity.
In many cultures, summoning rain often included the use of musical instruments. One well-known example is a rainstick, an instrument that mimics the sound of rain. They are traditionally made from dead cactus tubes with cactus spines hammered to the inside and filled with tiny pebbles. The website adds content you can use with the Project WET activity 'The Rainstick' (p: 529).
Video: 'How Do Trees Transport Water from Roots to Leaves?'
This California Academy of Sciences takes viewers inside the trunk of a tree to follow the path water takes from the deepest roots to the very top of a Douglas fir. A wonderful video to use with the Project WET 'Thirsty Plants' (Portal) activity and the Cal Academy link is loaded with lots of material to extend the activity!
USGS – Evapotranspiration and the Water Cycle
This U.S. Geological Survey Water Science School notes one way to visualize transpiration is to put a plastic bag around some plant leaves as in the Project WET activity 'Thirsty Plants' (Portal). The website notes that during a growing season, a leaf will transpire many times more water than its own weight. An acre of corn gives off about 3,000-4,000 gallons (11,400-15,100 liters) of water each day, and a large oak tree can transpire 40,000 gallons (151,000 liters) per year!
Video: 'The Living Soil Beneath Our Feet'
Travel underground in this California Academy of Sciences video for an up-close look at the ants, amoebas, and bacteria that maintain healthy soil. This video begins the journey into the soil with a look at the life it is supporting on the surface as does the Project WET activity 'Wetland Soil in Living Color' (p: 217) activity. The Cal Academy link is loaded with material to use with the Project WET activity.
Soil Colors of the Continental United States
The color of soil is one of the few things in nature that is arguably of equal interest to both natural resource scientists and children at play. Successful soil scientists and surveyors appreciate the tremendous quantity of information that is typically related to soil color variation in depth and space. To communicate this part-art and part-science topic, NRCS Soil staff have created maps and images displaying soil colors in both the vertical and horizontal dimensions for each state.
The Water Education Foundation has a website of resources to learn more about water equity issues in California that can be used to enrich the discussion that tends to develop from the online version of 'The Long Haul (p: 273) activity. An estimated 1 million Californians face daunting challenges in obtaining clean and affordable water to drink or address sanitation needs.
"Enlivening the Matilija Watershed" Mural
As an inspiration to tie in with the Project WET 'Make-a-Mural' (p: 515) activity Culminating more than a year of planning, the mural was painted on removable panels at the Ojai Unified School District with twenty-five students, ages 8-18, participated in the painting with direction from the mural artist. The mural is experienced both as an inspiring piece of art as well as an educational outdoor classroom to teach about environmental sciences and our local watershed.
Article: 'Water is life. It's also a battle. So what does the future hold for California?'
This article provides an excellent explanation of the state's water development — as well as the challenges, today and tomorrow, of providing water for California's people, places and things. It includes current figures comparing water use in California versus other states and breakdown of where the water goes, who or what is using it and current and future issues. Great material in this article for use with the Project WET activities '8-4-1, One For All' (p: 299), 'The Long Haul' (p: 273) 'Water Audit' (p: 469) and 'My Water Footprint' (p: 441)
New Sacramento – San Joaquin Delta Map
Our Sacramento-San Joaquin River Delta map has been updated to better tell the story of one of California's most important ecological and water supply resources. The new map explores the importance of the Delta as a haven for birds, fish and other wildlife, its vital role in moving water to farms and cities across California, and the array of challenges facing the Delta's present and future. Graphics explain subsidence in the Delta and the movement of salt water that makes it an estuary in motion.
California Project WET – Online Activity Resources File
Throughout the fall, teachers have been requesting copies of presentations and resources used to lead Project WET activities online. This Google Drive file includes materials for use with Project WET activities including 'The Incredible Journey' (p: 155), '8-4-1, One For All' (p: 299), and 'The Long Haul' (p: 273). Please copy any of the resources you wish to use or modify for use in your program!
WETconnect: a digital experience from Project WET
With WETconnect, students are engaged in hands-on learning and self-led discovery, online or offline. Water education comes to life with e-books, interactive lessons, games, quizzes, and more. Educators and students connect with one another and the world around them. Now everyone can experience Project WET's award-winning water education publications and activities anytime, anywhere. Click here to learn more!
California Department of Water Resources: Education
You'll find a variety of resources to support water education in and out of the classroom. Our free supplementary materials for K-12 educators and parents can help students learn about California's diverse water resources. Our website also includes links to real-time data, online games, local agency programs and to our 'Water Wednesdays' You Tube recordings of conversations on a range of water topics.
U.S. Geological Survey: Water Science School
Tap into over 140 years of USGS research in the natural sciences in the form of activities, maps, podcasts, online lectures, videos and more. Browse thousands of ideas for using these resources in elementary, secondary, university and informal education settings. Don't forget to checkout the USGS Water Science School loaded with great material for use with multiple Project WET activities!
PROFESSIONAL DEVELOPMENT OPPORTUNITIES
Climate Reality Leadership Corps
Register for this free online training by March 24th and learn about the climate and justice crises shaping our moment and how we can solve them together. You'll build the skills and network to effect real policy change and inspire your community to act. Plus, you'll be joining a global community of over 31,000 changemakers leading the fight for just climate solutions.
Mapping for Spatial and Environmental Literacy
This series for 6th-12th grade teachers and instructional coaches will provide an introduction to geographic information systems and how to collect and analyze your own spatial data. You will learn how to use and create maps connecting existing and self-generated data gathered from your neighborhood. No prior experience required to participate.
With educators across the state focused on transitioning back to the classroom, the majority of California Project WET workshops are being conducted this spring are for closed audiences. However, the Alameda County Water District will be offering an online Project WET workshop for Alameda County educators beginning on April 22 – Earth Day!
California Water Institute for Teachers
Participants take part in an intensive three days focused on a region's complex water resources, system ties to the State Water Project and first-hand experiential learning. Our place-based learning experiences will provide teachers with the tools to support students development of environmental literacy skills focused on the watersheds where they live and recreate. Join us August 4-6 in Solano County our first institute!
Forestry Institute for Teachers
Enjoy a week gaining a deeper understanding of forest ecosystems and human use of natural resources. Participants will receive a high-quality, interdisciplinary professional development experience focused on content and practices at the heart of current forest issues as well as current education standards. The start of the FIT application process has been postponed until April 1, 2021 and is dependent on our ability to create a COVID-19 safe environment.
Nature Stewardship Through Science, Education, and Art
Nature offers us peace, a rich and meaningful place to learn. Join a class with John Muir Laws and to learn how the methods of a field naturalist will help you notice more, remember what you discovered, and be actively curious. A nature journal is a lens that focuses our attention and crystalizes our observations, thoughts, and experiences. The system is creative, rigorous, and playful, easy to begin and learn, and will grow and mature over a lifetime.
California Education and the Environment Initiative
The California Education and the Environment Initiative is a statewide effort providing educators with professional learning and instructional materials that demonstrate how to blend the environment into the teaching of traditional academic subjects like science, history, and English language arts. Click here to see a list of correlating Project WET activities to use with individual EEI units!
California Environmental Education Interagency Network
The California Environmental Education Interagency Network is a state government consortium of environmental educators representing state departments and partner organizations. The partnership maintains an online calendar, where educators can find a workshop experiences and participatory stewardship opportunities related to environmental education and environmental literacy offered by the partnership.
SPRING EVENTS
March 22, 2021: World Water Day
'Valuing Water' is the theme of World Water Day 2021. The value of water is about much more than its price – water has enormous and complex value for our households, food, culture, health, education, economics and the integrity of our natural environment. If we overlook any of these values, we risk mismanaging this finite, irreplaceable resource.
March 26, 2021: National Agriculture Week
Join the California Foundation for Agriculture in the Classroom for one or several virtual events to celebrate students and teachers throughout California! From celebrating the achievements of students to bringing agriculture straight to their classrooms, the goal of our events is to truly celebrate the industry that provides the food and fiber we depend on.
April 8 – 18, 2021: Creek Week
Neighborhoods, creeks and parks are opportunities for Random Acts of Clean-up for this year's Creek Week. Check our volunteer pages for suggested creek spots or choose somewhere near your home that could use some trash clean-up. Report your clean-up results and receive a Creek Week thank you!
April 17 – 25, 2021: National Park Week
Join us in celebrating as parks across the country host a variety of special programs, events, and digital experiences. There were also special days during the week to highlight the different ways everyone can enjoy national parks. To kick off National Park Week, all entrance fees are waived on April 17!
April 19 – 23, 2021: Orange County Youth Environmental Summit
The Children's Water Education Festival – has a new look and a new name. The Orange County Youth Environmental Summit will be held virtually with more opportunities for learning and engagement. Through a series of interactive and immersive presentations taught by well-known and respected experts and organizations, third, fourth and fifth grade Orange County students learn about a variety of environmental subjects.
April 19 – 23, 2021: National Environmental Education Week
Each day of National Environmental Education Week will focus on a different topic beginning with water quality on Monday, April 20th and loads of resources will help your students learn about wetland ecosystems, the water cycle and how we all can improve water quality around our home.
April 22, 2021: Earth Day 2021
Guided by the 2021 Earth Day theme of Restore Our Earth, we will start by supporting our local communities, focusing on areas that are disproportionately affected by environmental issues. Those living on the front lines of these environmental crises don't always have the resources to deal with the damage. Learn more on our website:
May 14 – 15, 2021: AEOE Statewide Spring Conference
Our annual statewide conference brings together environmental and outdoor education professionals from across California to participate in professional learning workshops, networking opportunities and a job fair. While we're extremely disappointed that we will not be able to convene in-person this spring, we are looking forward to come together as a community of environmental and outdoor education champions across the state.
May 2021: California Water Awareness Month
Rain or shine, Californians always need to use their water wisely. As we head into the dry summer months in California, the month of May is a time to show our appreciation for the water that fuels our economy and sustains our ecosystems. Conservation is a way of life. Learn what you can do to conserve water inside and outside of your home.
June 5 – 13, 2021: California Invasive Species Action Week
Help us celebrate California's Invasive Species Action Week, by volunteering to take action to help stop the spread of invasive species, find an event near you by visiting our list of 2021 Schedule of Events! Don't forget to check out the Project WET activity 'Invaders' (p: 263)– and checkout this website for recipes for a variety of invasive species!
GRANTS, AWARDS & STUDENT OPPORTUNITIES
Garden Grant Program – Deadline: March 31, 2021
Students are more likely to try fruits and vegetables if they have a role in growing the items! Through the Garden Grant Program, outdoor spaces can be turned into gardens that engage in hands-on learning opportunities and connect students to their food source. The Whole Kids Foundation is awarding $3,000 grants to K-12 schools or non-profit organizations that serve K-12 students to support new or existing edible educational gardens.
Ocean Guardian School – Applications Open: April 1, 2021
Promote ocean conservation at your school or in your local community by becoming an Ocean Guardian School. An Ocean Guardian School makes a commitment to the protection and conservation of its local watersheds, the world's ocean, and special ocean areas, like national marine sanctuaries. The school makes this commitment by proposing and implementing a school- or community-based conservation project.
Stockholm Junior Water Prize – Deadline: April 15, 2021
The Stockholm Junior Water Prize competition is the world's most prestigious water-science competition for students. The purpose of the SJWP program is to increase students' interest in water-related issues and research and to raise awareness about global water challenges. The winner of the California competition will advance to the national level, and the winner of that event will represent America at the global competition in Sweden.
Gloria Barron Prize for Young Heroes – Deadline: April 15, 2021
The Gloria Barron Prize annually honors 25 outstanding young leaders ages 8 to 18 from across America and Canada who have made a significant positive impact on people, their communities, and the environment. The primary goal of the Prize is to shine the spotlight on these amazing young people so that their stories will inspire others. The top ten winners each receive a $10,000 to be applied to their higher education or to their service project.
The Geosciences Bridge Program – Deadline: April 23, 2021
The Geosciences Bridge Program is a collaborative summer program designed to recruit and train graduating high school seniors who plan to pursue a bachelor's degree in a geoscience discipline. The program offers a 6-week paid internship for students planning to pursue careers in a field of geoscience. The program includes lectures, field trips, bi-weekly seminars, housing, meals, travel to and from the University of Maryland Eastern Shore and a stipend.
President's Environmental Youth Award – Deadline: April 30, 2021
The President's Environmental Youth Award (PEYA) recognizes outstanding environmental projects by K-12 youth. Since 1971, the President of the United States has joined with EPA to recognize young people for protecting our nation's air, water, land, and ecology. It is one of the most important ways EPA and the Administration demonstrate commitment to environmental stewardship efforts created and conducted by our nation's youth.
Presidential Awards for Excellence in Math and Science Teaching – Deadline: April 30, 2021
The Presidential Awards for Excellence in Mathematics and Science Teaching (PAEMST) are the nation's highest honors for teachers of mathematics and science. The 2021 awards will honor science, technology, engineering, mathematics, and/or computer science teachers working in grades 7-12. Awardees serve as models for their colleagues, inspiration to their communities and leaders in the improvement of science and mathematics education.
Ocean Awareness Student Contest – Deadline: June 14, 2021
The 2021 Bow Seat Ocean Awareness Contest contest theme WATER RISING challenges students to explore and understand their connection to water and to creatively communicate the need to protect this vital resource and life-sustaining relationship. Students ages 11-18 from around the world are invited to participate.
CREDITS
California Project WET Gazette is published by the Water Education Foundation, which serves as the state coordinator and host institution for Project WET USA, a program of the Project WET Foundation
This material is based upon work supported by the U.S. Geological Survey under Grant/Cooperative Agreement No. G18AC00208. The views and conclusions contained in this document are those of the authors and should not be interpreted as representing the opinions or policies of the U.S. Geological Survey. Mention of trade names or commercial products does not constitute their endorsement by the U.S. Geological Survey.
Editor: Brian Brown, California Project WET Coordinator
Email me here with questions or recommendations for the Gazette!
Water Education Foundation
1401 21st Street, Suite 200
Sacramento, CA 95811
916.444.6240
www.watereducation.org