Solving Water Challenges in Disadvantaged Communities
A Handbook to Understanding the Issues in California and Best Practices for Engagement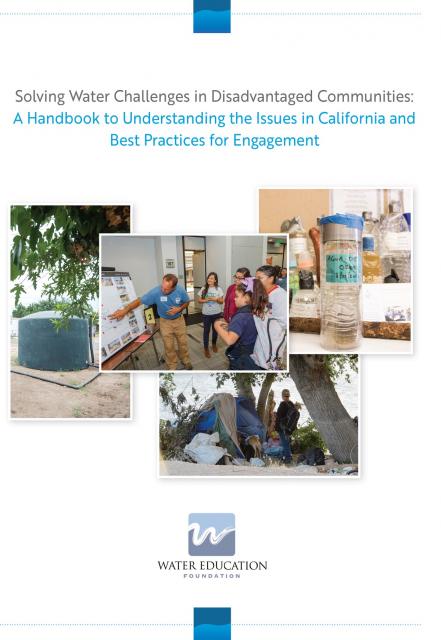 An estimated 1 million Californians, living in economically stressed pockets of the state, face daunting challenges in obtaining clean and affordable water to drink, addressing sanitation or stormwater needs, and gaining the help to do so. Across the state, efforts are underway to provide help. The goal is to do so in a way that allows members of disadvantaged communities to express their needs and wants, set priorities and obtain the technical assistance necessary to begin to solve their challenges.
This handbook is intended as a resource for anyone in, or involved with, communities throughout the state that have historically struggled to make their water resource needs known to agencies with the power to help.
This handbook offers useful background as well as advice from people and agencies that have been engaged in seeking out members of disadvantaged communities and Native American tribes and have helped them have their voices heard and their needs addressed, whether for access to clean drinking water, sanitation or flood protection.
In this handbook, you will find:
Background on the diversity of water challenges faced by disadvantaged communities throughout California.
An overview of efforts to better engage and collaborate with members of those communities to learn what they want and need in order to improve their water quality, supply, sanitation and other water resource needs.
Profiles on specific areas across the state – urban, rural and mountain among them – and advice distilled from the experiences of those involved in engagement efforts, which readers can apply to their specific circumstances.
The handbook was financed by a grant under the Water Quality, Supply and Infrastructure Improvement Act of 2014 (Proposition 1), administered by California Department of Water Resources, and prepared under an agreement with the Santa Ana Watershed Project Authority.