Updated Colorado River Layperson's Guide Explores Drought Planning, Tribal Water Rights, Binational Agreements
Newly updated, the guide offers a "mini-textbook" to history, key agreements and challenges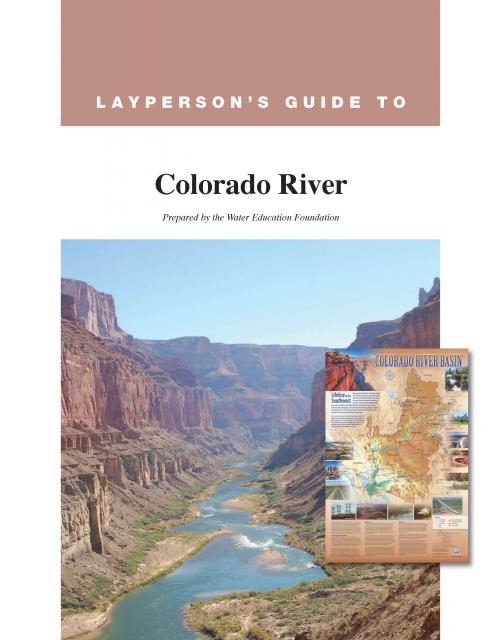 Our popular Layperson's Guide to the Colorado River has just been updated to reflect the latest developments along America's most contested and meticulously managed river, including efforts to reach agreement on a critical drought contingency plan, an assessment of certain tribal water rights and a new binational water agreement with Mexico.
The Colorado River provides water to more than 35 million people and 4 million acres of farmland in a region encompassing some 246,000 square miles in the southwestern United States and Mexico.
The 32-page Layperson's Guide to the Colorado River covers the history of the river's development; negotiations over division of its water; the items that comprise the Law of the River; and a chronology of significant Colorado River events.
Also included are sections on Mexico and each of the seven states – Arizona, California, Colorado, Nevada, New Mexico, Utah and Wyoming – that share the Colorado River.
Other issues discussed include tribal water rights, the efforts to draft comprehensive, collaborative solutions to the river's future water supply-demand shortfall and efforts to restore the environment, including the high flow releases from Glen Canyon Dam, the Lower Basin Multi Species Conservation Program and the Mexican Delta.
The guide was published in December 2018, and free copies already have been mailed to major contributors to the Foundation.
If you're not a member, you can click here to order individual copies for $15. Discounts are available for bulk orders.
The Colorado River Water Map complements the guide. You can get a package discount for both when you buy the Colorado River bundle.
The Foundation's Layperson's Guides offer readers an easy-to-understand, broad overview and perspective on a variety of important water topics. They are available as a set or individually.