Western Water e-mail blast
In the Heart of the San Joaquin Valley, Two Groundwater Sustainability Agencies Try to Find Their Balance
Read Our Western Water Special Report, Water Word of the Day and Don't-Miss Water Reads From Across the West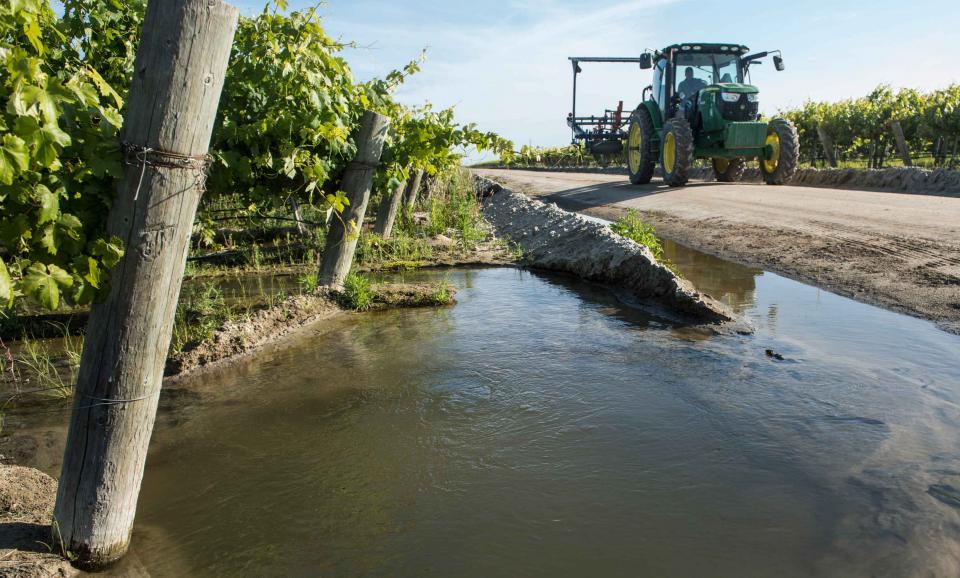 Dear Western Water readers:
Groundwater keeps the San Joaquin Valley's orchards, vineyards and fields vibrant and supports a multibillion-dollar agricultural economy. But that bounty has come at a price. Overpumping of groundwater has depleted aquifers, dried up household wells and degraded ecosystems.
Now, hundreds of agencies in California have the task of making things right in their respective groundwater basins – no easy task considering the enormity of the problem and the need to protect both the farm economy and the drinking water for vulnerable communities.
Western Water's journalism team looked at two different farming regions of the San Joaquin Valley to explore how they are approaching the problem and their proposed solutions to reach groundwater sustainability. Read the full story here where you can also read two important companion articles and the executive editor's note by Executive Director Jenn Bowles.
Water Around the West
Five don't-miss articles from around California and the West:
'The most basic form of PPE': 1.6 million households face water shutoffs Last April, Gov. Newsom issued an executive order that barred water shutoffs for customers who don't pay their water bills. State leaders are now looking for ways to bail out struggling residents and smaller water systems alike, both buckling under $1 billion in water debt statewide. Jackie Botts reports in CalMatters.
Upper Colorado River Drought Plan Triggered For First Time KUNC's Luke Runyon reports that increasingly bleak forecasts for the Colorado River have for the first time put into action elements of the 2019 Upper Basin Drought Contingency Plan. The Bureau of Reclamation projects Lake Powell possibly dipping below an elevation of 3,525 feet above sea level in 2022.
Sunlight Powers Portable, Inexpensive Systems to Produce Drinking Water Prachi Patel writes in Scientific American that researchers are trying to work around expensive, energy-intensive seawater desalination by using the sun's heat more directly to remove salt and other contaminants. The simplest option is to let water evaporate, leaving behind salts and chemicals, and then condense the vapor into clean water.
Tens of Millions of Western Birds Depend on These Two Regions During Migration Audubon Magazine's Corryn Wetzel describes how new research reveals what has been long-suspected but never confirmed: California's Central Valley and the Colorado River Delta are hotspots for North America's migratory landbirds. Each year, tens of millions of birds depend on the regions' river and wetland habitat on their journey through a largely dry, arid landscape.
Increasing Numbers of U.S. Residents Live in High-Risk Wildfire and Flood Zones. Why? Writing for Columbia University's Earth Institute, Anuradha Varanasi notes that by 2050, the number of houses in high-risk wildfire zones might increase by about 1 million in California, where 31 people lost their lives and 10,500 structures were damaged in 2020. Researchers say understanding the elevations of risk is challenging because everyone who lives outside of cities is likely in a wildfire risk zone.
Water Word of the Day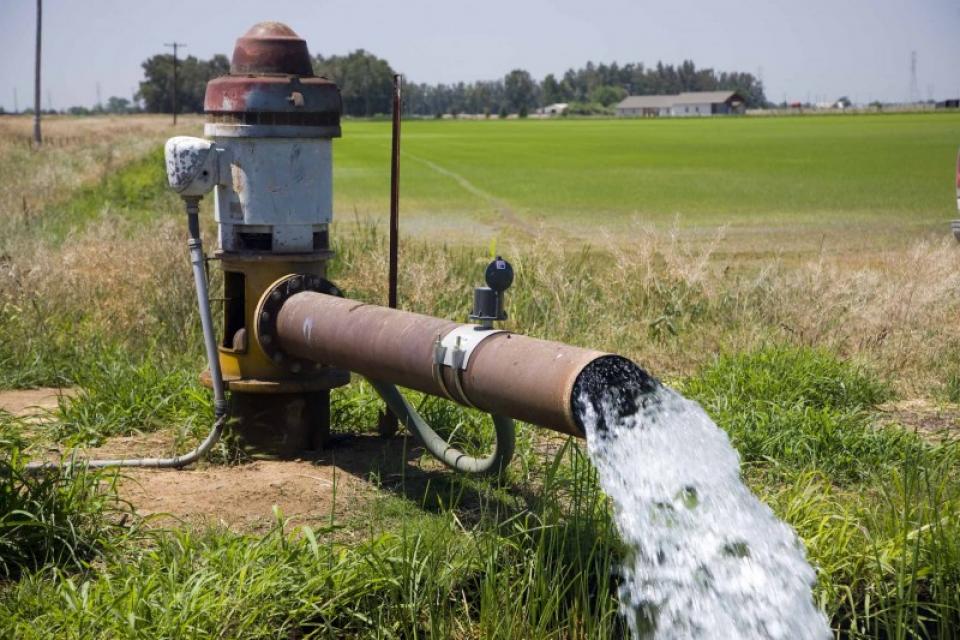 The Sustainable Groundwater Management Act (SGMA) is the landmark state law that aims for local and regional agencies to develop and implement sustainable groundwater management plans with the state as the backstop. You can learn more about SGMA, its history and implementation as well as other water-related issues in Aquapedia, our free, vetted online water encyclopedia.
At the Foundation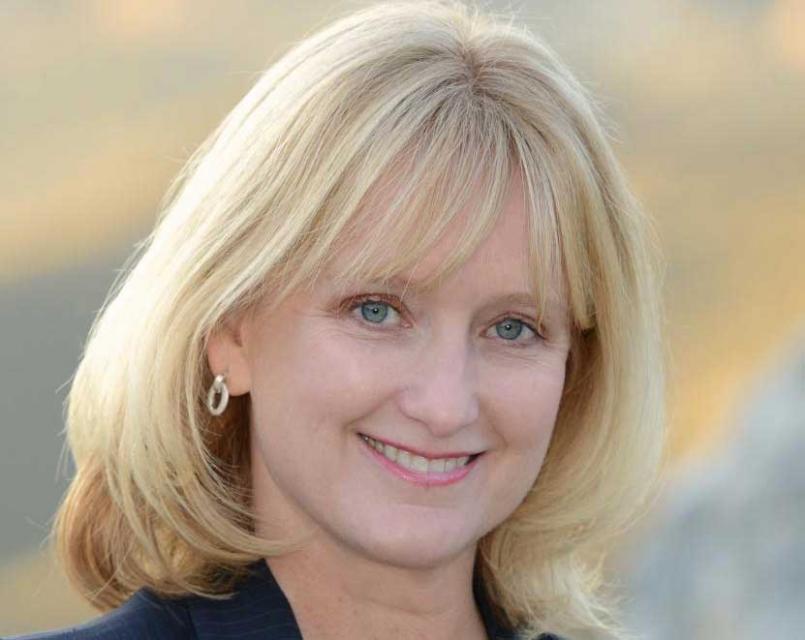 As we turn the page to 2021, we're looking ahead to a year of hope that COVID-19 will no longer be a major threat to our health and well-being. But, with the pandemic in mind, our team is planning a hybrid year starting with virtual water educational experiences and, if deemed safe by health officials, a return to in-person events in the second half of 2021. Learn more about what we have planned for 2021 in the annual letter from Water Education Foundation Executive Director Jenn Bowles.
Water Academy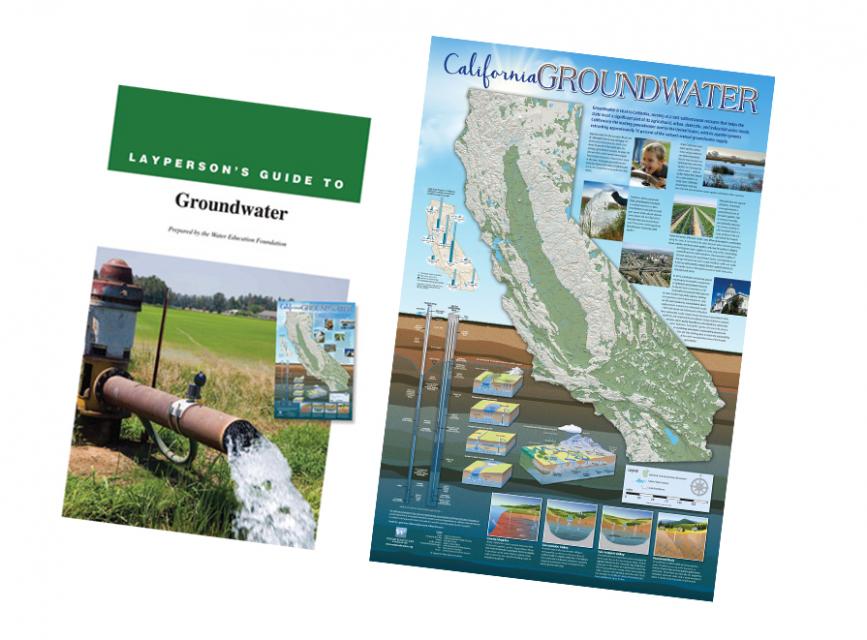 Our Groundwater Education Bundle features our beautiful California Groundwater Map and our Layperson's Guide to Groundwater, an in-depth, easy-to-understand mini-textbook that provides background and perspective on groundwater. Regularly priced at $20 for the map and $15 for the guide, this bundle allows you to purchase both for $30. Please note they ship separately. Here's where to get your bundle.