Winter 2023 California Project WET Gazette
Volume XXVlll, Issue I
New Tools for Exploring Water – Past, Present & Future
Welcome to a New Year, Project WET Educators! The traditional season of gift-giving and thanks may have ended for you with the removal of lights and storing of decorations. But I'm hoping this Gazette may extend the season for you well into the New Year by highlighting a small treasure-trove of online tools and resources that have been recently released or updated – and can be used with Project WET activities.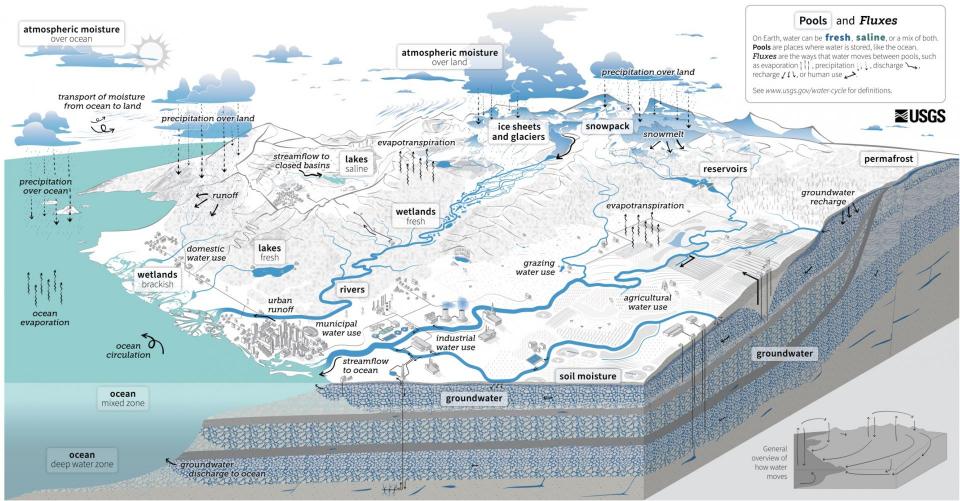 The first of these treasures is an updated U.S. Geological Survey water cycle diagram that illustrates far more complexity and includes interconnections with human activities! This should be a welcome change for all of us who love using Project WET activity 'The Incredible Journey' (p: 155). The updated diagram will go hand in hand with the Project WET activity in busting the notion that every water molecule simply travels in a simplistic, predictable circle-like cycle.
In fact, you'll see there are no arrows indicating anything looking cyclical on the main diagram – only in the small, general water cycle diagram in the lower right corner. This small graphic is a perfect bridge between the new diagram and the older USGS water cycle diagrams, which are now labeled as 'The Natural Water Cycle' and 'Water Cycle for Kids'. Those will still likely be used by upper elementary and lower elementary educators – in conjunction with 'The Incredible Journey' to help even young students understand the water cycle is more complex than the arrows of travel depicted in the simpler diagrams. The new diagram also provides an excellent bridge between the natural water cycle focus of 'The Incredible Journey' and the human water cycle focus of the Project WET activity 'Urban Waters' (p: 413).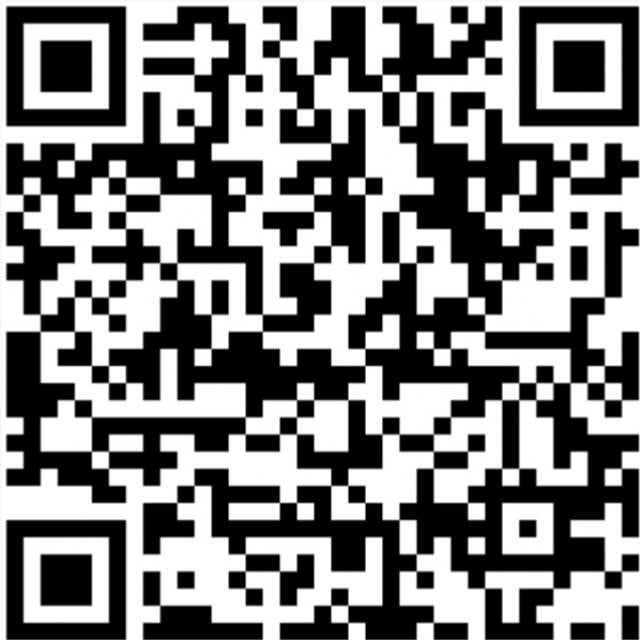 One can easily lose themselves in the National Water Dashboard, another U.S. Geological Survey tool that combines USGS water, National Weather Service and National Integrated Drought Information System data in one fantastic, easy to navigate tool that works great on a desktop computer or cellphone! See for yourself by clicking the link or scanning the QR code, either of which will take you directly to USGS California Water Science Center's array of active stream gauges. The website allowed me to generate for the preset map layers that you will see using the QR code to the left or by clicking here, as you can do with your students.
Click on the 'Legend' in the menu in the upper right corner of your screen. It will describe what you are seeing in each layer displayed. Each dot on the map is an active stream gauge. Click on any gauge dot to see a current hydrograph of that stream. Click 'Show Map' to see where the gauge is located. Click on 'Site Page' to see the current hydrograph with date range options up to a year – and an option to compare to the previous year at the click of another button. Scroll across the hydrograph to see streamflow by time and date!
The 'Data' tab will give you access to all the data the stream gauge has to offer. This includes the monthly discharge in cubic feet per second that can be used to focus the analysis and interpretation of the data portion of the Project WET activity 'Blue River' (p: 135). The site includes layers to study stream patterns, watersheds, aquifers, weather patterns including extreme events. These can be used with the activities 'River Talk' (p: 175), 'Seeing Watersheds' (p: 187), 'Get the Groundwater Picture' (p: 143) and 'Wet Vacation' from Guide 1.0 and the new 'Weather to Vacation' activity in the 'Climate, Water & Resilience' guide.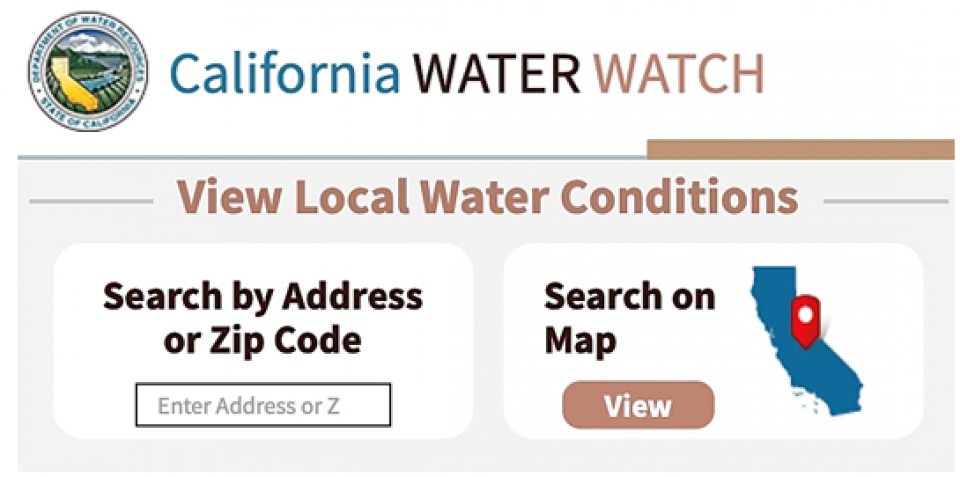 California Water Watch is another new online tool. By simply entering an address, anyone can learn what watershed they are in and its map boundary, annual precipitation, current temperature ranges and easy to understand statistics on how each of these compare to the local historical record. And with just another click, one can learn how local conditions compare to statewide conditions.
One can also view statewide conditions on a map for temperature, precipitation, soil moisture, vegetation conditions, reservoirs, snowpack and groundwater – with site-specific data for the latter three that the user can quickly view by clicking on each location. All are displayed with downloadable charts and graphs perfect for use in the Project WET activity 'My Water Address, Take Action!' (p: 433) and most of the activities listed in the paragraph above!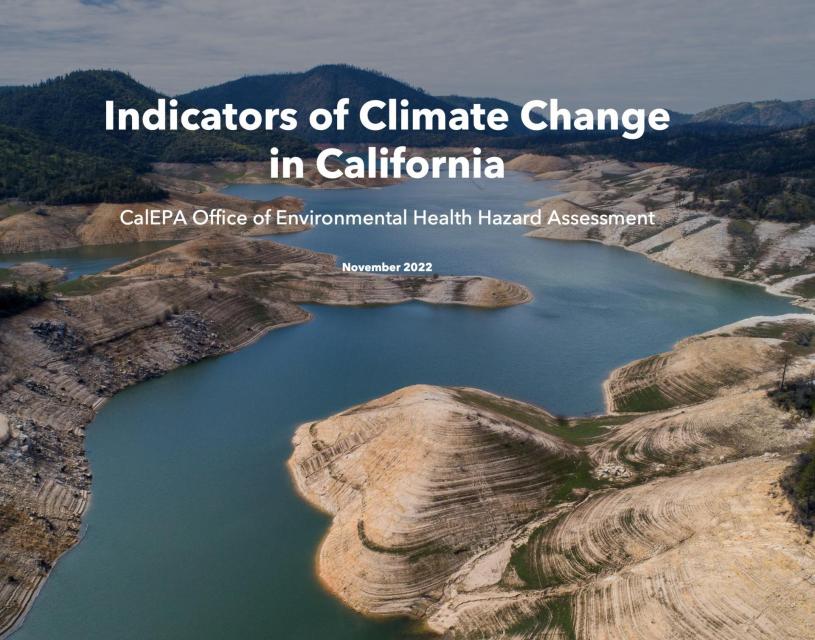 The California Office of Environmental Health Hazard Assessment (OEHHA) released a much anticipated update to the Climate Change Indicators Report that participants are introduced to in our 'Climate Change & California Water' workshops. The 2022 report includes a new story map with an overview of climate indicators in the state and tribal perspectives – and a whole new section highlighting how California tribes are witnessing climate change.
I've also used Cal-Adapt Climate Tools to pull past, present and projected end-of-this-century annual averages of precipitation, temperature and snowpack data. I've then mapped them for participants to analyze and interpret in a modified version of 'Wet Vacation' (Portal) in our 'Climate Change & California Water' workshops. The site includes other climate tools to explore past to end of century projected data for sea level rise, extreme weather events, streamflow, wildfire and extended drought scenarios.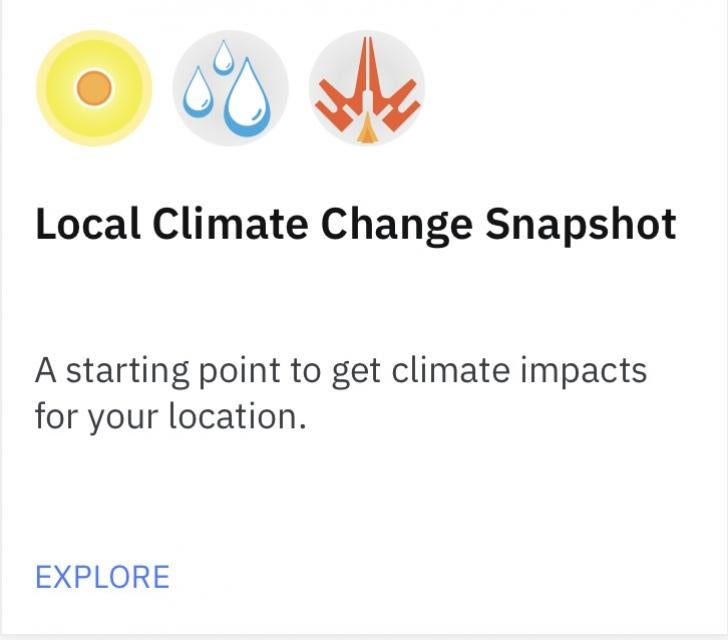 One of the coolest new tools is the Local Climate Change Snapshot. Simply enter a location and the tool will generate a local snapshot of expected climate change impacts through the end of the century based on a couple different scenarios of greenhouse gas emissions. I've discovered you can enter the name of California national parks in the address and get a snapshot for each of these areas, which opens the door to a fantastic extension of the California version of the 'Discover the Waters of Our National Parks' (p: 493) Project WET activity.
The new Cal-Adapt tool and updated OEHHA Climate Change Indicators Report have also made it very easy for an educator to pivot from using the 'Parks' activity to introduce the general concept of weather, climate and geographic relationships. An educator can then flow student study right into a more specific look at data and climate impacts on 'Parks' using the 'Wet Vacation' activity and adding local climate data and observation of climate indicators identified in the OEHHA report in their own watershed 'My Water Address, Take Action!'
The Glacier – Climate Connection is a wonderful story map synthesizing the work of the USGS Benchmark Glacier Project, which strives to advance the understanding of the climate-glacier connection as it applies to mountain glaciers around the world. The story map includes links to other USGS resources and data on climate change impacts to glaciers, permafrost and snowpacks.
The Glacier-Climate Connection story map is a great resource to use with the Project WET activity 'Snow and Tell' (p: 387) and launch into a larger student exploration of the Earth's cryosphere, the portions of the planet's surface dominated by snow and ice. The story map also includes a link to the USGS Science Explorer website on climate with links to all manner of USGS research, data and other resources focused on the study of climate change. Fair warning that engaging with this site is very much like Alice's journey down the rabbit hole into a science wonderland!
Anyone who has engaged in the Project WET activity 'Wetland Soils in Living Color' (p: 217) with me has heard about using SoilWeb to delve deeper into the exploration of soil – especially in the secondary grades. The interactive SoilWeb map allows users to explore soil survey data for locations throughout the country and it works on phones or tablets for use in the field. One can quickly learn about the characteristics of local soil profiles from sand and clay content to pH and color, erodibility, and suitability for different land uses – a great tie to the 'Color Me a Watershed' (p: 239) activity.
There are also other types of SoilWeb apps, including one for just looking at soil chemical, physical, color or land use properties and another that maps the extent of soil series, which I find quite interesting. It always generates lots of 'I wonder' statements. I can't wait to integrate a new app that looks at the suitability of soils for groundwater recharge on farms in California in Part lll of the Project WET activity 'Get the Groundwater Picture.' On this apps map, one can clearly see where rivers have deposited material that can be used for faster recharge of aquifers – a discussion point in the activity and a focus of current research.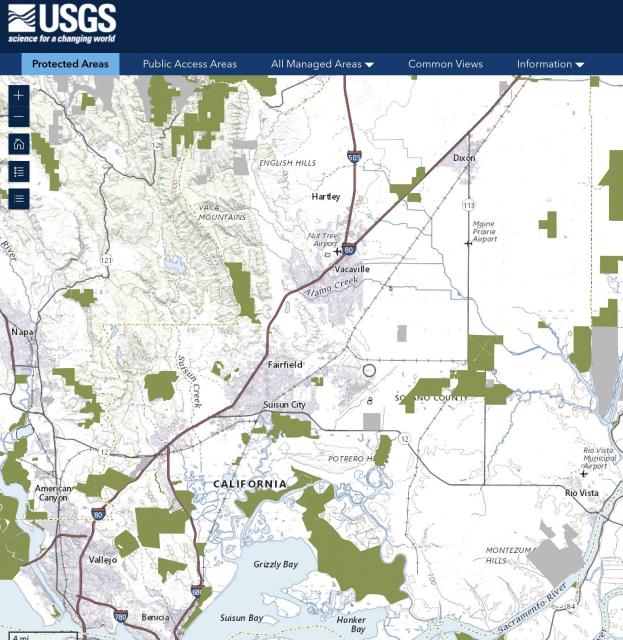 Protected Areas Database of the United States (PAD-US) is the final tool. You can find areas across the nation protected for the primary purpose of biodiversity conservation – and lands and waters that provide public access to nature. I often get asked for information on areas open for the public to hike, bike or swim. Now I have a wonderful resource to offer and use to find these places myself! The importance of open space is highlighted in our summer Solano Water Institute for Teachers, where we connect these areas to Project WET activities including 'Color Me a Watershed,' River Talk,' and 'Storm Water' (p: 395).
I hope this article has highlighted at least one new resource that you can use to engage students, enhance Project WET activities or just feed your own knowledge and sense of wonder. You will find all the resources and a few others in the Websites of Interest. Check out the Winter Events and Professional Development Opportunities that are available around the state in early 2023 – and the roster of Student Contests and Grants & Awards available as we start a New Year!
WEBSITES OF INTEREST
Article: 'Not Your Childhood Water Cycle'
The USGS just debuted a complete remaking of the water cycle diagram—with humans as headliners. In addition to natural processes like ocean evaporation, precipitation over land, and runoff, the new diagram features grazing, urban runoff, domestic and industrial water use, and other human activities. Each label in the chart comes from data tracking the significant paths and pools of water worldwide.
USGS: Stories of the Water Cycle, a Virtual Party
Our newest diagram, released in 2022, depicts the global water cycle, as well as how human water use affects where water is stored, how it moves, and how clean it is. The diagram is available as a downloadable product in English and Spanish. (Check back in the future as additional translated versions become available.)
U.S. Geological Survey: National Water Dashboard
The National Water Dashboard (NWD) is a mobile, interactive tool that provides real-time information on water levels, weather, and flood forecasts – all in one place on a computer, smartphone, or other mobile device. The NWD presents real-time stream, lake and reservoir, precipitation, and groundwater data from more than 13,500 USGS observation stations across the country.
This site offers the most current local and statewide water conditions down to your region and even your neighborhood. This information is updated dynamically from a variety of data sources. Everyone is welcome to research, learn, and stay informed about California's most precious resource — water.
Indicators of Climate Change in California
The Indicators of Climate Change in California report documents observed changes in the state's climate and its impacts in the state. Collectively, the indicators portray a statewide picture of how climate change has been impacting the environment and people of California. The fourth edition of the report contains a new section highlighting how California Tribes have witnessed climate change and a Story Map overview of the indicators and tribal perspectives.
Cal-Adapt provides a way to explore peer-reviewed data that portrays how climate change might affect California at the state and local level. We make this data available through downloads, visualizations, and the Cal-Adapt API for your research, outreach, and adaptation planning needs.
U.S. Geological Survey: The Glacier – Climate Connection
Mountain glaciers are melting faster than the Greenland or Antarctic ice sheets. The repercussions of mountain glacier loss include changes to global sea level and freshwater delivery to rivers and millions of people living downstream who rely on those rivers for irrigation and drinking water. The U.S. Geological Survey Benchmark Glacier Project is one of the longest running studies of glaciers on Earth.
This interactive map allows you to explore USDA-NCSS soil survey data for locations throughout most of the U.S. Explore soil survey areas using an interactive Google map. Additional apps allow users to view regional trends for a variety of soil properties and explore the spatial extent of soil types nationwide. The new Soil Agricultural Groundwater Banking Index can be used to identify soils best suited for groundwater recharge.
U.S. Geological Survey: PAD-US Data Explorer
The Protected Areas Database of the United States (PAD-US) is the nation's official inventory of public open space and private protected areas. This web map tool allows user to find areas protected for the primary purpose of biodiversity conservation, as well as lands and waters that provide public access to nature.
U.S. Geological Survey: WaterAlert
Real-time data from USGS monitoring locations are transmitted via satellite or other telemetry to USGS offices at various intervals; in most cases, once every hour. Emergency transmissions, such as during floods, may be more frequent. Notifications will be based on the data received at these site-dependent intervals. It's free to use! Notifications sent to your email or phone.
Visualizing Countries by Share of Earth's Surface
There are over 510 million square kilometers of area on the surface of Earth, but less than 30% of this is covered by land. The rest is water. Antarctica, although not a country, covers the second largest amount of land overall at 2.75%. Meanwhile, the other nations that surpass the 1% mark for surface area include the United States (1.87%), Brazil (1.67%), and Australia (1.51%). The remaining 195 countries and regions below 1%, combined, account for the other half of Earth's land surface.
California Department of Water Resources: Education
We provide a variety of resources to K-12 educators – including parents – to encourage water education in and out of the classroom. Our free supplementary materials can be used to help learn about California's water resources. Check out our 'Water Wednesdays' You Tube page for recording of our weekly conversations with DWR researchers on a range of water topics.
U.S. Geological Survey: Water Science School
Tap into over 140 years of USGS research in the natural sciences in the form of activities, maps, podcasts, online lectures, videos and more. Browse thousands of ideas for using these resources in elementary, secondary, university and informal education settings. Don't forget to checkout the USGS Water Science School loaded with great material for use with multiple Project WET activities!
Water Energy Education Alliance (WEEA)
Over the next decade, the number of California residents age 65 and older is expected to double, reaching 8.6 million. Many of those impending retirements will directly impact the water, wastewater, and energy industry sectors. The Water Energy Education Alliance (WEEA or Alliance) is a coalition of water, energy, and education leaders working together to build and bolster career pathways to water and energy jobs for Southern California high school students.
PROFESSIONAL DEVELOPMENT OPPORTUNITIES
California Project WET Workshops
Join us this winter for workshops on climate change, water conservation, watershed health, the value of floodplain ecosystems to wildlife and our state water system. Visit our website to find out about upcoming workshops or contact the California Project WET Coordinator if you would like to be notified when workshops are organized in your area.
California Project WILD Workshops
Project WILD's mission is to provide wildlife-based conservation and environmental education that fosters responsible actions toward wildlife and related natural resources. Schedule a workshop today! Contact your state coordinator to find out how.
California Project Learning Tree Workshops
Project Learning Tree uses trees and forests as windows on the world to increase students' understanding of the environment and actions they can take to conserve it. Join us on February 4th in Redding for a combined PLT and Project WILD workshop for Early Learner educators and click here to check-out other upcoming events!
The California Environmental Education Foundation (CEEF) invites educators who teach students in grades 4-12 at schools in Los Angeles and Orange Counties to apply to the 2023 online CEEF Teacher Institute, Best Practices of Environmental Education and Stewardship. Upon completing the Institute, CEEF offers a $575 teacher stipend, Project WET training, a wealth of other resources and an opportunity to purchase up to three (3) CEUs from UC Davis.
California Water Institutes for Teachers
A multi-day professional development experiences for K-12 educators focus on the water infrastructure serving the region of each institute, while providing teachers with tools to engage students in learning about local watersheds and the places where they live. Participants will also be able to earn continuing education credit and an opportunity to receive a $300 stipend. Our Solano Institute is already posted and additional sessions will become available throughout the winter to early spring!
California Environmental Education Interagency Network (CEEIN)
The California Environmental Education Interagency Network (CEEIN) is a consortium of environmental educators representing state departments and partner organizations. The CEEIN partnership maintains an online calendar, where educators can find a variety of workshop experiences, participatory stewardship opportunities and valuable ways to increase their own knowledge and environmental literacy offered by California agencies and their partnership network.
Forestry Institute for Teachers
Enjoy a week with natural resource professionals and advocates gaining a deeper understanding of forest ecosystems and human use of natural resources. Participants receive a high-quality professional development experience focused on interdisciplinary content and practices at the heart of current forest issues – as well as Common Core and Next Generation Science Standards. You'll leave with a wealth of environmental education curriculum – Registration will open in February!
WINTER EVENTS
January 16, 2023: National Parks Free Entrance Day
The fee-free days provide a great opportunity to visit a new place or an old favorite, especially one of the national parks that normally charge an entrance fee. In honor of the Birthday of Martin Luther King, Jr., Visit parks connected to the life and legacy of Dr. King – Martin Luther King, Jr. National Historical Park, Selma to Montgomery National Historic Trail, Martin Luther King, Jr. and Lincoln Memorials. Check out volunteer opportunities inspired by a day of service or attend a ranger program to learn more about the history of Dr. King and the pursuit of civil rights in America.
January 26 – 29, 2023: Snow Goose Festival of the Pacific Flyway
This action-packed 4-day event celebrates the remarkable journey of millions of waterfowl and raptors along the Pacific Flyway that call the Northern Sacramento Valley their home during the winter months. Choose from more than 50 field trips that are sure to appeal to a wide variety of interests and ability levels. Hosted by the Altacal Audubon Society.
February 24 – 26, 2023: California Council for the Social Studies Conference
In selecting this year's theme - Building Bridges: PAST, PRESENT, & FUTURE - we wanted to extend the connection, construction and collaboration that was established when we were able to meet together in person for the first time in two years at the 2022 annual conference. We aspire to bridge our past work to current work and recognize the value of bridging our work into the future.
March 10 – 12, 2023: National Association for Interpretation Regional Workshop
Save the date! Our spring workshop for the Sierra Pacific Region will be held in Aptos, CA at Monte Toyon Camp & Retreat Center. Set amongst the towering redwoods & beautiful rhododendrons a short distance from Seacliff State Beach, it is a perfect location to resume our in-person workshop. Click here to learn more!
March 13 – 19, 2023: Fix a Leak Week
Are you ready to chase down leaks? Household leaks can waste nearly 1 trillion gallons of water annually nationwide, so each year we hunt down the drips during Fix a Leak Week. Join us for the week – but remember that you can find and fix leaks inside and outside your home to save valuable water and money all year long. Learn how to find and fix leaks during Fix a Leak Week. It's as easy as 1-2-3.
March 22, 2023: World Water Day
The theme of World Water Day 2023 will be "Accelerating Change." UN-Water Members and Partners will be joining forces to further focus on partnerships and cooperation leading up to the UN 2023 Water Conference with the provisional title "Accelerating Change through Partnerships and Cooperation". What does accelerating change mean to you?
SCHOOL, CLASSROOM & TEACHER GRANTS
Free California State Park Adventure Pass for Fourth Graders
Teachers of fourth graders are invited to share a new state program with your students that will allow them and their families to enjoy connecting with the outdoors. The California State Park Adventure Pass Program waives day-use entrance fees to19 state parks for fourth graders and their families for a full year. All that is needed from a parent or guardian is a name, address, phone number and an email address.
California State Park Passes
Are you a frequent visitor to a favorite state park or love to sample the beauty of the state from north to south? A California State Parks Pass may be for you. Our park passes offer something for everyone and make great gifts throughout the year, including free passes for fourth graders, CalWORKs families, Supplemental Security Income recipients, and distinguished veterans. We invite you to explore this webpage and find the right pass for you. Click here to learn about available State Park passes.
SoCalREN Kits for Kids Program
The SoCalREN Kits for Kids Program introduces third and fourth-grade students from participating SoCalREN area schools to energy efficiency and how it can help their families save money and improve their comfort and safety at home. Students perform an interactive scavenger hunt and receive energy-efficient items at no cost that can help their families save energy and money. Each enrolled classroom is eligible to receive a $1,000 grant.
President's Environmental Youth Award – Due: January 11, 2023
Your student's project could be an award winner! The President's Environmental Youth Award (PEYA) recognizes outstanding environmental projects by K-12 youth. Encourage your students with an existing environmental stewardship project or an idea for a project to apply so that their achievements can be further recognized.
Presidential Innovation Award for Environmental Educators - Due: January 11, 2023
The PIAEE recognizes outstanding K through grade 12 teachers who employ innovative approaches to environmental education and use the environment as a context for learning for their students. Awardees will receive a Presidential award plaque and an award of up to $2,500 to be used to further the recipient's professional development in environmental education.
Presidential Awards for Excellence in Math and Science Teaching – Due: February 6, 2023
The Presidential Awards for Excellence in Mathematics and Science Teaching (PAEMST) are the nation's highest honors for teachers of mathematics and science. Awardees reflect the expertise and dedication of the Nation's teaching corps, and demonstrate the positive impact of excellent teachers on student achievement. This year's awards will honor science, technology, engineering, or mathematics teachers working in grades 7-12
Whole Kids Garden Grant Program – Due: March 31, 2022
Kids to Parks Day School Grants Program - Due: February 17, 2022
Kids to Parks Day is May 20, 2023! As a part of the celebration, National Park Trust is pleased to once again offer our Kids to Parks Day School Grants Program. Open to students from US/US territories-based Title 1 schools in grades PreK through 12, this grant program provides classrooms with up to $500 for distance learning experiences or up to $1,000 for in-park experiences.
STUDENT CONTESTS
California Coastal Art & Poetry Contest​ – Due: January 31, 2023
The California Coastal Commission invites California students in K-12th grade to submit artwork or poetry with a California coastal or marine theme. Ten winners will receive a $100 gift certificate to an art supply store or a bookstore and four tickets to Aquarium of the Pacific. Each winner's teacher will receive a $50 gift certificate from Acorn Naturalists.
Caring for Our Watersheds Contest - Due: January 28, 2022
The Caring for Our Watersheds Contest challenges students to research their local watershed, identify an environmental concern and come up with a realistic solution. CFW California is currently open to all 9th-12th grade students who live in the Sacramento-San Joaquin watershed in Yolo, Solano, Sacramento, Colusa, Yuba, Sutter, Glenn, El Dorado, Placer, and San Joaquin counties.
H2O Classroom Challenge – Register by: January 31, 2023
Cal Water H2O Classroom Challenge is a project-based, environmentally focused competition for grades 4-6 and aligned with Common Core and complementary to Next Generation Science Standards. Students of participating classrooms initiate, develop and implement a 4-8 week-long project focusing on caring for water. California classrooms and school-based clubs – grades 4-6 – in a Cal Water Service area can participate.
World of 7 Billion Video Contest – Deadline: February 22, 2023
Population growth is a threat multiplier – it makes other problems worse and more difficult to combat. Through the World of 7 Billion student video contest, middle and high schoolers throughout the world are given the platform to think critically about global challenges related to population and share what they think we should do to fix it.
My California Mapping Competition – Deadline: March 24, 2023
The statewide "My California GIS Mapping Showcase and Competition" challenges middle (4th-8th grade) and high school (9th-12th grade) students with harnessing the power of Geographic Information Systems. to produce an in-depth Story Map on an issue, story, or event within the state. $1,000 in prize money will be distributed to the students producing the top five Story Maps in each grade-level category.
Stockholm Junior Water Prize – Applications Due: April 15, 2023
The Stockholm Junior Water Prize competition is the world's most prestigious water-science competition for students. The goal of the SJWP program is to increase students' interest in water-related issues, research and awareness about global water challenges. The winner of the California competition will advance to the national level, and the winner of that event will represent America at the global competition in Sweden.
Climate Video Challenge - Deadline: May 31, 2023
For the Climate Video Challenge, California middle and high schoolers can submit a 3-minute video responding to the question, What is your vision for a thriving future? Submissions are open from now through May 31st, so teachers can include this project in their lesson plan whenever works best for them. Students can also enter independently.
CREDITS
California Project WET Gazette is published by the Water Education Foundation, which serves as the state coordinator and host institution for Project WET USA, a program of the Project WET Foundation
This material is based upon work supported by the U.S. Geological Survey under Cooperative Agreement # GG1AC10429. The views and conclusions contained in this document are those of the authors and should not be interpreted as representing the opinions or policies of the U.S. Geological Survey. Mention of trade names or commercial products does not constitute their endorsement by the U.S. Geological Survey.
Editor: Brian Brown, California Project WET Coordinator
Email me here with questions or recommendations for the Gazette!
Water Education Foundation
2151 River Plaza Drive, Suite 205
Sacramento, CA 95833
916.444.6240
Internet: www.watereducation.org
email: projectwet@watereducation.org