Water Recycling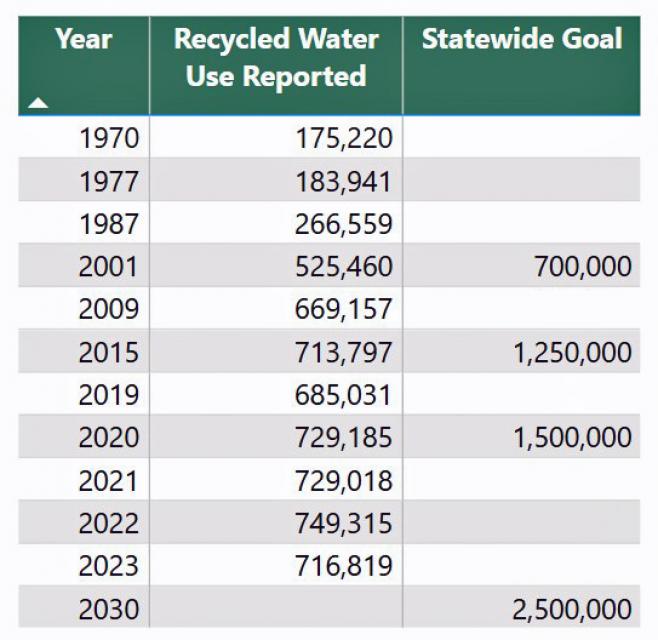 In California, home to nearly 40 million people and a desert climate in large parts of the state, efficient water use is critical. In the face of such demand and a limited supply, water recycling is increasingly common throughout the state. Major water recycling plants are already operating or in development in places like San Diego and Orange counties while a multi-billion-dollar plant has been proposed in nearby Los Angeles County.
The State Water Resources Control Board has set a statewide goal of increasing the use of recycled water to 2.5 million acre-feet by 2030. To help spur progress, the water board is expected to release regulations in 2023 that would allow recycled water to be introduced directly into drinking water systems through a process called direct potable reuse.
All water is naturally recycled and reused as part of the hydrologic cycle. Human-made water recycling, also known as water reclamation or water reuse, centers on using wastewater from homes and businesses that is treated enough to be reused safely.
Recycling wastewater can bolster local water supplies, improve water quality, save energy and reduce discharge and disposal costs of wastewater. Most recycled water comes from treated municipal wastewater or sewage, though other sources include domestic gray water.
In California, water recycling is a critical component of the state's efforts to use water supplies more efficiently. [See Aquapedia's entries on wastewater treatment process and gray-water].
According to the Pacific Institute, the state recycles about 728,000 acre-feet of water per year but it has the potential to more than triple the current urban reuse rate to 2.8 million acre-feet annually. Water management officials in the state are also shifting away from construction of new dams and reservoirs, making water recycling increasingly important.
Water Recycling Overview
Cities, farms, and industries are using recycled water as an alternative for a wide variety of not-potable and potable uses (treated drinking water for consumption). Non-potable uses include:
landscape and crop irrigation
stream and wetlands enhancement
industrial processes
recreational lakes, fountains and decorative ponds
toilet flushing and gray water applications
as a barrier to protect groundwater supplies from seawater intrusion
wetland habitat creation, restoration, and maintenance
groundwater recharge
Using recycled water for such applications reduces reliance on increasingly scarce and expensive surface water. It can also minimize groundwater overdraft and reduce discharges of treated wastewater into rivers and oceans.
Learn more about the process of recycling water in this video.
For different uses of water, there are different levels of treatment. The extent of treatment —secondary, tertiary or advanced —is determined by the initial quality of the water, the end-use application and state laws.
However, water recycling is not without drawbacks. Relatively high costs result from the need for treatment and storage facilities and a delivery system separate from the potable supply. Water quality can be an issue, as well. Recycled water, which generally contains more salt than traditional sources of water, can damage salt-sensitive crops, plants or groundwater basins.