Recycled Water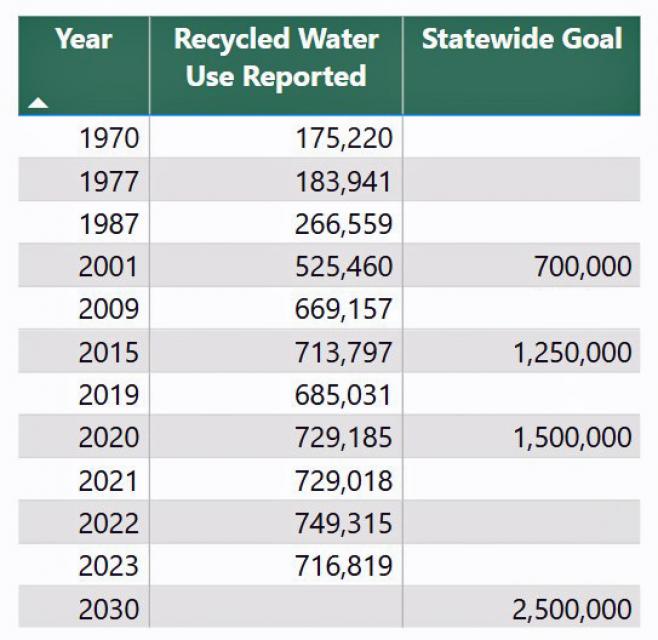 All water is naturally recycled and reused as part of the hydrologic cycle. Recycled water is also produced by purifying wastewater for safe use in drinking (potable) water and for non-potable uses such as irrigation.
Recycling wastewater provides a new, costly but renewable water resource that can bolster local water supplies, save energy and reduce the amount of sewage treatment plant effluent emptied into rivers and oceans.
California has been treating wastewater for reuse for decades to make the most of its limited water supplies. With nearly 40 million people and a desert climate in large parts of the state, efficient water use is critical. Cities in Orange and San Diego counties have major recycling plants. The Metropolitan Water District of Southern California and Los Angeles County Sanitation Districts are together planning a multi-billion dollar recycling facility that is expected to provide purified wastewater for up to 15 million residents.
In 2020, California recycled about 732,000 acre-feet of wastewater, according to the State Water Resources Control Board. The board has set a goal of increasing the statewide volume to 2.5 million acre-feet by 2030.
Potable uses
To help spur progress, the water board in 2023 proposed a set of rules that would allow recycled water to be introduced directly into drinking water. Current rules require it to first enter a reservoir or an aquifer before it can flow to taps.
Learn more about the current process of recycling water in this video.
The proposed process, as described by CalMatters' environment reporter, Rachel Becker, would require many steps to remove chemicals and pathogens that remain in sewage after it has already undergone traditional treatment:
"It is bubbled with ozone, chewed by bacteria, filtered through activated carbon, pushed at high pressures through reverse osmosis membranes multiple times, cleansed with an oxidizer like hydrogen peroxide and beamed with high-intensity UV light. Valuable minerals, such as calcium, that were filtered out are restored. And then, finally, the wastewater is subjected to the regular treatment that all drinking water currently undergoes."
Non-potable uses
Beyond drinking water, cities, farms and industries use recycled water as an alternative for a wide variety of uses, including:
Landscape and crop irrigation
Stream and wetlands enhancement
Industrial processes
Recreational lakes, fountains and decorative ponds
Toilet flushing and greywater applications
Replenishing groundwater
The extent of treatment —secondary, tertiary or advanced — depends on the quality of the water, the end-use application and state laws.