Nutria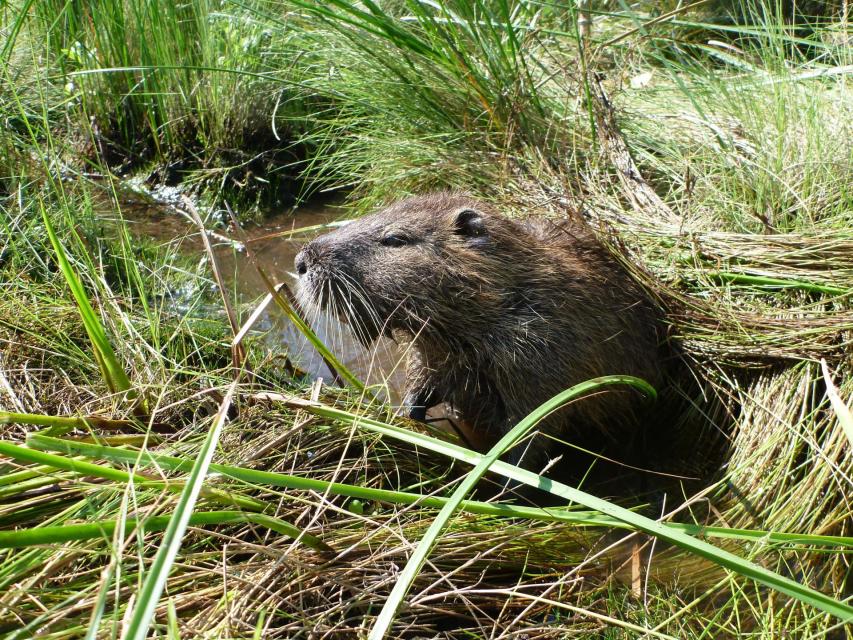 Nutria are large, beaver-like rodents native to South America that have caused alarm in California since their rediscovery along Central Valley rivers and other waterways in 2017.
Their entry into the Sacramento-San Joaquin Delta – first detected in 2018 and more recently in 2023 – is particularly worrisome. Nutria are extensive burrowers and can seriously weaken levees that protect island farms from flooding and help prevent seawater from mixing with water that millions of Californians depend on for drinking and irrigation.
Nutria can also wreck wetlands. They have voracious appetites, consuming as much as 25 percent of their body weight in plant material each day.
The rodent sports bright orange fangs and looks like a cross between a beaver and a giant rat with arched backs and long, round, sparsely-haired tails. Adults typically reach a body length of 2 feet and can weigh as much as 20 pounds. Their webbed back feet make them strong swimmers.
Nutria were first introduced to the United States in 1899 at Elizabeth Lake in northwest Los Angeles County for the fur trade, but failed to reproduce, according to the California Department of Fish and Wildlife. Subsequent introductions were successful, as records indicate nutria were present in the Central Valley and South Coast in the 1940s and 1950s.
California had licensed nutria farms but when the fur market collapsed, some of those were abandoned. Recognizing the damage nutria could cause, the California Department of Food and Agriculture undertook eradication efforts that removed nutria entirely by the 1970s.
Nutria have since been found in Fresno, Madera, Mariposa, Merced, Sacramento, San Joaquin, Stanislaus and Tuolumne counties, according to the state wildlife agency.
The state began another eradication effort with local agencies in 2017. As of June 2023, 3,517 nutria were killed.