Latest Western Water Article Examines Simmering Questions For Lake Powell As Drought, Climate Change Point To A Drier Colorado River
Powell faces demands from stakeholders in Upper and Lower Basins with different water needs as runoff is forecast to decline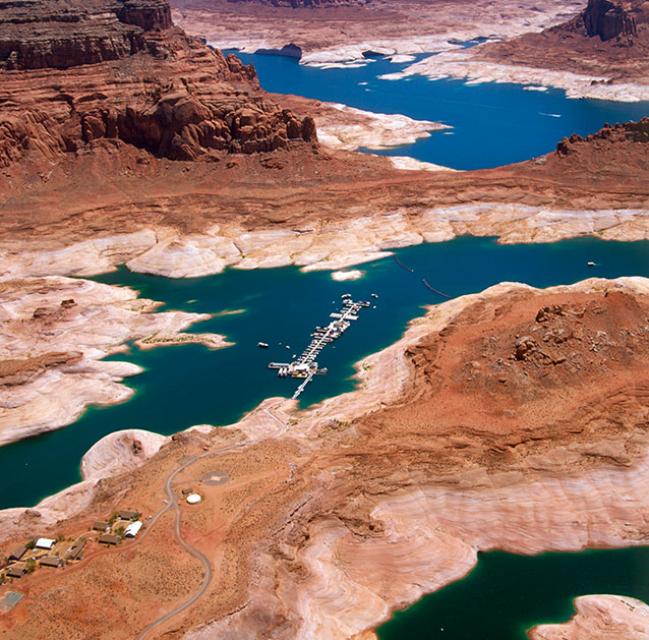 Sprawled across a desert expanse along the Utah-Arizona border, Lake Powell's 100-foot high bathtub ring etched on its sandstone walls belie the challenges of a major Colorado River reservoir at less than half-full.
Recent studies point to warmer and drier conditions ahead, with reduced runoff into the Colorado River. Meanwhile, the Upper Basin is looking to use more of its share of the river's waters. On the horizon is a rewrite of the operating guidelines for the river, and already there is talk about how changes to those guidelines could affect Lake Powell, a key reservoir in the Colorado River system.
The latest article in Western Water explores the different concerns being raised around the Colorado River Basin and how the river's challenges could play out in Powell's future.
Western Water, the Foundation's flagship publication, has been providing in-depth coverage of water resource issues in California and the West since 1977 — first as a print magazine and now published entirely online. You can sign up here to be alerted via email when new articles are published.
The Foundation's journalists — Jenn Bowles, who serves as executive editor of Western Water; editor Doug Beeman; and chief writer Gary Pitzer — bring deep experience covering natural resources in California and the West.