John Wesley Powell
Explorer, scientist, geographer, ethnologist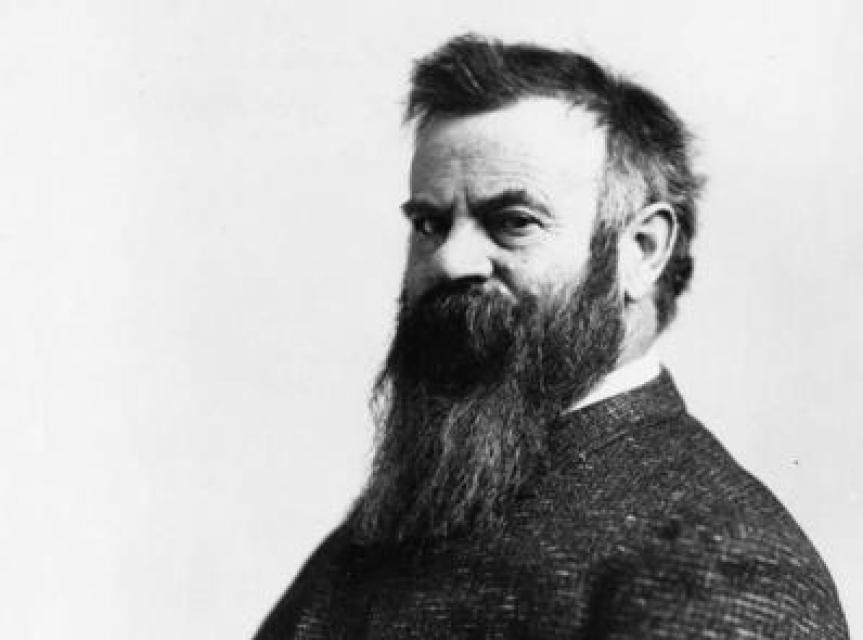 John Wesley Powell (1834-1902) was historic and heroic for being first to lead a daring expedition down the Colorado River in 1869. Ninety nine days later, he emerged from the Grand Canyon to acclaim.
A major who lost an arm in the Civil War, he was an explorer, geologist, geographer and ethnologist. He followed his Colorado River expedition in 1869 with another expedition down the river two years later, this time bringing a photographer to capture the scenes. He later led geological and ethnological explorations in Arizona and Utah on behalf of the Smithsonian Institution.
After further explorations of the Southwest, he concluded that lands west of the 100th meridian were largely unsuitable for agricultural development. He published his observations and views in 1878 in "Report on the Lands of the Arid Regions of the United States."
Powell made three recommendations: Sell no more farmland that doesn't have access to water; set property boundaries to encompass natural watersheds to avoid competition for streams; and do not rely on private water companies to develop water projects.
Powell's ideas were generally rejected at the time. However, the essence of his recommendations was later incorporated into the federal reclamation program established by Congress in 1902.
Highlights of Powell's career:
1862 — Major, Union Army, lost his right arm in the Civil War battle of Shiloh.
1869 — Led an exploratory expedition into the uncharted waters of the Colorado River; returned for a second expedition in 1871.
1879 — Appointed first director of the U.S. Bureau of Ethnology of the Smithsonian Institution, after publishing pioneering work on Native American languages.
1881 — Appointed second director of the U.S. Geological Survey; resigned in 1894 amid controversies surrounding his views. As director, he backed a nationwide program of topographic mapping and advocated conservation and careful planning in use of Western lands.
1888 — Helped found the National Geographic Society.
1902 — Reclamation Act passes, incorporating some ideas advanced by Powell supporting small farms and cooperation in the use of water.
You can learn more about Powell's life in Aquapedia, our free, vetted online water encyclopedia. The U.S. Geological Survey also has an extensive biography of Powell here, along with a special page devoted to the 150th anniversary of his Colorado River expedition here. And the National Park Service has its own biography of Powell here and photos from his second expedition here.