The View from Above: The Promise of Remote Sensing
March/April 2015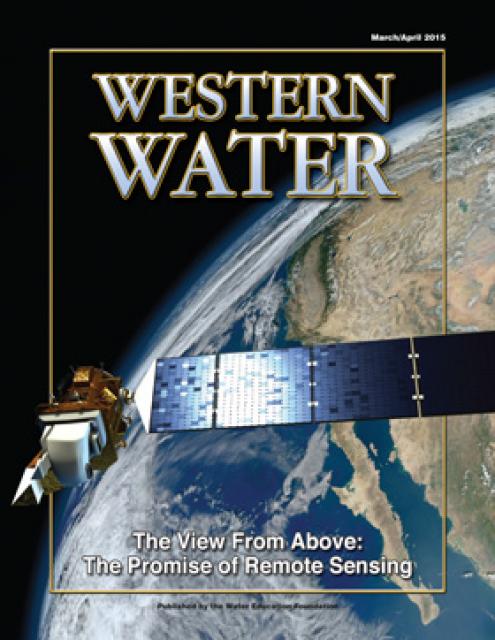 Every day, hundreds of miles above the Earth, satellites spin through their orbits and send images of a variety of physical features back to the planet.
Mountains, forests, cities, farm fields and bodies of water are among the images captured and applied to computer-generated maps. What was once unthinkable has emerged in a detailed analysis that is reimagining the understanding of the complex relationship between land and water.
Click here to order the full article.
Introduction
The process begins as roving satellites instantly view the landscape – whether it is the snow-capped peaks of the Sierra Nevada or the emerald green patches in California's agricultural regions.
"When a satellite looks down, it's like the pixels in your camera," said Grant Davids, president of Davids Engineering in Davis, Calif. "How much resolution do you have when you take a picture? The satellite-based sensors we use look down and 'see' roughly every quarter of an acre.
What the satellite sees is enabling analysts to get a better understanding of how much water a plant actually uses.
"In California's Central Valley, approximately three-quarters of the water applied to irrigated agriculture at the basin scale is consumed and returns to the atmosphere," said Byron Clark, project manager at Davids Engineering. "What we often do in analyzing irrigated agriculture is try to understand where the water that's not consumed ends up. How much goes to streams and how much recharges the groundwater system." High in space, far above the fields, remote sensing cameras effectively measure evapotranspiration (ET), sometimes colloquially known as "plant sweat." Knowing how much vapor is emitted by crops is important in understanding the complex balance between soil, crop and moisture.
The California Department of Water Resources (DWR) likes what remote sensing applications may be able to do because the data spans large geographic areas. DWR contracts with the National Aeronautics and Space Administration's (NASA) Jet Propulsion Laboratory (JPL) in Pasadena to use remote sensing technology to evaluate the impacts of drought on land subsidence in the Central Valley.
DWR is also involved with other remote sensing research projects, including estimation of Central Valley fallowed agricultural land due to drought and evaluation of mountain snowpack conditions. For the past five years, JPL has been working with DWR to see where levees in the Sacramento-San Joaquin Delta and Suisun Marsh were deforming or where potential problems occurred.
The radio detection and ranging (radar) monitoring went beyond the levees and included "things that destabilize the area," such as subsidence, said Cathleen Jones, radar scientist with JPL.
Radar fit the bill because of the traditional difficulty in gauging the integrity of earthen levees, where changes in surface roughness inhibit detecting problems. A new, high-altitude airborne radar flying about every seven weeks has provided a new insight into levee stability. "We can detect small differences in long levees that show one section is less stable than those in the surrounding area and that's very encouraging," she said.
The difference can fall to the level of a few centimeters of subsidence per year between levees, "which your eye would not be able tell when driving around," Cathleen Jones said. She is also using radar imagery to analyze the California Aqueduct for seeps and subsidence. A report is expected soon.
The workhorse for providing information that is useful and relevant for agricultural purposes is the Landsat satellite program, a series of Earth-observing satellite missions jointly managed by NASA and the U.S. Geological Survey (USGS). Launched in 1972, Landsat is the longest continuous global record of Earth observations, according to NASA.
As part of what is called the decadal survey, NASA asks the National Research Council "to look out 10 or more years into the future and prioritize research areas, observations, and notional missions to make those observations."
"At the state level, Landsat's unique combination of thermal and optical data makes for an efficient tool for fair enforcement of the Upper Colorado River Compact, which spans Wyoming, Utah, New Mexico, and Colorado," said USGS spokesman Jon Campbell. "The member parties of the compact all rely on Landsat data to offer consistency and transparency in measurements taken across the multi-state area and to provide cost savings compared to other measurement and monitoring approaches."
For 20 years, the Bureau of Reclamation (Reclamation) has used remote sensing technology to monitor and provide estimates of annual agricultural and riparian vegetation water use and open water evaporation along the lower Colorado River from Hoover Dam to the southerly international border with Mexico. The information helps verify conservation measures implemented for purposes of meeting payback obligations or the Intentionally Created Surplus (ICS).
"For mapping crop types and riparian types the main tool is satellite-based remote sensing," said Jeff Milliken, remote sensing/geographic information system scientist with Reclamation's Lower Colorado Region. "That data is then used with more traditional methodologies for estimating agricultural and riparian water consumption and monitoring agricultural trends on the Lower Colorado River."
More than 3 million acres are monitored, including the Imperial Irrigation and Coachella Valley Water districts, Indian reservations, federal recreation areas and wildlife refuges. Reclamation also monitors the Bill Williams River from below Alamo Dam to Lake Havasu and the Wellton-Mohawk Irrigation and Drainage District on the Gila River in Arizona.
The total estimated amount of agricultural evapotranspiration in 2010 was 2,765,100 acre-feet, according to a 2014 report by Reclamation called Estimates of Evapotranspiration and Evaporation Along the Lower Colorado River. In 2009 the figure was 2,988,600 acre-feet, most likely because less land was fallowed at that time.
Better monitoring of water use increasingly includes the wizardry that multimillion dollar satellites bring to the desktop each day.
"The general backdrop of this is that the water accounting bar is being raised gradually over time and that's basically where remote sensing comes in," Davids said.
Remote sensing technology brings greater information and detail about things such as levee integrity, microclimate conditions in a farm field and the depth of the Sierra Nevada snowpack. If not from space, the imagery is often relayed through high-flying aircraft.
"There are limitations to using satellite data in terms of accuracy and how much detail you can get that on an airplane you overcome," said Noah Molotch, assistant professor of geography at the University of Colorado at Boulder.
For the past five years Molotch has been using remote sensing to study the Sierra Nevada snowpack. The remote sensing combined with ground elevation monitoring is yielding a better understanding of the severity of the drought.
"With the satellite data you get a much more comprehensive perspective on how much below normal is the snowpack," he said. "You can then use that to translate to how much spring runoff we might expect."
The technology used in remote sensing is at the cutting edge of scientific discovery. One method, called Mapping Evapotranspiration at high Resolution with Internalized Calibration, (METRIC), is helping scientists gain a foothold in better understanding ET.
"One of the things [METRIC] does is give you a measure of the actual ET and that data is used for several things, primarily for hydrologic modeling; to help calibrate groundwater models so that way we can get better estimates of recharge and depletions," said Bill Kramber, senior remote sensing analyst with the Idaho Department of Water Resources. "We used it to quantify water rights for delivery calls on junior groundwater water users."
A milestone in remote sensing technology occurred in the late 1990s with development of the Surface Energy Balance Algorithm for Land (SEBAL), an image-processing model that maps ET, biomass growth, water deficit and soil moisture.
Idaho was one of the earliest users of Landsat-based remote sensing, using it to develop irrigated land use maps in the Snake River Basin Adjudication and to monitor water rights.
Another remote sensing tool called Interferometric Synthetic Aperture Radar (InSAR) is being used to measure subsidence. InSAR uses radar signals to measure deformation of the Earth's crust at "an unprecedented level of spatial detail and high degree of measurement resolution," according to USGS.
The measurements resulted in the startling discovery in 2013 that 1,200 square miles of the Central Valley were affected by subsidence, the phenomenon in which land compacts as water is pumped from aquifers.
"Without remote sensing we would not have found this large area of subsidence that we did," said USGS hydrologist Michelle Sneed, author of the study Land Subsidence along the Delta-Mendota Canal in the Northern Part of the San Joaquin Valley, California, 2003-10. "That was our primary tool to look at the spatial extent and magnitude of subsidence. Using InSAR gives us the really good spatial resolution in terms of land surface elevation changes."
In the Midwest, remote sensing is providing information to assist water managers in better facilitating conjunctive management, said Ayse Kilic, associate professor with the University of Nebraska's Center for Advanced Land Management Information Technologies
Nebraska is forging a conjunctive management plan for 200,000 acres of land in the central Platte Valley that are irrigated with surface water and groundwater. Groundwater use "has grown substantially" during the past 40 years, with as many as 3,000 large wells in the area, according to the Nebraska Department of Natural Resources.
Kilic talks of "precision agriculture" and how the knowledge gained about ET by remote sensing technology can improve fertilizing and irrigation schedules.
"We will see a lot of different implications with real time data and advances in GIS (Geographic Information System) technology," she said. "We are getting there."
Remote sensing includes Light Detection and Ranging (LiDAR). Like radar, LiDAR determines the range to an object by measuring the time delay between transmission of a pulse and detection of the reflected signal. Airborne LiDAR "can produce extremely accurate elevation models for terrain while offering a quick and efficient method of surveying terrain that is not easily accessible," according to DWR's Levee Repairs Program web page.
Drone technology is being used by various groups within Reclamation, said Milliken, but not yet for monitoring large areas, noting that one "big challenge" is complying with Federal Aviation Administration regulations.
"My group is not using it, but in fact there are numerous groups in Reclamation that are beginning to use drone technology for various applications – some not specific to monitoring agriculture," he said.
The connection of remote sensing to water use accountability and the efforts of individual states is an evolving issue. Coordinating data drawn by state and federal entities is important so that duplication is minimized or eliminated altogether.
Knowledge about groundwater is ever increasing but more knowledge is needed about where levels stand in various basins and sub-basins. Remote sensing imagery helps by providing images of land surface subsidence in the Central Valley, where one-fifth of the nation's groundwater pumping occurs. Land subsidence damages flood control infrastructure, aqueducts, well casings, bridges, highways and hinders groundwater storage.
By Gary Pitzer
Editor's Note: What "First" is Next?
California has experienced a lot of "firsts" lately: First-ever, statewide water cutbacks to deal with a dire drought; first effort to really regulate groundwater with the Sustainable Groundwater Management Act. First time the Delta smelt has gone "functionally extinct," according to a speaker at our recent Executive Briefing.
What other "firsts" might we see when it comes to water?
As some scientists are trying to harness a clearer understanding through remote sensing of water supply that lurks underground, atop the Sierras and on crops – as reported in this issue of Western Water – some advocates are trying another route to help unlock the mysteries of groundwater: Well logs.
Could the state experience another "first" this year by opening up those well logs to public eyes after more than 60 years behind closed doors? In all other western states, such reports are public and some are even searchable online.
For several years, Sen. Fran Pavley, D-Calabasas, has tried to get a law passed to make them publicly available instead of being stowed under lock and key by the Department of Water Resources. They are kept confidential under a 64-year-old law that considers them proprietary to well drillers.
Pavley's Senate Bill 20, introduced in December, passed out of the Senate Natural Resources & Water Committee on March 25. As Western Water was going to print, it was slated to be heard next in the Environmental Quality Committee on April 15.
Scientists and water policy specialists say now more than ever, a deeper understanding of groundwater is needed as public agencies across the state go about the task of adhering to California's Sustainable Groundwater Management Act. Details in the logs – location, depth and characterization of the segments and rocks – could dramatically improve the understanding of groundwater by mapping the size, shape and thickness of aquifers. Some scientists say it will help them understand how water cycles through them, which can help predict how much pumping aquifers can withstand without being depleted.
The California Chamber of Commerce, the California Farm Bureau, the Western Growers Association and the California League of Food Processors are among those against the records going public. In a letter to Pavley, they argued the well logs are already made available to the appropriate public agencies and disclosure to the general public does not "outweigh the right to privacy of owners of groundwater wells located on private property."
East Bay Municipal Utility District, which provides water to more than 1 million people, wrote to the support the bill, saying that the data in well logs "is central to developing and implementing groundwater management plans."
It will certainly be interesting to see what happens next.
By Jenn Bowles, Executive Director