Enhancing California's Water Supply: The Drive for New Storage
Spring 2017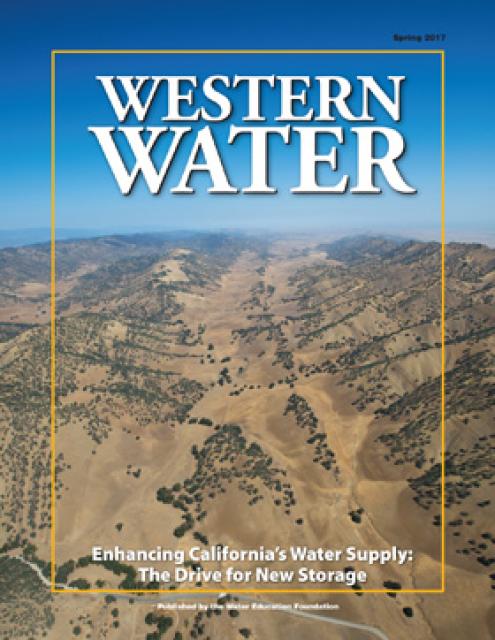 One of the wettest years in California history that ended a record five-year drought has rejuvenated the call for new storage to be built above and below ground.
In a state that depends on large surface water reservoirs to help store water before moving it hundreds of miles to where it is used, a wet year after a long drought has some people yearning for a place to sock away some of those flood flows for when they are needed.
Read the excerpt below from the Spring 2017 issue written by Gary Pitzer along with the editor's note from Jennifer Bowles. Click here to subscribe to Western Water, a quarterly magazine, or to purchase just this issue.
Introduction
One of the wettest years in California history that ended a record five-year drought has rejuvenated the call for new storage to be built above and below ground.
In a state that depends on large surface water reservoirs to help store water before moving it hundreds of miles to where it is used, a wet year after a long drought has some people yearning for a place to sock away some of those flood flows for when they are needed.
"With recent storms bringing record rainfall to the state, California once again missed an opportunity to capture billions of gallons of water to help ease the drought," Republican Assemblymen James Gallagher of Yuba City and Vince Fong of Bakersfield wrote in a January commentary published in the Bakersfield Californian. "Now more than ever, we needed to capture that water to use once the rains stop. The lack of preparation and investment in water infrastructure will further hurt our vital agricultural industry."
The demand for new storage has echoed throughout California for decades but the process of planning, designing, financing, permitting and construction is fraught with difficulty.
There are more than 1,400 dams and reservoirs (on-stream and off-stream) located throughout California providing flood protection, hydropower production and water storage. Chief among them are Lake Shasta and Lake Oroville, the anchors of the federal Central Valley Project (CVP) and the State Water Project, respectively. A key function of the CVP's Folsom Lake on the American River is releasing water to maintain water quality in the Sacramento-San Joaquin Delta. Farther south, Friant Dam's Millerton Lake on the San Joaquin River provides water for the east side of the San Joaquin Valley.
The construction of major dams by the state and federal governments generally ended after about a 20-year period between the 1940s and 1960s. Since that time, substantial invest­ment has been made in regional water storage projects.
"The Bureau of Reclamation (Reclamation) and the Department of Water Resources (DWR), they just haven't built projects in a lot of years and if you look at the state, all the projects that have been built have been local," said David Guy, president of the Northern California Water Association (NCWA).
NCWA is among the 30 participants from the Sacramento Valley, Bay Area, San Joaquin Valley and Southern California that are funding the studies needed to advance the off-stream Sites Reservoir project in Colusa County (about 70 miles northwest of Sacramento).
On April 11, the board of directors for the Metropolitan Water District of Southern California (MWD) authorized $1.5 million for the first planning phase of the project with an eye toward possibly receiving an annual allocation of as much as 50,000 acre-feet.
"This modest stake gives Southern California a seat at the table as Sites Reservoir begins to take shape," MWD Chairman Randy Record said in a statement. "It also enhances the good faith effort being made by water agencies throughout the state to increase stored surface water in California, particularly in facing the uncertainties of climate change."
The Sites proposal is bookended to the south by the proposed Temperance Flat project on the San Joaquin River upstream of Friant Dam in Fresno and Madera counties. The relatively small size of Millerton Lake behind Friant Dam means water must be dumped from it more often during wet years than some of the state's larger reservoirs, something people in eastern San Joaquin Valley would like to change.
"The annual supply for the eastern valley is 800,000 acre-feet," said Mario Santoyo, executive director of the San Joaquin Valley Water Infrastructure Authority, a group of cities, counties and water agencies that support Temperance Flat. "We lost almost half a year's water supply due to the size of the existing reservoir. How does that make any sense in terms of water management?"
Adding a new reservoir with its 1.3 million acre-feet of storage above Friant would take the pressure off the valley's overburdened aquifers, Santoyo said.
"The idea here is if you build Temperance Flat, between the capacity of the new dam and the residual capacity of the old dam … you are looking at 1.7 million acre-feet altogether, which means we have more than tripled the capacity of the system."
According to Reclamation, the increased water supply reliability for Temperance Flat ranges from 61,000 acre-feet to 87,000 acre-feet of long-term average annual deliveries. The construction cost estimate is about $3.2 billion.
The debate about building new storage is a perennial issue that has galvanized people on both sides.
"There are two kinds of people," said Tim Quinn, executive director of the Association of California Water Agencies (ACWA). "Those that look at a year like this and say, 'Of course we need more storage,' and those that look at it and say, 'I'm not convinced.'"
The attitude about storage has changed during the last 10 years, highlighted by the 2014 voter-approved passage of Prop. 1, which established a competitive process to allocate $2.7 billion for the public benefits of qualified water storage projects. The 2016 federal Water Infrastructure Improvement for the Nation (WIIN) Resources Development Act also has the potential to provide funds for new storage.
There remain differing philosophies on how the state should achieve the task of expanding its water storage, with much of the debate centered on whether to construct above or below-ground storage. During the Water Education Foundation's Central Valley Tour in March, John Cain, director of conservation for California flood management with American Rivers, said constructing setback levees in certain areas could help recharge groundwater naturally.
"When we hear 'Build more dams,' our response is we think there are much more economical ways to use reservoir reoperation to do groundwater banking first," he said. With setback levees, rivers would have more room to meander with slower flows, flows that could then sink into aquifers below.
Building new surface storage is lengthy, complex, expensive and fraught with hurdles. There are many environmental issues to account for and proponents face difficulties in coordinating cost-sharing agreements and working with the state and federal governments in some cases. There's also the factor of limited geographical options.
"There aren't any really cheap surface water options available at this point because the folks who did the earlier planning and design of our water system picked all the good spots; plus the costs of infrastructure have risen as well," said Ellen Hanak, director of the Water Policy Center at the Public Policy Institute of Califor­nia (PPIC).
With climate change, it is expected that the state's snowpack will decrease with much of the precipitation falling as rain; thus a system built to capture late-season snow runoff may have to be re-operated to handle high runoff from precipitation earlier in the season. "We will have to rethink the timing of those flood and storage space needs and extending them further into the winter and possibly also having a bigger amount of space," Hanak said. "If we are expecting flashier floods we are looking at likely increasing flood storage space so you lose even more of your surface storage."
Flood releases and having room to capture high inflows became an issue in February with the near-catastrophe at Oroville Dam when the main flood spillway was crippled, pushing the emergency spillway to near-failure and prompting the evacuation of more than 180,000 people from the city of Oroville and surrounding environs
Noah Diffenbaugh, professor of Earth System Science at Stanford's School of Earth, Energy and Environmental Sciences, said the onslaught of rain that pummeled Northern California in the winter means it's time to reengineer how dams and reservoirs are operated.
"What we've seen in Oroville and in San Jose is that not only is our infrastructure old, and not only has maintenance not been a priority, but we're in a climate where we're much more likely to experience these kinds of extreme conditions than we were 50 or 100 years ago," Diffenbaugh said.
In his California Water Action Plan, Gov. Jerry Brown notes the new paradigm in which storage must be considered.
"Demand for water goes well beyond water supply and flood management, the traditional purposes for which California's major reservoirs were built," the Plan says. "Today, water storage is also needed to help provide widespread public and environmental benefits, such as seasonal fish flows, improved water quality, water cool enough to sustain salmon, and increased flexibility to meet multiple demands, especially in increasingly dry years. The financing of additional water storage in California must reflect not just specific local benefits, but also these broader public benefits."
New surface storage advocates hope their projects can be leveraged with available state money. Prop. 1 funds can only be used for the por­tion of construction costs that are dedicated to public benefits such as recreation, flood management, water quality and ecosystem improvements, as much as 50 percent of the total construction costs. Irrigation districts and other water users must pay for all the costs associated with improved water supply from storage projects.
Within the realm of new storage, the amount of available bond money for the public benefit portion of a project is limited.
"That $2.7 billion is not going to go very far," California Water Commission member Joe Del Bosque said during the March tour. "We have to see how we can stretch it out and get the biggest bang for the citizens of California."
Experts point out the vast potential available to the state by getting more water back into depleted aquifers for future use. It's a practice that benefits surface supplies and the environment, and is in line with the emerging oversight of groundwater pumping through the Sustainable Groundwater Management Act (SGMA).
"If you just look at total storage space, it's in the neighborhood of hundreds of millions of acre-feet," said Chris Petersen, senior hydrogeologist at GEI Consultants and president of the Groundwater Resources Association of California. "The estimates tend to vary between 500 million acre-feet and 1.3 billion acre-feet. It's big, it's vast and it's oc­cupying the pore space of sands and gravels in every groundwater basin across the state."
Environmentalists champion groundwater storage as a way to meet future demands in a manner that benefits the environment. "There is a real opportunity for increased floodplain restoration that allows us to slow down some of this water and capture some of it for groundwater recharge, provide better flood protec­tion for downstream communities, and also provide ecosystem benefits for salmon and other species," said Doug Obegi, staff attorney with the Natural Resources Defense Council (NRDC). "NRDC supported Prop. 1 because it provided substantial fund­ing for sustainable water supplies and ecosystem restoration. With respect to storage, it only paid for new public benefits such as increased environ­mental flows into the Delta and required surface and groundwater projects to compete for funding on a level playing field."
Editor's Note: Women in Water
Have women made a name for themselves in the water world?
Like Cher, Madonna, Beyoncé and Rihanna in the entertainment world, we no doubt have our own stable of leaders recognized by their first names alone: Lois (Krieger), Pat (Mulroy), Maureen (Stapleton), and Felicia (Marcus), among them.
Earlier this year I attended and spoke at what is believed to be the first-ever water conference just for women in Santa Barbara, hosted by Stephanie Hastings and Amy Steinfeld, two attorneys at Brownstein Hyatt Farber Schreck and attended by women in the legal, engineering, consultant and management sectors.
"More than ever, an increasing number of powerful women are making waves in this historically male-dominated industry. … Thus, we believe that it is time to establish a formal opportunity for women leaders in the water industry to collaborate, coordinate, educate and support each other," they said in printed materials.
During the panel discussions, there was some debate over what women bring to the water table, no pun intended. Are they more likely than men to listen and understand another side of the water debate? That seemed to be the initial consensus, but then one speaker correctly pointed out that women have had to be tough negotiators in the West where, as the old saying goes, "Whiskey is for drinking, water is for fighting."
Back in 2001, not long after transitioning my journalism career from breaking news coverage as an Associated Press reporter in Los Angeles to writing about water in Inland Southern California, I interviewed Lois Krieger, who passed away in 2014.
My article began: "Spunky, outspoken, even stubborn. No one would argue that Lois Krieger is all three, which is why, perhaps, she succeeded as a pioneer in the male-dominated world of California water politics."
Long a board member at Riverside-based Western Municipal Water District, Lois was the first female president of the Association of California Water Agencies and the first and, still, the only female chair of Metropolitan Water District of Southern California. Her term ran from 1989 to 1992.
"I don't know if I can brag about that or not," she said, seemingly disappointed that not more women had shared that throne with her.
Just after Lois left the Metropolitan board, women made up about 16 percent of the 37-member board. Today, that number has more than doubled to 34 percent of the now 38-member board. I think Lois would be happy.
At the Water Education Foundation, women have been a dominant force both in staff and leadership. Who could forget Rita? This year, she'll help us mark our 40th anniversary. Don't forget to mark your calendars for Oct. 26 in Sacramento for that celebration dinner.