Ante Up: Funding California's Water
May/June 2014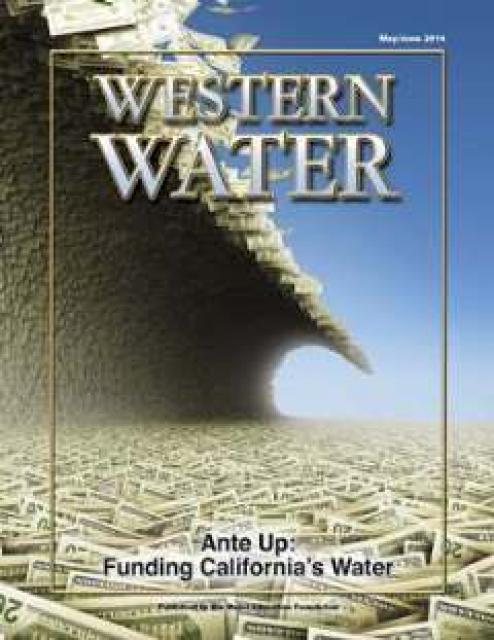 The water people use every day is free. It falls from the sky as rain or snow, free of charge.
It is the capture, storage, moving, and treatment of the water that incurs substantial costs. In the middle of a historic drought, California and its water suppliers must seek funding for water storage projects with greater urgency. The demand for action echoes from Washington, D.C. to Sacramento. Paying for it is a bit more complicated.
Introduction
A notable example is the proposed Bay Delta Conservation Plan (BDCP) – a sprawling, complex and controversial reworking of the state's plumbing system that includes creation of habitat for imperiled Delta species. It features the possible construction of two large tunnels around or under the Delta, at a cost of $25 billion, to be footed by water contractors who serve farmers and urban dwellers across the state.
Those contractors have already committed to hundreds of millions of dollars in BDCP planning efforts. They say they are willing to incur the cost to preserve a reliable source of water from the Delta.
"This important investment would serve as an insurance policy for California's water supply, ensuring safe, clean and reliable water," wrote Rich Atwater, executive director of the Southern California Water Committee, in a commentary published April 10 in the San Bernardino Sun. "The cost here in Southern California would be about $5 a month – or 17 cents a day – for the average household."
Atwater's comments were echoed by the city of Los Angeles' Office of Public Accountability/Ratepayer Advocate, which reported in May that "under a wide array of cost and water demand scenarios, the total BDCP is affordable to almost all city households," and that "selective water policies can minimize the total costs to Los Angeles households and businesses."
The drought, one of California's worst, has spurred increased talk of building new storage projects to capture flows in wet years. Two of the most discussed possibilities are Sites Reservoir in Colusa County and Temperance Flat Reservoir in Fresno and Madera counties. Reps. John Garamendi, D-Walnut Grove, and Doug LaMalfa, R-Richvale, are carrying legislation that would kick-start the Sites project, which has been studied for about 20 years at a cost of $50 million. Meanwhile, Rep. Jim Costa, D-Fresno, is carrying legislation that would authorize the expansion of San Luis Reservoir, raise Shasta Dam and build Temperance Flat Reservoir.
"Every region and political interest in the state agrees that we must expand our storage capacity," Costa said, in a statement. "After three dry years, the case for this is being made every day as our reservoirs statewide are turning into mud pits during this drought. Our grandparents' foresight has carried us for decades, but the bill has come due for our state to again invest in storage."
Water is among the suite of utility bills people regularly pay each month – arguably with less regard than items such as cable television, Internet or cellular telephone service. People are using less water in response to the drought, and that means lower bills for many ratepayers.
But water utilities have to invest in upgrades to keep their systems operable.
Municipalities have to tap into limited funds to attend to improvements in stormwater maintenance. The idea of a water utility fee has been revived as a means to spark discussion about addressing long-standing water supply and water quality issues.
"To fill the existing funding gaps, and to prevent new ones from forming, California will have to better align its funding laws with the goals of modern water management," according to Paying for Water in California, a March report by the Public Policy Institute of California (PPIC). "The Legislature will need to pass new special taxes and regulatory fees to tap a broader mix of funding sources."
Speaking at PPIC's April 10 conference on the report, one of its authors, Senior Fellow Ellen Hanak, said the drought "opens the window to reform" and "to do things besides putting bonds on the ballot." PPIC estimates that an additional $12 to $20 per household per month could fill the current $2 billion to $3 billion funding gap for things like stormwater treatment and flood management.
"Although this is a fixable problem, it will not happen without a bold, concerted effort on the part of California's state and local leaders, who must convince California's residents to support the necessary changes with their votes and pocketbooks," the report says.
But the need for more money runs into the reality of ratepayer backlash, which manifests as protest votes that sometimes block proposed fees that don't have a direct connection to services rendered.
"I think rate setting has become more political," said Kelly Salt, an attorney with Best Best & Krieger in San Diego who specializes in public financing. "You just have individuals who want to use as much water as they want to and others who are hit extremely hard … you no longer have lifeline rates for individuals, and that's very troublesome."
For years, local governing bodies would periodically raise rates for water to help finance new projects or keep up with infrastructure needs. That all changed in 1996 with Prop. 218, which, among other things, requires "at cost" water pricing, meaning public water suppliers may not allow water rates to exceed the proportional cost of delivering water to homes.
Prop. 218 requires that the fees for a "property-related" service be proportional to the costs of service to the property, and that property owners be charged only for services delivered to their properties. In 2010, voters passed Prop. 26, which redefined many additional governmental fees as taxes. According to the PPIC, "there is considerable uncertainty about how the courts will interpret which actions constitute a 'governmental activity' that can be covered by a regulatory fee, rather than a tax."
Taxpayer advocates warn against trying to chip away at the law's foundation.
"We agree that water management is a critical issue that needs more attention, but decimating the taxpayer protections in Prop.13, Prop. 26 and Prop. 218 won't fly with taxpayers," said David Kline, vice president of communications and research with the California Taxpayers Association. "Californians already pay very high taxes, with the expectation that local government will use the money wisely for priority issues like water management. Rather than trying to gut taxpayer protections and lower the vote threshold for local special taxes, local governments should examine how they spend the money they get. Water agencies that demonstrate efficiency will find a more receptive audience if they later need to ask voters to approve tax increases to generate more funding."
Besides assistance to low-income people, money is needed to help people in small rural areas where the water is often unsafe to drink. These small enclaves, typically adjacent to agricultural land, have a hard time paying the rates necessary to support the operations and maintenance of pumping, treatment and delivery of water.
"We need an integrated financing plan for water in California," said Debbie Davis with Gov. Jerry Brown's Office of Planning and Research, at the PPIC conference.
A crucial area of attention is groundwater management, which succeeds in some areas but is woefully non-existent in others. A growing consensus says that urgent action is needed to prevent a looming disaster – an effort that requires financial resources. In an April 3 blog post, the University of California, Davis Center for Watershed Sciences said that "adequate funding will be essential to effective reform" and that while "state dollars might provide some incentives, local entities must have sufficient authority and flexibility to raise the funds needed to carry out sustainable basin-wide management."
State investment is a key aspect of California water management and an array of bond proposals are vying to replace the oft-tabled $11 billion bond scheduled for the November ballot. General revenue bonds were prevalent in the early 2000s, totaling some $20 billion for water supply, water quality and ecosystem projects. Bond passage came to a virtual standstill the past decade, meaning that as much or more of the state's general fund money goes toward servicing the bond debt than what the remaining bond money provides for projects.
"There is a payday due and that's part of the thinking about options for the future," Hanak said.
PPIC's report notes that "since the early 2000s, the state has worked to fill some of the gap with general obligation bond funds, to the tune of about $1 billion annually … but these funds … are running out, and California will need a broader mix of funding to pay for the state water system."
Bonds are enveloped in controversy as their contents are often pilloried as pork-filled giveaways. Crafting a policy for new storage, and the public vs. private financing aspect, is inevitably part of the struggle to get a bill to the governor's desk.
Longtime observers believe it is time for California to pay as it goes regarding water project financing. "Our reliance on bonds has to decline," said Lester Snow, executive director of the California Water Foundation, at the PPIC conference. He noted that it's "almost impossible" to find financing for projects that have "holistic benefit" such as stormwater cleanup and habitat restoration.
Spending money on water means expanding the correlation between investment and benefit, something panelists discussed April 4 at the California Water Policy Conference at Claremont McKenna College.
"One of the things we talked about is having those who receive water out of a forested headwater, that if you consider the threats of catastrophic fire to that very system, in some way, as part of that agency's planning, it might be a good start to make the connection," said Dave Eggerton, general manager of the El Dorado County Water Agency, who spoke at the conference. "Not that you are making a decision that you are automatically going to fund the projects upstream, but just to start thinking about it, recognizing the fact that you have a lot at stake in upstream areas from which your water flows."
Agencies such as the State Water Resources Control Board (State Water Board) once relied on allocations from the state's general fund. However, the trend of the last 20 years or so has been to fund activities with permittee fees to support the programs administrated by the agencies, leaving little or no room for outside work.
"We are vastly fee-funded," said Fran Spivy-Weber, vice chair of the State Water Board, at the PPIC conference. "It means we have a narrow window to funnel dollars and that makes it hard to do new projects like climate change adaption."
This issue of Western Water looks at how water use is paid for and the push to make public financing more flexible.
Click here to purchase a copy of the entire article.
Editor's Desk
I count myself among the water geeks out there. When I studied water law in Colorado during a yearlong fellowship at CU Boulder, I hiked to the headwaters of the Colorado River in Rocky Mountain National Park just to get a look at the area. Draped in several feet of snow, we still knew we got to the destination as a sign peaked out from underneath a billowy, white blanket.
And driving up Highway 395 from the Los Angeles area is always a thrill as the landscape provides a virtual history lesson in California water while the car ambles past the Los Angeles Aqueduct and Owens Valley. Cycling along the Santa Ana River when I lived in Riverside, it was fun to see the river's ebb and flow through the seasons. I'm eager to now cycle along the American River bike path in Sacramento to witness a more robust river.
I have always held a deep fascination for water law, water supply and the other issues that surround the life-sustaining resource. During my nine-year stint as the environmental reporter at The Press-Enterprise in Riverside, I prized my first California water map from the Water Education Foundation. Although my desk moved around the newsroom, I always found space to tack the map on a wall or between desks so I could reference it as I wrote articles about the Delta, the Salton Sea, the Colorado River or Lake Perris, an endpoint of the California Aqueduct.
To now be leading the foundation that produced that map is an honor and a privilege. Helping the public gain a better grasp on the complexity of the plumbing of water through the state, let alone the laws and regulations that govern its use, is more than a worthwhile task.
This year, in particular, is an interesting time to be at the Water Education Foundation as an historic drought grips the state, sparking talk of California possibly regulating groundwater for the first time. It is with fondness that I give a nod to Rita Schmidt Sudman, whose longtime leadership built the Foundation into a well-respected, nationally recognized organization. I vow to continue to build on the Foundation's reputation as a source for impartial and balanced information on water resources.
As for the Foundation, we will continue leading our popular water tours and perhaps think of new places to take our action-packed excursions, and we will continue our Water 101 sessions, including one at Cucamonga Valley Water District on Oct. 2-3 in Rancho Cucamonga. We will increase our presence on social media as a way to spur more discussion and outreach. And later this summer, we will launch a state-of-the art website that will be more user-friendly for those wanting to learn about water resources, get conservation tips and sign up for our water tours and events. Stay tuned!