2023 California Water Leaders Application Package
Get the online form and other application components, learn about criteria for acceptance and tips for completing a solid application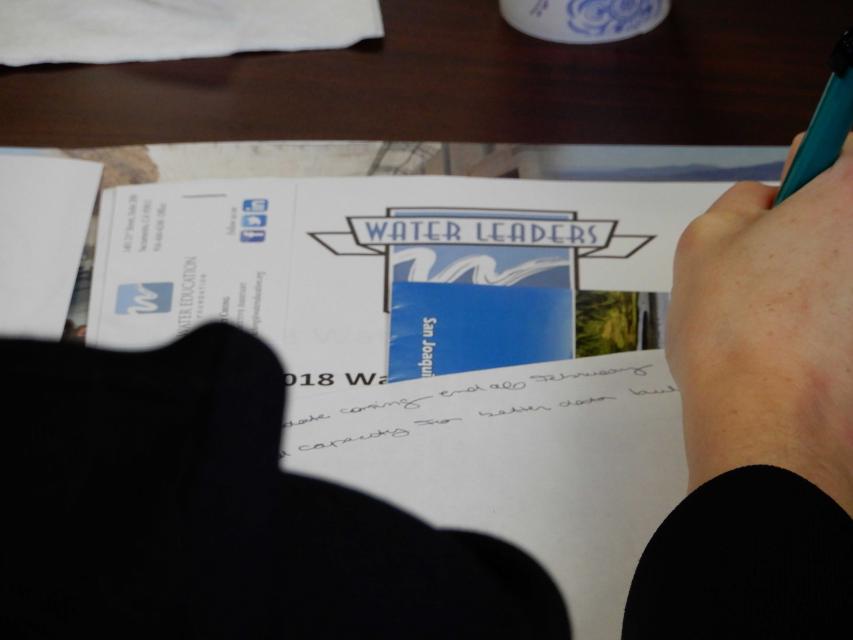 The California Water Leaders program is aimed at emerging leaders involved with water whether they are attorneys, engineers, farmers, environmentalists, scientists, planners or communication specialists.
The program is open to those who work for federal or state agencies, local water and irrigation districts or private businesses that are involved in water.
Acceptance to the ten-month program is extremely competitive. Read this page to learn what you need to submit by Dec. 7, 2022 to be considered for the 2023 Water Leaders class. The program begins with a mandatory class orientation on January 26, 2023.
"From start to finish, I enjoyed every single minute of this year's Water Leaders class. …That said, I shouldn't use "enjoyed" in the past tense because the program will continue to prove its worth for many years to come given what I've learned and the number of remarkable people I've met." - Sean Hermann, Hanson Bridgett, Class of 2021

– Watch a short video made during our 25th anniversary celebration of the Water Leaders program in 2022 to find out what alums say about it.
Get tips on how to apply:
Watch a 30-minute Q&A session that was recorded via Zoom on Nov. 9 with Executive Director Jenn Bowles who provided an overview of the program and tips on how to submit a good application.
How to submit an application by Dec. 7, 2022 at 5 p.m.:
Step 1: Read about the program and requirements, and determine if you can meet the time commitment in 2023. In addition, make sure you have the support of your organization and direct supervisor to apply.
Step 2: Fill out the online application form here.
Step 3: After filling out the form, submit the following documents in one email to Kayla Sergent at ksergent@watereducation.org with the subject line: 2023 Water Leaders Application.
A one-page written statement addressed to the selection committee describing why you are interested in participating in the class (make this your best effort).
Your resume.
A reference letter addressed to the selection committee from your employer/supervisor that explains their support for the time commitment of the program and why they are supporting you specifically for the program.
A statement of financial need if you are applying for a scholarship. Please first ask your organization if they can pay the tuition as scholarship funds are limited. See more details below.
Step 4: Send a nonrefundable application fee of $35:
Use the credit card authorization form to the left, or at the bottom.
Or send a check to the attention of the Water Leaders Program at this address: Water Education Foundation, 2151 River Plaza Drive, Suite 205, Sacramento, CA 95833
Remember: All items of your application package must be submitted by 5 p.m. on Dec. 7, 2022!
FAQs:
What is the total time commitment for the class? Roughly 15 days over the course of the year, plus time to work on the class project: The 15 days includes a mandatory class orientation, shadow day and interview with a mentor, four workgroup meetings, two water tours (either two or three days each) plus our Water 101 workshop and Water Summit along with a final presentation to the Water Education Board of Directors.
What is the expectation of participants? The program is very strict about attendance. Every participant must attend all required events and all four work group meetings in Sacramento.
What is the class topic for the year? The topic is chosen by the Foundation and is announced at orientation.
What is the class report focused on? The class debates and agrees on three to five policy recommendations for a particularly thorny California water issue that is assigned to them at the beginning of the year. This policy paper is posted on the Foundation website, and widely circulated among mentors and decision-makers in California.
Who are the mentors for the class? Mentors are announced near the beginning of the year. Read examples of past mentors in the alumni profiles.
Do I get to choose my mentor? Mentors are assigned to you by the Foundation. The assignment is designed to allow you to learn about an area of the water world different from your own background or current place of employment. This is an opportunity to broaden your perspective, know another aspect of water resources and further grow your network.
What does my tuition include? Tuition includes registration for the events and tours (including hotels once on the tour) that are required for the program. Transportation to and from the events is not included.
What is the timeline for applications? All application materials and the $35 fee are due on December 7th, 2021, at 5 p.m. Candidates can expect to be notified of selection status by the end of December 2022.
Selection Committee:
Our selection committee is made up of our Board Members and Foundation staff (excluding the executive director).
The committee reviews applications with an eye toward those applicants who have:
a commitment to understanding water issues;
a commitment to the community through volunteer activities;
an interest in seeking leadership roles on public boards and commissions, and/or an interest in opportunities for advancement to key leadership roles within their own organizations.
Tuition/Scholarship Funding:
Tuition cost for the 2023 class will be $4,500, and includes registration for all four events and tours that are mandatory under the program. It does not include transportation to and from the events or the starting point of water tours.
Each year, a limited amount of need-based scholarship funding is available, such as:
If you are applying for a scholarship, you also must include a statement of financial need as part of your application package.