Hot Off the Press! Our Map of the Sacramento-San Joaquin Delta Has a New Look
Redesigned map highlights the Delta's importance as a farming region, ecological resource and hub for California's water supply system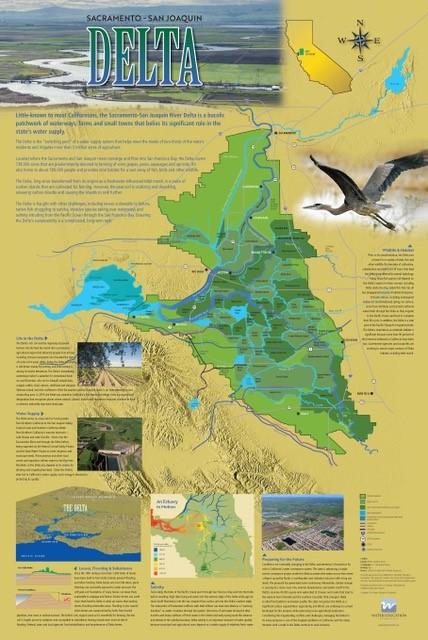 Our map of the Sacramento-San Joaquin River Delta has been updated with a fresh, new look and new text and images to better tell the story of one of California's most important ecological and water supply resources.
The new map explores the Delta's importance as a haven for birds, fish and other wildlife, its vital role in moving water to farms and cities across California, and the array of challenges facing the Delta's present and future. The map also highlights life in the Delta, including its role as a farming region and its attractions for fishermen, boaters and others looking for recreation.
The poster-size wall map shows how the Sacramento and San Joaquin rivers thread their way through the Delta's maze of islands and tracts; key aqueducts, canals and highways that traverse the region; the Suisun Marsh; and the towns that dot the Delta. Graphics explain subsidence in the Delta and the movement of salt water that makes it an estuary in motion.
Funding for the map was provided by a grant from the U.S. Bureau of Reclamation, California-Great Basin Region. The 24"-by-36" map, suitable for framing, is available for $20, plus tax and shipping. You can order your map here.