Western Water
By Gary Pitzer
Groundwater Management Requirements Spark Innovative Approaches to Reach Sustainability
A 'Craigslist' for water, flooding farms to feed the aquifer, and turning farmland into habitat to aid wildlife and groundwater
The San Joaquin Valley has a big hill to climb in reaching groundwater sustainability. Driven by the need to keep using water to irrigate the nation's breadbasket while complying with California's Sustainable Groundwater Management Act, people throughout the valley are looking for innovative and cost-effective ways to manage and use groundwater more wisely. Here are three examples.
A 'Craigslist' for Water
The innovation: A water accounting and trading platform that allows landowners track their water budget and trade water based upon their individual economic circumstances.
Who is doing this: The platform is funded by Rosedale-Rio Bravo Water Storage District in Kern County and Environmental Defense Fund (EDF) with support from the Water Foundation. It was co-developed with landowners by Rosedale-Rio Bravo, EDF, the economic firm WestWater Research and Sitka Technology Group.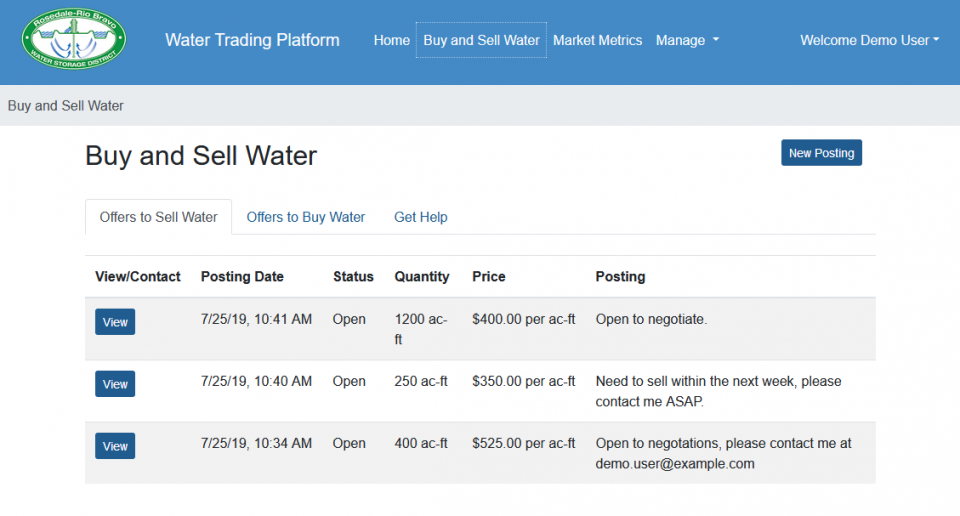 How it works: The accounting portion lets landowners keep track of their water budget online and in real time. The water supply information is provided by Rosedale-Rio Bravo Water Storage District and the water demand data is provided by satellite-based evapotranspiration data that measures water consumed to grow crops. Each parcel is assigned a water budget overseen by the district. In effect, the parcel is the bank account and the district "deposits" water into the account. The trading portion, expected to go live later this year, is similar to Craigslist. A landowner can post an offer to buy or sell water, and an online bulletin board shows all the outstanding offers. Because the technology used to develop the platform is open source, other water agencies can easily use it to build their own cost-efficient, locally customized version of the platform.
What they say: "We developed this platform because we want to provide landowners and growers with as much information and as many tools as possible to manage their water budgets in response to SGMA," said Eric Averett, general manager of Rosedale-Rio Bravo Water Storage District.
Using Floods to Feed the Aquifer
The innovation: Routing flood waters to farmland for extended periods to recharge groundwater aquifers.
Who is doing this: Across the San Joaquin Valley, some groundwater sustainability agencies are proposing to flood farm fields, orchards and vineyards for extended periods to let floodwaters soak in the ground to recharge diminished aquifers. An early advocate of this approach was Terranova Ranch, about 25 miles southwest of Fresno, which tested and proved the concept, showing that certain crops would not be damaged by sustained exposure to floodwaters.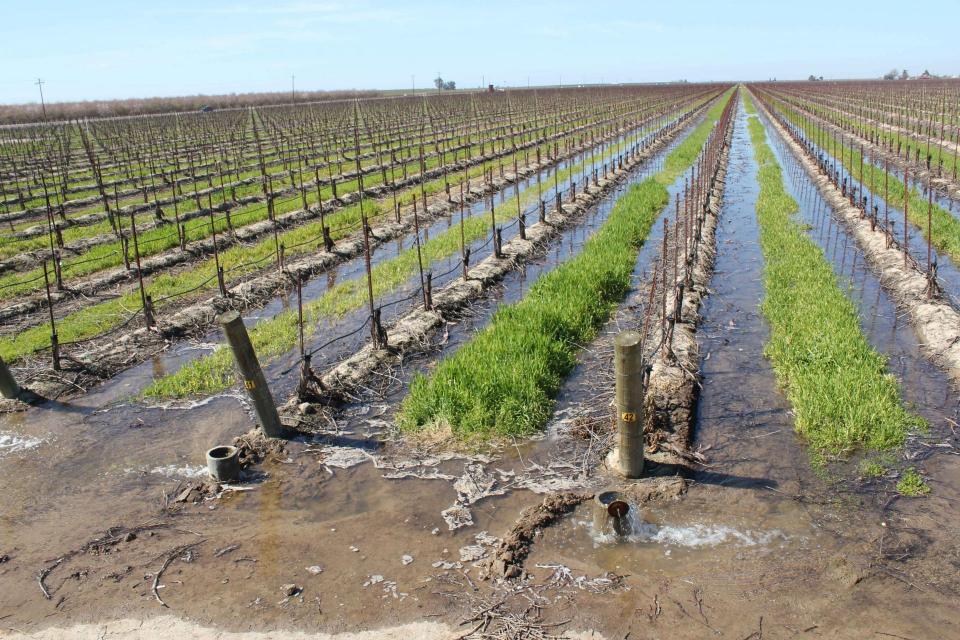 How it works: During California's winters, when it rains a lot and rivers get swollen, available floodwater that would otherwise flow out to the Pacific Ocean is diverted, funneled through new or existing irrigation canals and then spread onto farms that are actively growing crops or are between crop rotations. These crops includes almonds, walnuts and wine grapes. As the water sits there, it percolates through the soil and eventually replenishes underground aquifers. The replenished aquifer can then be pumped out later to irrigate crops and provide local communities with water for drinking and household use.
What they say: "Farmers in the area now support this project wholeheartedly. But they definitely thought I was crazy when I was flooding our wine grapes for months on end back in 2011," said Don Cameron, vice president and general manager of Terranova Ranch.
Converting Farmland to Wildlife Habitat to Aid Species and Groundwater
Innovation: Retiring select farmland acreage and converting it for ecosystem restoration.
Who is doing this: Pixley Irrigation District Groundwater Sustainability Agency, The Nature Conservancy and Audubon are working on a watershed plan in southwestern Tulare County that identifies areas potentially suitable for upland habitat restoration and wildlife-friendly groundwater recharge and wetland habitats. The GSA is looking at transitioning 20,000 acres from irrigated agricultural production to recharge ponds and habitat in its service area.
How it works: Initially, the plan aims to develop three wildlife-friendly recharge sites with accompanying upland habitat restoration surrounding the basins on a handful of properties in the Lower Deer Creek Watershed. In future years, more projects would be developed on potentially suitable lands identified in the plan. Ceasing irrigation at project sites reduces overdraft while recharge contributes to the basin's supply. The sustainable groundwater yield from each site may be used for habitat restoration and surplus water could be credited to the GSA for use by other landowners.
What they say: "The initial projects in the plan will get Pixley ID GSA and their neighboring GSAs a couple thousand acres toward their acreage retirement goal and would increase groundwater supplies through the recharge benefits," said Abby Hart, project director with The Nature Conservancy.