Whose Water Is It? Area of Origin Water Rights
March/April 2010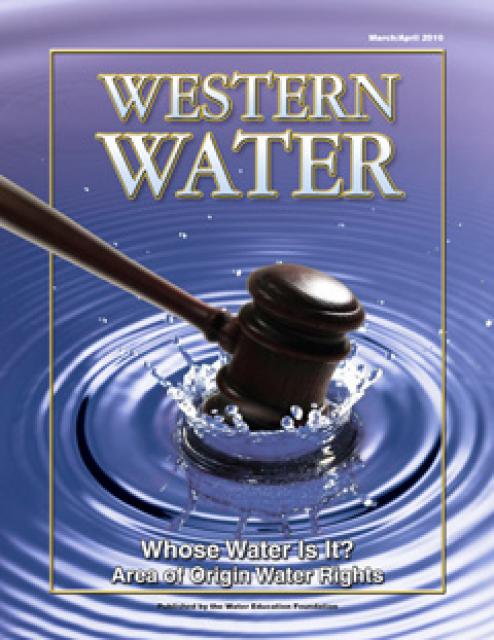 "Let me state, clearly and finally, the Interior Department is fully and completely committed to the policy that no water which is needed in the Sacramento Valley will be sent out of it. There is no intent on the part of the Bureau of Reclamation ever to divert from the Sacramento Valley a single acre-foot of water which might be used in the valley now or later." – J.A. Krug, Secretary of the Interior, Oct. 12, 1948, speech at Oroville, CA
Introduction
"Let me state, clearly and finally, the Interior Department is fully and completely committed to the policy that no water which is needed in the Sacramento Valley will be sent out of it. There is no intent on the part of the Bureau of Reclamation ever to divert from the Sacramento Valley a single acre-foot of water which might be used in the valley now or later." – J.A. Krug, Secretary of the Interior, Oct. 12, 1948, speech at Oroville, CA
More than 60 years after Secretary Krug's speech, the conflict over water has intensified after users in the north state filed a lawsuit against the U.S. Bureau of Reclamation (Reclamation) that alleges a breach of a decades-old promise to fulfill water needs locally before exporting supplies to drier regions beyond the Sacramento-San Joaquin Delta.
Reclamation "persists in exporting CVP [Central Valley Project] water supplies from the Sacramento River watershed … to the San Joaquin Valley without regard for beneficial needs in the … watershed that federal and state laws require," states the lawsuit, filed by the Tehama-Colusa Canal Authority (TCCA) Feb. 11 in U.S. District Court.
Whether the lawsuit results in a change in who gets how much water remains to be seen but the legal claims brought by TCCA have raised eyebrows and rekindled the argument about water rights and those that depend upon the CVP for their economic stability. Water lawyers are buzzing about the case, offering interpretations about the potential significance of the case and what it could mean for water users in Northern California and beyond.
Writing for her firm's Environmental Law and Policy Alert March 16, Cassie Aw-yang, an associate with Somach, Simmons and Dunn in Sacramento, noted that "a ruling that the Bureau must comply with area-of-origin rules in times of water shortages would significantly affect the allocation and distribution of California's water supply in dry years."
TCCA, which represents 16 water districts in the Sacramento Valley covering 150,000 acres of irrigated agriculture in Tehama, Glenn, Colusa and Yolo counties, depends upon Reclamation to supply the water that flows through a 140-mile dual-canal system. In all, the 16 districts receive a total of 338,740 acre-feet of water through the contracts, subject to shortage provisions (an acre-foot of water is about 326,000 gallons). According to TCCA, if it prevails in the lawsuit, the impact to south-of-Delta contractors would be less than 100,000 acre-feet of water annually.
The controversy involves what this issue of Western Water refers to as "area of origin laws." The development of the laws is closely associated with the history of the CVP and the State Water Project (SWP). Beginning in the 1930s, lawmakers enacted a series of statutes designed to protect the future interests of areas, counties and watersheds in which water originates from loss of water supply due to the operations of the projects.
"The TCCA case illustrates the tensions that permeate California's water supply system in 2010: a finite supply with many competing demands," said Kevin O'Brien, an attorney representing TCCA. TCCA is asking for a court order that requires Reclamation to supply it with a full water supply before any exports occur.
There is significant uncertainty about the practical application of the area of origin laws. Writing about the issue in the California Water Law and Policy Reporter in 2004, Richard Wood, former assistant director of public works and water utility manager for the city of Fairfield said the laws "represent the 'sleeping giant' of California water law and policy." Wood, who encountered area of origin in a dispute with the Department of Water Resources (DWR), noted the CVP and SWP were made possible "only after the populous south assured the water-rich north that water for the north would be returned when needed [and] these promises remained dormant for many years because water needs in areas of origin were, for the most part, adequately met."
Writing in the 2009 Harvard Law and Policy Review, U.C. Hastings Law professor John Leshy noted the discussion about area of origin reflects rural areas "fight to preserve 'their' water and the culture that depends upon it."
"The effectiveness of these laws remains in some doubt, but their very existence is revealing, for water law is 'the only [natural] resource-centered body of law that concerns itself with the area of origin,"' Leshy wrote.
Reclamation provides more than 9 million acre-feet of water to 267 contractors in Northern and Central California. Recent dry conditions have forced the agency to balance its allocation among contractors. Like other contractors, TCCA members saw their supplies cut. The fact that TCCA exists in the watershed where much of the CVP's water originates, while other contractors do not, causes some consternation.
TCCA's complaint alleges that "in 10 of the past 33 years, water has been exported outside of the area of origin prior to TCCA CVP contractors receiving full contract allocations." In 2008 and 2009, TCCA contractors received "only 40 percent of the water under their contracts, despite [Reclamation] exporting water to areas outside of the watershed of origin."
"We started in early 2007, and formally made a request to Reclamation after the Robie decision, which clarified that area of origin benefits accrued to CVP water service contractors," said Jeff Sutton, TCCA general manager. "Our contention is that they [Reclamation] are ignoring the area of origin statute which they are legally obligated to follow which requires priority [allocations locally] before export. That's the back upon which the CVP was built."
Reclamation disagrees with TCCA's contention, saying that the Robie decision "is not binding precedent." Dan O'Hanlon, a Sacramento attorney who represents south-of-Delta CVP contractors, said the agency is correctly operating the project according to the terms spelled out in existing contracts. "From their [Reclamation's] perspective and from mine, it's a contract issue that says in time of shortage, Reclamation will apportion water among its contractors and that's what it's been doing," he said.
Thad Bettner, general manager of the nearby Glenn-Colusa Irrigation District, said TCCA's water service contractors are subject to delivery reductions "for any project purpose," which means "they can get shorted all the way down to zero." In comparison, Glenn-Colusa is a settlement contractor, with pre-1914 water rights that supersede the CVP's water rights. "A lot of our rights go back to the 1880s, others are from the turn of the century," Bettner said. "When the CVP was constructed there was a settlement of prior claims."
TCCA's claim "certainly will be settled one way or another with area of origin being critical as to how the project operates," Bettner said, noting the issue has "kind of been there as part of state law" with the question being whether Reclamation is abiding by those provisions.
Those sympathetic to TCCA's cause say it is imperative for Reclamation to meet the needs of Northern California water users before exporting water from the area.
"Area of origin is a critical portion of the original State Water Plan and a critical element of the CVP," said Quincy-based attorney Michael Jackson. "The CVP would not have been built without the statutory code sections that Tehama-Colusa is now trying to use."
Jackson said the lawsuit is "very specific" and not trying to claim TCCA has any priority over water dedicated to the environment or to maintain water quality standards. Rather, it is "elegantly focused on trying to prove whether [Reclamation] will welsh on the original deal."
Because of the "nonthreatening way" the complaint is drafted, TCCA "did not bring us to DEFCON 1," he said.
Finally there is the question of how the lawsuit may affect ongoing efforts to address water conveyance and public trust issues in the Delta. Northern California water users have a long-standing wariness toward any plan that would facilitate the conveyance of water from north to south.
"The importance of this decision, particularly in light of the re-operation of the Delta and a peripheral canal, is an answer we need to have before folks decide how we proceed," Sutton said.
Further definition of area of origin is surely to follow the outcome of TCCA's lawsuit. A 1955 opinion issued by then-Attorney General Pat Brown stated that area of origin protections "reserve for the areas where water originates some sort of right to such water for future needs which is preferential or paramount to the right of outside areas, even though the outside areas may be the areas of greatest need or the areas where the water is first put to use …"
The opinion noted that "while the legislative intent seems clear, legal minds may differ as to the effect of the [laws] when applied to a specific set of facts."
In a 2008 letter to the Delta Vision Blue Ribbon Task Force, Deputy Attorney General Virginia Cahill noted that "for a long time, the area of origin laws were untested," and that "it remains to be seen whether [they] will actually permit counties and areas of origin to recapture water long used by the CVP and SWP as their own needs increase."
CVP contractors in the export service area, who would stand to lose some water should a ruling favor TCCA, believe the law is clear that one group of contractors is not to be treated differently than another. "For many years, water service contractors in the Sacramento Valley have asserted that they have priority over contractors in the export service area under area of origin statutes," said Tom Birmingham, general manager of the Westlands Water District in Fresno. "In every forum where they have asserted that claim, they have not prevailed."
While not directly involved in the case, environmentalists are supportive of TCCA's position and say that keeping more water in Northern California will benefit the environment and local farmers. Tom Stokely, former natural resources planner for Trinity County and current water policy analyst with the California Water Impact Network, said the group is "very pleased" to see TCCA bring the lawsuit, which reflects "a trail of broken promises" made by Reclamation. Sacramento Valley farmers "should have area of origin preference over [other] CVP contractors," he said.
This issue of Western Water examines the area of origin laws, what they mean to those who claim their protections and the possible implications of TCCA's lawsuit.
Click here to purchase a copy of the entire article.
Editor's Desk
"The River flows not past us but through us." This quote appears on a wall of art honoring the sense of place of a new water facility on the Sacramento River. Recently I served as the emcee at the dedication of that facility, the Freeport Regional Water Project. Several members of Congress and numerous dignitaries attended the ceremony to represent the organizations that have spent 38 years competing for the right to use water, a competition that eventually led to an agreement between the Sacramento County Water Agency and the East Bay Municipal Utility District to provide surface water from the Sacramento River to customers in both areas. This beautiful facility located at the edge of the Delta in southern Sacramento County features a backdrop of public art which celebrates our precious water resources with quotations – something I don't see often on newer public buildings.
On some of our water tours we visit older public buildings, beautiful examples of soaring architecture imprinted with quotes from literature and scripture to inspire the people who use our precious water resources. I've always marveled at these water temples built from the turn of the last century through the period of World War II. They celebrate the transport of clean, fresh water to areas that really needed that water. They were often copies of Greek and Roman temples and they had wonderful sayings.
The Spring Valley Water Company built one of these temples in Sunol in 1910 shortly after the great San Francisco earthquake, to celebrate the arrival of water for the city. This saying from the prophet Isaiah embellishes the temple's exterior: "I will make the wilderness a pool of water and the dry land springs of water. The streams shall make glad the city." Another temple also in California expressed the people's joy and relief at getting a sustainable supply of water with these words carved in stone: "I give water in the wilderness and rivers in the desert, to give drink to my people." The water company considered the distribution of water to be a solemn obligation and its president said that the expense for beautiful public art was necessary to "enhance the dignity of the water company in the minds of all."
The water art at the new Freeport Facility features a cement wall carved with various textures and sizes of water quotes. It doesn't appear that there was a major expenditure associated with this special touch. Even today modern people need this type of reflection to inspire us to use water wisely, practice conservation and protect of our environment. Celebrations of water art in public areas are useful in today's society because these elements remind us of the value of readily available clean water.
In the News
New Report Outlines Means to Boost Water Recycling
California's pace of water recycling looks to get a boost from a recent scientific report that outlines methods to ensure the water is as free of contaminants as possible. Agencies looking to initiate or increase recycling often encounter concerns from the public about the relative safety of recycled water.
California water agencies recycle about 650,000 acre-feet of water per year, with the potential of recycling another 1.5 million acre-feet. The State Water Resources Control Board adopted the Recycled Water Policy to provide "permitting clarity" for recycled water projects, according to the report. Part of that policy is addressing chemicals of emerging concern (CECs), which include pharmaceuticals, pesticides and industrial chemicals.
A panel of scientific experts chartered by the state to develop recommendations regarding the development of a CEC monitoring program is urging the state to adopt a "transparent framework" to investigate which chemicals should be included in the monitoring process.
The panel, comprised of experts from academia and the private sector, was asked to review the occurrence, relevance, and quantification of CECs in recycled water and to focus on three reuse practices in which CECs may represent a potential threat to human and aquatic health – indirect potable reuse via surface spreading of recycled water, indirect potable reuse via subsurface injection of recycled water into a potable aquifer and urban landscape irrigation with recycled water.
An April 15 report, Monitoring Strategies for Chemicals of Emerging Concern (CECs) in Recycled Water, notes that thousands of chemicals "are potentially present" in recycled water and that information about those chemicals is "rapidly evolving."
The science of CEC investigation "is still in its early stages and there are a number of activities the state can undertake that will greatly improve both monitoring and data interpretation for recycled water management," the report says.
Water agencies believe CECs are a potential hindrance to the expanded use of recycled water because of possible public perception concerns and precautionary regulatory attitudes, "rather than because of any real public health threats," said Dave Bolland, senior regulatory advocate with the Association of California Water Agencies.
The detection of many of the CECs in water supplies "is so recent that robust methods for their quantification and toxicological data for interpreting potential human or ecosystem health effects are unavailable," the report said.
After compiling measured amounts of CECs in the water to be recycled, the panel recommends development of a "monitoring trigger level" for each compound based on its potential harm. By comparing environmental concentrations to triggering levels, a priority system for monitoring CECs can be established, the report says.
The panel also weighed in on how to monitor recycling programs to ensure current treatment processes are adequately removing contaminants that make water reusable. While most facilities use exhaustive methods "with a demonstrated ability to remove contaminants," there is a need for a monitoring program that can catch "system performance failures," the report said. The panel calls on the state to develop a process "to rapidly compile, summarize and evaluate monitoring data as they become available," and to establish an independent review panel to guide further efforts as more is known about CECs.