Viewing Water with a Wide Angle Lens: A Roundtable Discussion
January/February 2013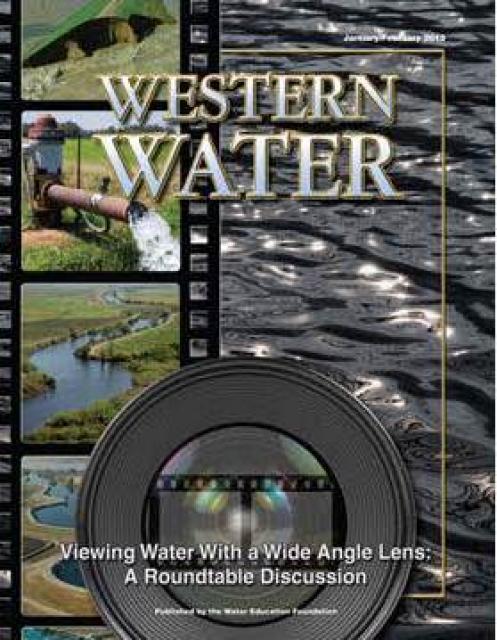 Introduction
With the start of a new year, we decided the time was right to check in with a group of people familiar with California's water issues and get their views and opinions on the hot topics facing the state and the prospects for resolving long-standing conflicts. On Jan. 15, we met with Anthony Saracino, a water resources consultant (and former Water Education Foundation board member), Martha Davis, executive manager of policy development with the Inland Empire Utilities Agency and senior policy advisor to the Delta Stewardship Council, Stuart Leavenworth, editorial page editor of The Sacramento Bee and Ellen Hanak, co-director of research and senior fellow at the Public Policy Institute of California.
Saracino, who serves on the California Water Commission, was a founding member of the board and past president of the Groundwater Resources Association of California. For seven years, he was director of the Nature Conservancy's California Water Program. Davis' stint with water policy includes her term as executive director of the Mono Lake Committee, where she oversaw the State Water Resources Control Board's unanimous 1994 decision to protect Mono Lake by revising the city of Los Angeles' water rights.
Leavenworth, who took over his duties in 2009, has been a journalist for nearly 30 years, the last 14 with the Bee. In 2003, he was awarded the National Press Foundation prize for his coverage of California water issues.
Hanak, who is trained as an economist, has written extensively on California water issues, including California Water: Planning for a Better Future, Where the Wild Things Aren't: Making the Delta a Better Place for Native Species and Managing California's Water: From Conflict to Reconciliation.
Gary Pitzer: This state has many needs and a projected population increase. Do we have enough water right now to meet our current needs?
Anthony Saracino: If the question is do we have enough water to sustainably meet our current level of demand, I think clearly the answer is no because we're over drafting our groundwater basins between 1 and 2 million acre-feet per year and we generally don't account for that when considering our overall water budget. So until we start doing water budgeting on a statewide and regional basis, we're not really living within our means. But it's a very difficult thing to get a handle on because the political pressures to not bring groundwater under the same kind of regulation as surface water are so great that we're pretty much at a stalemate with respect to managing water on a budgeted basis statewide. So while many districts are doing a good job of managing their groundwater at the local level, which is what we should be doing, statewide we're running a deficit every year and it's adding up. At some point we're not going to be able to do that because groundwater levels or water quality are going to have degraded to the extent that groundwater is no longer usable, or there will be other impacts, like subsidence which is already wreaking havoc in a lot of places in the state.
Pitzer: Martha, you're in an area that depends on imported water supplies. Southern California has always done a fantastic job of making do with less.
Martha Davis: Absolutely. And it's making do with less, but not in a hard sense. It's really about better management of those existing water supplies and having a better understanding of the assets that we have in our own backyard that have been underappreciated, undervalued, underutilized or not adequately protected. It's interesting because I agree on the bigger picture of the groundwater deficit, particularly in the Central Valley. And yet, when you stand back and look at how California is managing its water supplies, you see areas where we assumed that population growth would mean that we would need more water. But it hasn't. Look at Los Angeles. Then you look at some of the water development opportunities that have occurred in Southern California. The Santa Ana Watershed is a wonderful example of groundwater supplies that were being depleted and in some respects underappreciated where we were contaminating our groundwater supplies and therefore rendering part of it useless. We've turned it around and put together management plans that are sustainable. We're making investment in water quality treatment. We're generating additional recycled water and groundwater supplies.
We're figuring out how to do a better job of capturing and using stormwater so that we actually have taken an unsustainable situation and flipped it completely around where we're talking about how we can better use those groundwater resources to have more storage and more sustainable and reliable water supplies that will be available during the droughts. So now you're beginning to talk about how you manage water supplies not just in the absolute sense for the end of year, but how you're carrying over the water into the drought periods when we have greater demands. It's all about water management in the end. And so do I think in the bigger picture that we have adequate water, yes, I do. The real issue is how we make choices about how we manage it.
Pitzer: Sacramento is at the intersection of two rivers where some think we have this bountiful, endless supply of water. Stuart, do you think the mindset in the Sacramento area is to take water for granted?
Stuart Leavenworth: It's clear there's this weird sense of entitlement in Sacramento to water and it's true in some other valley towns where you haven't metered it. I would say, though, that that's just a rather small amount of water that's used in California.
And in response to your original question, do we have enough water for our current needs? The other question would be do we have enough water for our current wants. We clearly don't have enough water for our current wants, but those wants include things such as wanting to expand the number of almonds we grow in the San Joaquin Valley or having a huge dairy industry. And the question becomes is that something that California really needs? Is that our economic priority for the state to have a bigger dairy industry than Wisconsin or to compete globally on almonds? It might be. But we're not really making those decisions as a state. Individual water users are making those decisions and that causes strain on an already limited system.
Read the rest of the roundtable discussion by subscribing to Western Water today!
NOTE: Click here to purchase a copy of the entire article.
Editor's Desk
I sat in on the recent roundtable discussion featured in this issue of Western Water. There are lots of water watchers we could have brought together for this discussion but we kept the group small for publication reasons. The group chosen reflects a range of opinions from practitioners to observers of California water.
One of the points the conversation kept returning to was groundwater management. There was agreement that – next to the Delta issue – how we manage groundwater and surface water together is key to moving forward in a unified way. The interconnectedness of Delta operations and groundwater management is necessary, they believe.
It's true we are using more water on annual basis than Mother Nature provides and we are doing this by relying on groundwater. The groundwater overdraft in the Central Valley, leading to subsidence, is 1 to 2 million acre-feet a year and the continued groundwater degradation in some areas of the state is seen by the group as unsustainable and a sad legacy for the next generation of Californians. Current law should not be mysterious and occult as the group agreed is now reflected in current law. I noted the group agreed that Southern California and the Silicon Valley are leaders in groundwater management.
Although it has not been fully developed, it was agreed that stormwater is a major resource that we now should be using it in positive ways. It will not be easy to rework a system that was set up to move stormwater off our property, into the storm drains and out to a major receiving water source. However, the potential is so great that some regions, especially Southern California, are well on their way to better using this resource.
The group agreed that conservation is also seen as a continuing way to squeeze water out of the system, both on the farms and in the urban areas. It was noted that we Californians are using half as much water per capita as we used in the late '60s.
Another point this group agreed on was that pricing water to reflect real costs leads to increased water marketing and also increases efficiency.
It was also recognized that some type of conveyance facility is needed for flexibility to manage waters in the Delta and within the entire state. They said conveyance was needed for environmental protection, reliability for water users and for the benefit of Delta users themselves. It should be noted that the voices against Delta conveyance were not in this roundtable conversation. But the group's main concern seems to be about the size of the conveyance. All recognized that some environmental and Delta interests want an analysis of the smaller alternative. Who ultimately pays for Delta conveyance was also part of the discussion.
Finally Integrated Regional Water Management was seen by the group as transformative, with bond funding allowing agencies to make investments in their backyards leading to continued future partnerships. And looming over the entire discussion was the need to prepare for extreme climate events.
Read the roundtable interview yourself and join us at the Water Education Foundation in the dialog!