The South Yuba: One River, Two Visions
Jul/Aug 1999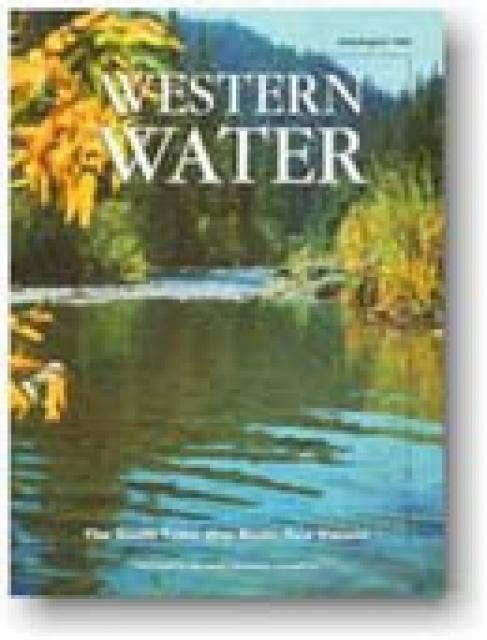 Introduction
Developed, but not tamed, the South Yuba River is a hard working yet picturesque waterway. More than a century after the river's pivotal role in the historic fight over hydraulic mining, the South Yuba is at the center of a modern controversy over flood control vs. environmental protection.
At issue is a 39-mile stretch of the South Yuba between Spaulding and Englebright reservoirs – a story of one river with two different visions of its future.
Upstream in Nevada County, local residents have united to protect that stretch of the river they call their backyard. Wanting to preserve the character of the river that now draws sightseers, hikers, kayakers and even modern-day gold panners to the Sierra Nevada foothills, they are lobbying to add the 39 miles to the California Wild and Scenic Rivers System.
Downstream in Yuba County, local residents have united in pursuit of additional flood protection for an area long devastated by floods, most recently in 1997. A new dam on the South Yuba River is one of nine options under study that would give the flood-prone valley towns of Marysville and Yuba City greater protection against future floods.
"It is a classic power struggle between two counties," said Steve Evans, conservation director at Friends of the River.
In late May, the California Senate approved a bill to designate the 39-mile stretch between Lang Crossing and its confluence with Kentucky Creek below Bridgeport as scenic or recreational. The bill passed on a largely party-line vote, 22-14. In late June, the bill cleared the Assembly Natural Resources Committee. SB 496 now goes to the Assembly Appropriations Committee, which must consider and vote on it by Aug. 27. If the bill passes committee and reaches the Assembly floor, it must be approved by Sept. 10. If approved by the Assembly, Gov. Davis would have until Oct. 10 to sign the bill.
The issue has divided the region. In fact, it is Bay Area Sen. Byron Sher, D-Palo Alto, who sponsored SB 496. The two local state politicians represent both Nevada and Yuba counties and early on, they declined to carry the bill. Both now are on record as opposed.
If the measure succeeds, it will be the first expansion of the state Wild and Scenic Rivers System in a decade. Sher was instrumental in gaining protection for the last rivers added to the system, the West Walker and East Carson.
In addition to generating resolutions pro and con from cities and counties throughout the region, the debate has attracted the attention of water user and environmental groups from throughout the state.
More than 30 water user organizations have joined Yuba County in opposition, including the Nevada Irrigation District (NID), Northern California Water Association (NCWA), Association of California Water Agencies (ACWA) and Yuba County Water Agency (YCWA). They point to undetermined flood control needs, forecasts of future water shortages as outlined by the Department of Water Resources and the ongoing CALFED Bay-Delta Program as reasons to delay action on SB 496. They say such a designation could impede options for developing critical flood protection and increasing water supply to meet the state's future needs.
"We believe the Legislature should hold off on taking action until the Yuba County Water Agency finishes its flood control analysis, scheduled for completion at the end of the year," said Bob Reeb of ACWA. "There are two proposed projects within that stretch of the river under study; they may prove to be infeasible, but that should be determined by Yuba County on technical merit, not through political action."
Those two projects, however, would back water up into Nevada County, flooding the canyon, a state park and historic monuments. That's why the Nevada County Board of Supervisors and more than 30 environmental, fishing and recreation groups are pursuing Wild and Scenic designation to stop the dams.
Supporters of SB 496 say that the U.S. Army Corps of Engineers (Corps) already has decided not to build a dam on the Yuba River and that CALFED's storage report does not include a project on the South Yuba in its list of potential new projects. "Why should we wait? Those decisions have already been made," Evans said.
In addition to Friends of the River, the Bay Institute, Natural Resources Defense Council, Sierra Club California and California League of Conservation Voters have made passage of SB 496 one of their major goals for the current legislative year.
At the federal level, officials at the Tahoe National Forest and Bureau of Land Management (BLM) have recommended adding virtually the same stretch of river to the national Wild and Scenic Rivers system. The river's historical role in the Gold Rush and as an artery of commerce along with its "exceptional scenic values" and recreational opportunities are all cited as reasons for such a designation. (Two other waterways – Canyon Creek and 45 miles of the North Yuba River above New Bullards Bar Reservoir – also have been recommended for national protection.)
"The emphasis of this alternative is to protect and promote public appreciation of the unique, recreational, scenic and heritage values on these three rivers," federal officials wrote in their Record of Decision 22 Westside Rivers Wild and Scenic River Study Report Final Environmental Impact Statement. The report was prepared by the Tahoe National Forest and Bureau of Land Management. "At the same time, this alternative would minimize impacts to mining, resource outputs and private land concerns because of the reduced number of rivers recommended and because the inventoried classification of wild for one segment of each of the three streams was changed to scenic."
The modern-day clash between Nevada and Yuba counties contains echoes of the past – for it was hydraulic mining in the foothills of the Yuba River watershed and subsequent flooding in the valley below that led o California's classic upstream vs. downstream struggle in the late 1800s. Then as now, the issue reverberates beyond county boundaries with both regional and statewide implications.
This issue of Western Water provides an overview of the current struggle over the South Yuba. It includes information on the river's historic development; the Wild and Scenic Rivers program; the latest on SB 496; and outlines the concerns of Nevada and Yuba counties. Also included is a sidebar on CALFED's proposed study of restoring salmon runs on the South Yuba above Englebright Dam.
by Sue MClurg
NOTE: A complete copy of this 20-page magazine is available from the Foundation for $3. Visit our on-line store and add the July/August 1999 issue of Western Water to your shopping cart.
Editor's Desk
By the time you read this letter, we will be unpacking boxes in our new office. Yes, we've moved – but only downstairs. It's our first move in 12 years, so you can imagine how much stuff there was to sort through, clean out and pack – even though this was, in theory, an "easy move." No move is easy, even if it is only two floors! Please make a note of our new suite number, 317. Everything else – street address, phone, fax and Internet – remains the same. And please come by to see our new office, which will provide us with room to grow as we continue to develop programs to keep you informed about water issues in California and the West.
I'm also pleased to announce that renowned author and water historian Norris Hundley Jr. has joined the Foundation's Board of Directors. A professor of American History at the University of California, Los Angeles, Dr. Hundley is best known for his books on the Colorado River, Water and the West, and water issues in California, The Great Thirst. He currently is updating The Great Thirst for publication sometime next year. I highly recommend both books for your reference library.
Our board members serve without compensation and I would like to thank – and publicly recognize – them for taking time out of their busy schedules to assist us with our mission of providing the public with impartial information about water issues. Serving as board president is Dr. Henry Vaux Jr., associate vice president of the Division of Agriculture and Natural Resources at the University of California.
We strive for diversity on our board. Professionals from the public and private sector and from agricultural, environmental, urban and Native American interests serve in numerous capacities and loan their expertise to reviewing our materials. Other board members and their affiliations are: Gloria Anderson, League of Women Voters; Michael Armstrong, Monterey County Water Resources Agency; Jean Auer, Southern California Water Co.; Robert Clark, California Central Valley Flood Control Association; Vernon Crowder, Bank of America; Sandy Denn, Snow Goose Farms; Harrison C. "Hap" Dunning, The Bay Institute of San Francisco; Michael Eaton, The Nature Conservancy; Donald Evenson, Montgomery Watson; Duane Georgeson, MWD of Southern California; Ed "Jerry" Gladbach, Castaic Lake Water Agency; Bob Hagan, University of California, Davis; Philip Hall, CH2M Hill Companies, Ltd.; Gary Hansen, Colorado River Indian Tribes; David Houston, Salomon Smith Barney Inc.; Melinda Carter Luedtke, J.P. Morgan Securities Inc.; Anson Moran, Public Utilities Commission, City and County of San Francisco; Dan Nelson, San Luis-Delta Mendota Water Authority; Suzanne Redfern, Redfern Ranches Inc.; Anthony Saracino, Groundwater Resources Association of California; Curtis Spencer, Carmichael Water District; Edward Tiedemann, Kronick, Moskovitz, Tiedemann & Girard; and Gary Weatherford, Weatherford & Taaffe.
In the News
Another Chapter in Lengthy Delta Planning Effort
The recent struggle to protect an endangered Delta fish while not endangering the water supplies for two-thirds of California served as the backdrop for the June 25 release of the CALFED Bay-Delta Program's draft preferred alternative to "fix" the Delta.
"The Delta smelt crisis helps to underscore exactly why we need this Bay-Delta program to be put in place," said Patricia Beneke, assistant secretary for water and science for the U.S. Department of the Interior.
Since 1995, the joint state-federal planning process known as CALFED has worked to develop a consensus-based solution that would best address the Delta's water supply and water quality problems, restore its ecosystem and improve a century-old levee system. Without more options to manage the system for all uses, according to CALFED, conflict will only increase over the Delta's dual roles.
Conflict was the watchword in June when the state and federal water projects were forced to curtail exports because of a high rate of "take" of Delta smelt at the pumping plants. Normally smelt populations, listed as threatened under the Endangered Species Act, have moved away from the pumps by June, but this year, they lingered in that area. When the pumps began to kill too many smelt, federal fishery officials ordered a reduction in exports. As a result, water users were forced to rely on storage south of the Delta. As the level of these reservoirs dropped, there was great fear that there would not be enough water through the summer. The crisis abated when the smelt began to move away from the pumps and exports were allowed to increase, but federal and state officials still may need to rely on some water exchanges and groundwater to meet south of Delta delivery obligations.
The CALFED draft preferred alternative calls for improving the existing through-Delta conveyance system by widening key channels, installing new fish screens, placing fish and water quality barriers in the South Delta and boosting pollution prevention programs. In addition, the plan calls for establishment of an Environmental Water Account that fishery biologists could tap when additional water is needed – reducing the impact on agricultural and urban water users.
Increased water recycling, water conservation, water transfers, millions of dollars in additional habitat restoration projects, and improvements in Delta levees also are included in the 30-year, $10 billion package. With release of the Revised Phase II Report and Draft Programmatic EIS/EIR, CALFED will hold 15 public hearings throughout the state beginning in August. The deadline for comments on the report is Sept. 23 with a final report and record of decision scheduled for adoption in June 2000.
As for this year's Delta smelt crisis, California Resources Secretary Mary Nichols cited a list of components that would offset such a scenario in the future with a CALFED plan in place. "We will have an Environmental Water Account that will make the system more flexible. We will have increased the amount of habitat," Nichols said. "We will have more fish screens for the CVP and SWP. We will have improved the level of monitoring and research to understand the fish better. We will have figured out better mechanisms to work together among agencies and allocate the cost so it will be fair to all concerned."
For more information on the Delta and CALFED, please refer to past issues of Western Water, the Layperson's Guide to the Delta and the 60-minute documentary Setting a Course: California's Bay-Delta which can be found in our products page.