Nitrate and the Struggle for Clean Drinking Water
March/April 2013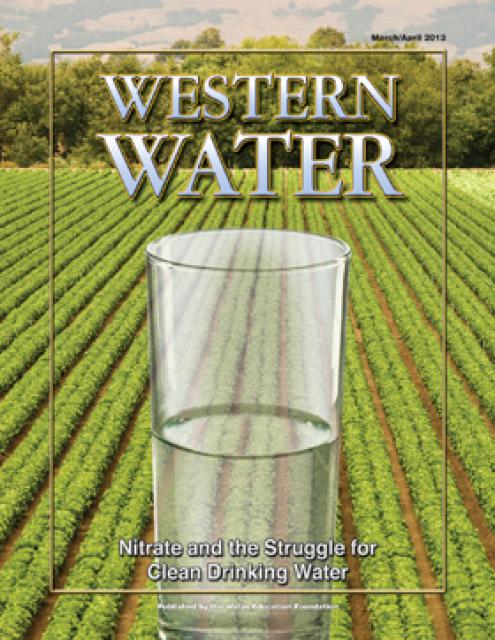 Introduction
California boasts some of the finest quality drinking water on the planet. Every day, people turn on their tap and receive clean, safe water with nary a thought. But the water people take for granted isn't so reliable for residents of small water systems and many disadvantaged communities (DACs) in rural agricultural areas.
There, groundwater tainted with high levels of nitrate and other contaminants make getting safe drinking water a struggle for DACs. Making matters worse, some people pay twice for their water – once for a residential connection and again for the water purchased at vending machine or in buying bottled water.
The problem has been around for a long time, but recent attention has been focused on ways to make things right.
"We have communities in the state currently where you turn on the tap and the water is not safe to drink," said Debbie Davis, community and rural affairs advisor to Gov. Jerry Brown, at the Water Education Foundation's Executive Briefing March 15. "People are paying a water bill for water they can't drink and paying additional money for bottled water. In a state like California, as rich as we are … we can do better. We should do better."
The governor's office and state lawmakers are gearing their efforts toward making sure no one in the state has to live without safe drinking water. In his proposed 2013-2014 budget, the governor pledged to review the state's activities "related to the provision of safe drinking water and to recommend efficiencies and alignments to maximize the state's ability to ensure that all members of the public have access to safer water."
Despite the struggles of DACs with nitrate, the vast majority of drinking water systems in the state provide safe, affordable water. More than 98 percent of the population served by community water systems is served water that meets all primary drinking water standards.
Nonetheless, efforts are underway to consider transferring the state's authority over drinking water safety from the California Department of Public Health (CDPH) to the State Water Resources Control Board (State Water Board) at the capital. The proposal is supported by the Legislative Analyst's Office (LAO), which investigated the matter at the behest of Democratic Assemblymember Luis Alejo, D-Salinas, chair of the Assembly Environmental Safety and Toxic Materials Committee. Alejo convened a March 18 hearing on this issue.
"It's certainly a challenging issue, there are very real tradeoffs in both directions," Janne Olson-Morgan, with the LAO, told the committee March 18. "We found that on balance, we believe this transition in the long term would be a good choice."
The idea has supporters in the Legislature.
"I believe we need to move the drinking water program to the State Water Board," said Assemblymember Anthony Rendon, D-South Gate, at the committee hearing. "Doing so would bring the entire hydrologic cycle together. It would be a problem solver at each step, from source water to drinking water to wastewater."
The impetus to move the drinking water program comes from the belief that it is not operating as efficiently as it could be at CDPH in addressing the problems of contaminants like nitrate in groundwater. Dr. Ron Chapman, director of CDPH, told the committee that the department "adheres to the principles expressed in the [Human Right to Water law], that every human being has the right to safe, affordable and accessible water adequate for human consumption," and that CDPH "has increased the focus on getting safe drinking water to small and disadvantaged communities."
The Human Right to Water law, signed last year by Gov. Brown, declares it the policy of the state that every human being has the right to clean, affordable and accessible water for human consumption, cooking and sanitary purposes, and for CDPH, the State Water Board and the Department of Water Resources to consider the policy when adopting policies and regulations.
Nitrate contamination gained publicity with the release of a 2012 UC Davis report, Addressing Nitrate in California's Drinking Water, which said that fertilizers and animal wastes applied to cropland "are by far the largest regional sources of nitrate in groundwater."
Nitrate contamination "is widespread and increasing," with 57 percent of the people in the UC Davis study area depending on community public water systems with raw water (before treatment) that has exceeded the maximum contaminant level for nitrate (10 parts per million) at least once between 2006 and 2010, according to professors Thomas Harter and Jay Lund, lead investigators for the study. As much as 80 percent of drinking water may require treatment by 2050 if present trends continue.
"Most of this population is protected by water system treatment, or alternative wells, at additional cost," said the report, "But about 10 percent of the current population is at risk of nitrate contamination in their delivered drinking water, primarily in small systems and self-supplied households."
While nitrate loading reductions "are possible, some at modest cost, large reductions of nitrate loads to groundwater can have substantial economic cost," according to the report. The "most promising revenue source" is a fee on nitrogen fertilizer use that could be used to compensate affected small communities for mitigation expenses and effects of nitrate pollution.
"Significantly raising the cost of commercial fertilizer through a fee or excise tax would fund safe drinking water actions and monitoring and give further incentive to farmers for reducing nitrate contamination," the report said.
David Orth, general manager of the Kings River Conservation District, faulted the report for pointing the finger solely at agriculture for nitrate contamination.
"The report does a terrible job, I think, frankly, in generalizing this issue, primarily because of the limit on funds," he said. "They had to take existing data and re-churn it and run it through a model and it came out and said, 'ag is the biggest contributor by far.'"
Orth co-chaired the governor's Drinking Water Stakeholder Group, which last year recommended that "a variety of locally driven solutions, including (but not limited to) efficient, effective shared services and facilities, technical support and outreach and education" could produce "more sustainable, effective and affordable drinking water solutions … for small, disadvantaged communities."
Orth said the publicity about nitrate in drinking water has heightened the findings raised by the stakeholders. "Now that we have this heightened awareness of the problem, we need to drill down and create site-specific solutions," he said.
Backed by the UC Davis research, the State Water Board in February released its recommendations for how to deal with the nitrate problem, picking up on Harter and Lund's finding that "the most promising revenue source is a fee on nitrogen fertilizer" to help pay for "mitigation expenses and effects of nitrate pollution."
"Creating a reliable, stable funding source, integrated with institutional changes, [is needed] to provide long-term safe drinking water infrastructure and interim solutions for the small disadvantaged communities impacted by nitrate contamination," the State Water Board said in its Recommendations Addressing Nitrate in Groundwater.
The report calls the issue "a widespread water quality problem that can pose serious health risks to pregnant women and infants." The problem "is particularly significant" in the Tulare Lake Basin and Salinas Valley areas, where more than 2 million people rely on groundwater for their drinking water. Nitrate contamination goes beyond those regions, however, making it the most frequently detected manmade chemical that exceeds drinking water standards.
Testifying before the Assembly Committee on Environmental Safety and Toxic Materials March 18, Tom Howard, executive director of the State Water Board, said that cleaning up nitrate-contaminated groundwater basins "is generally not an option" because the widespread nature of nitrate makes the cost "simply not feasible." Instead, source control is the "preferable method" in dealing with the problem.
Often, nitrate detected at levels that exceed safe drinking water standards leaves DACs with little or no viable alternative. "Most of the communities we work with have only one or two wells, so if a well becomes polluted, they don't have a safe water source," said Laurel Firestone, co-director and co-founder of the Community Water Center, the Visalia-based nonprofit that advocates for the drinking water needs of DACs.
Firestone cited the State Water Board's recommendation for a more sustainable and reliable funding source as impetus for stakeholders to build that framework. "It's never easy to figure out how to raise revenue and funding sources," she said. "We have to have those difficult discussions."
Tim Quinn, executive director of the Association of California Water Agencies (ACWA), acknowledged that "the nitrate problem is a really big deal and will be front and center in the Legislature this year," but that dealing with it needs to be done in a realistic manner.
"The mess is like many others across the country – in a frenzy of economic growth in the 20th century, we created some serious environmental problems that must be addressed now," he wrote in an e-mail. "We think we should move forward with on-the-ground solutions to the problem of nitrate contamination in groundwater and leave the 'blame game' on the side of the room."
This issue of Western Water discusses the problems of nitrate-contaminated water in small disadvantaged communities and possible solutions.
Click here to purchase a copy of the entire article.
Editor's Desk
Since the Water Education Foundation was established in 1977 we've been known for our high quality articles in Western Water and the well-researched titles in the Layperson's Guide series, which I've often referred to as mini textbooks about California water. In subsequent years we added a long list of other educational materials to our catalog: school programs, maps, videos and DVDs. And we steadily expanded our list of water tour field trips, which allow people to get a firsthand look at the projects and issues we write about. The worldwide web marked the new frontier when we launched our first website. It was exciting when someone halfway around the world ordered a copy of the California Water Map.
Today we're about to embark on a new adventure with the launching of our new website Aquapedia. Aquapedia – Water A to Z – provides easy-to-use, easy-to-understand information on water terms and topics from acre foot to the Yuba Accord. Facts and details about a long list of other topical issues from climate change to the Sacramento-San Joaquin Delta to water rights also are available with the click of the mouse. The website will go live this spring.
Aquapedia centers on reference articles that explain specific terms, topics and issues. Each entry is supplemented with photos, videos, interactive maps and other online tools designed to provide background and context to understand California's complex water issues.
All terms and definitions in Aquapedia are from Foundation publications and other vetted resources. That's important to us and to the people who will be using the site to:
Look up a specific term or issue such as groundwater
Browse a water terms glossary with easy-to-understand definitions of common water terms
Watch videos of the places and discussions with key people related to specific terms
Map the location of water sites through interactive maps
Follow timelines of the chronology of California water use and how water issues have evolved
An added bonus: Aquapedia and Aquafornia are linked! Users can search for breaking news on these same water topics and issues by using the Water Education Foundation's water news site www.aquafornia.com, which is updated daily with news articles, blog posts and other research materials.
Click on www.aquapedia.com for more information and watch for its official launch this spring!