Mimicking the Natural Landscape: LID and Stormwater Capture
September/October 2011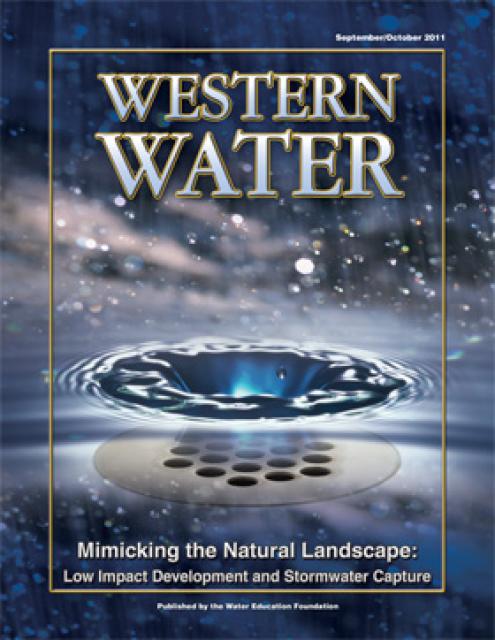 Introduction
Growth may have slowed in California, but advocates of low impact development (LID) say the pause is no reason to lose sight of the importance of innovative, low-tech management of stormwater via incor­porating LID aspects into new projects and redevelopment.
"The more you can mimic the natural hydrologic system the better," said Elizabeth Dougherty, director of Wholly H2O, a Bay Area-based non-profit organization that pro­motes sustainable water management. "Stormwater is nothing more than rainwater that has not been man­aged at its point source and runs off a site, picking up pollutants from street surfaces before dumping into municipal storm drain systems."
With sustainability the buzz­word surrounding California's water supply, industry experts and insiders are pushing for updated development standards that preserve a site's natural ability to retain and infiltrate stormwater while enabling residents to "harvest" rain for use.
LID is a system of techniques that minimize or altogether eliminate the amount of runoff generated from a site in the first place. LID captures rainwater for use and/or infiltration, limit­ing the amount of polluted stormwater flowing untreated into creeks, rivers and the ocean.
"It is an innovative approach to urban stormwater management that does not rely solely on conventional end-of-pipe structural methods; rather, it strategically integrates stormwater controls into the urban landscape," according to the Southern California Stormwater Monitoring Coalition, a group of more than a dozen water and flood management agencies.
While many new properties include LID aspects and existing sites undergo retrofits, engineers and water planners are also finding ways to capture stormwater for use. It is not always an easy proposition, with the necessary physical and financial requirements as well as water rights issues, but stormwater capture is rec­ognized as an exercise worth pursuing for the sake of rounding out the water supply portfolio.
"All levels of government should establish policies and provide in­centives to promote better urban runoff management and [use]," the Department of Water Resources' 2009 California Water Plan says. "Urban and, where feasible, rural communities should invest in facilities to capture, store, treat and use urban stormwater runoff, such as percolation to usable aquifers, underground storage beneath parks, small surface basins in drain­ages, or the creation of catch basins or sumps downhill of development. Depending on the source and ap­plication, captured stormwater may be suitable for use without additional treatment, or it may be blended to augment local supplies."
That opportunity is not lost on Rich Atwater, executive director of the Southern California Water Commit­tee. Writing on the matter in a March 30, 2011 op-ed, he referenced the powerful storm systems that occasion­ally rake Southern California, noting how the "surplus water, angrily raging through concrete river channels and dumping out into the Pacific Ocean, presents a significant and unique opportunity for Southern California to improve its water supplies and rise to new standards of environmental stewardship."
With that in mind, "the chal­lenge," he wrote is to "capture that stormwater now, bank it and save it for a future dry day."
Turning a liability into an asset has been perfected in a number of locations throughout the state and the nation. The Water Plan cites examples such as the Fresno-Clovis stormwater retention network that recharges more than 70 percent of the annual storm­water runoff, and Los Angeles County, which recharges an average 210,000 acre-feet of runoff each year.
Experts say expanding the cap­ture and use of stormwater by even a fraction of the total urban area within the Los Angeles and San Gabriel watersheds could reduce total runoff by 30 percent while adding a new supply of 132,000 acre-feet of water per year. "Throughout the region, we could capture up to 1 million acre-feet of stormwater in an average year, significantly enhancing local supplies and reducing reliance on imported sources," according to Atwater.
To that extent, stormwater capture is not some sort of fringe element but merely another tool by which local agencies strengthen their supply port­folio. "Rainwater harvesting is a tool that is appropriate not just in Portland and Seattle, but also in drier climates where every drop of water counts," said Sarah Minick, a stormwater planner for the San Francisco Public Utilities Commission. Minick's agency is in the midst of an audacious approach to water management that has liter­ally re-plumbed the way people in San Francisco think about water use.
"It's really similar to general water resource policy, which is all about storage," said Eric Zickler, senior water resource engineer with AECOM in San Francisco. Zickler believes a greater push is needed for more "decen­tralized systems" to store stormwater runoff.
"With stormwater, there are two objectives," he said. One, upon which LID is centered, features natural treatment of stormwater through soil filtration and plant uptake of pollut­ants and nutrients. "It's very effec­tive," he said. The other, still-evolving approach is to store stormwater in some kind of retention facility.
This issue of Western Water discusses low impact development and stormwater capture – two areas of emerging interest that are viewed as important components of California's future water supply and management scenario.
Click here to purchase a copy of the entire article.
Editor's Desk
Drop by Drop, It becomes a River… – Afghan Proverb
As competition for water continues to grow, people sometimes ask me about alternative types of water including uses of stormwater, gray water and rainwater. Some of these sources, especially stormwater, have significant potential to increase local supplies. So what are the trends and laws governing these new uses of water? Gary Pitzer writes in this issue of Western Water about the opportunities and the challenges for water supply and water quality in the new practice of Low Impact Development.
Until recent years, water running off home sites and street surfaces was seen as water that had to be moved along and away from property as soon as possible. We knew that the runoff water often became polluted before it entered into storm drains and was dumped untreated into local creeks, rivers and the ocean. So for years the Foundation has been part of the education process involving stenciling on the entry ways to the storm drains. You may have seen the signs, "No dumping – flows to the river or ocean." Those signs are part of our effort to let people know that the quality of water going into our drains is key to the health of our waters. Too often storm runoff was seen as a waste rather than a resource. It's estimated that in Southern California capture and use of stormwater in those concrete river channels could provide up to 1 million acre-feet of water in an average year!
Now planners and developers are moving forward with a push for Low Im­pact Development, or LID, and looking at ways to filter more of the runoff into our yards and into recharge areas. Making use of stormwater is part of viewing an entire water resource within a watershed prism. This means looking at the entire watershed from top to bottom with an eye to coordinating flood control actions with water supply and water quality uses. One Water One Watershed is the motto of the Santa Ana Water Project Authority and reflects working together in an area of 2,800 square miles from the mountains to the sea in Southern California.
Water conservation is also enhanced with practices such as use of impervi­ous concrete and other landscape options. Capturing and reusing the runoff from your property in rain barrels has been catching on in the southwest of the country, with areas like Tucson leading the way. So small amounts of water do add up – just like the Afghan proverb says. And water previously seen as a liability can now be turned into an asset leading us to a sustainable water future.
You can learn more about stormwater capture and LID in our 20-minute DVD "Stormwater Management: Turning Runoff into a Resource," and in the 16-page booklet Stormwater Management: Turning Runoff into a Resource. Click here http://www.watereducation.org/store/default.asp?parentid=10 to visit our on-line store to look for these and other materials.
In the News
La Niña Returns – Wetter Weather Ahead?
La Niña, the ocean-atmospheric condition that contributed to an above average 2011 water year, is again present in the Pacific Ocean, and is forecast to gradually strengthen and continue into winter, the National Oceanic and Atmospheric Administration has reported.
Associated with cooler than normal water temperatures in the Pacific Ocean at the equator, La Niña winters often see drier-than-normal conditions across the southern tier of the United States and wetter than normal conditions in the Pacific Northwest.
However, scientists say the evidence of La Niña does not enable them to predict with any certainty that the 2012 water year, which began Oct. 1, will be a repeat of last year.
"A La Niña pattern is rebuilding in the eastern Pacific, but may not be quite as strong as last winter," said Maury Roos, part-time chief hydrologist with the California Department of Water Resources' Division of Flood Management. "Normally a mild to moderate La Niña doesn't seem to have much forecasting value for Northern California and tends to be drier in Southern California, but that did not work for last winter. There may be a tendency for a wetter than average fall season, but then seeing precipitation drop off in winter months."
Across the contiguous United States, temperature and precipitation impacts associated with La Niña are expected to generally strengthen during the late fall and winter. During September-November 2011, "there is evidence that La Niña favors an increased chance of above-average temperatures across the mid-section of the country, and an increased chance of above-average precipitation across the Pacific Northwest," according to the National Weather Service's Climate Prediction Center in Camp Springs, Md.
Through November, there is a 52 percent probability for continuing La Niña conditions, a 48 percent probability for returning to neutral conditions and virtually no chance for the development of El Niño conditions, according to International Research Institute for Climate and Society at Columbia University. "Although weak La Niña conditions are the most likely scenario for the remainder of 2011, a return to neutral conditions is also possible," the Institute said.
Whatever occurs, water agencies are in good shape thanks to a 2011 water year that saw plenty of rain and snow.
"Carryover storage is about as good as it gets, with about 130 percent of average for the date," Roos said. "This is about 7 million acre-feet above average in the statewide total of 154 reservoirs which we monitor. For perspective, annual water demand for urban and agricultural purposes is about 35 million acre-feet."
Storage on September 30, 2010 was just slightly over average at 102 percent, Roos said.