An Inconvenient Future? Assessing the Impacts of Climate Change
Sept/Oct 2006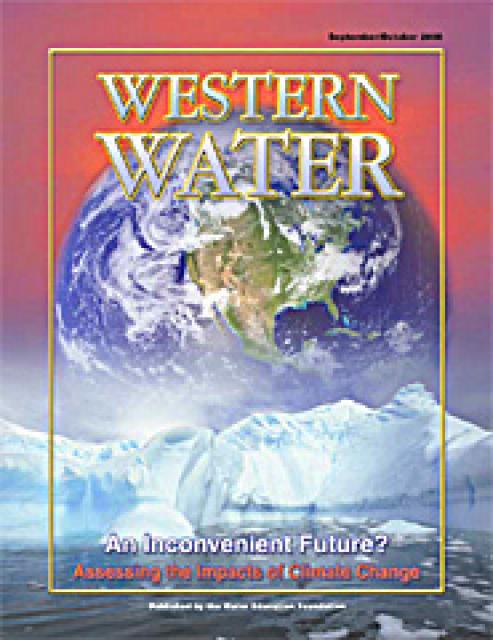 Introduction
The inimitable Yogi Berra once proclaimed, "The future ain't what it used to be." While the Hall of Fame baseball player was not referring to the weather, his words are no less prophetic when it comes to the discussion of a changing climate and its potential impacts on water resources in the West.
For those in the West accustomed to the periodic extremes of flood and drought, climate change is but another factor to be accounted for in a region where the availability of water is never taken for granted. Weather patterns fluctuate, often wildly. Months of soaking rain may be followed the next year by an interminable stretch of dry weather. The cycle has produced memorable events that need no introduction – mention 1977 or 1986 to many Californians and images of extreme drought and major flooding immediately come to mind.
But for about the last 20 years or so, a new variable has been thrown into the mix, the possibility that permanent shifts in weather patterns are part of a larger global climate change that may be influenced by more than a century of rapidly increasing human industrial activity. The Department of Water Resources (DWR), in its 2005 California Water Plan Update, found growing evidence that water resources in California and elsewhere will be significantly affected by climate change.
"Much depends on the degree of warming and whether future changes are small or large," wrote Maurice Roos, DWR chief hydrologist. "There are potential impacts on snowpack accumulation and melting, runoff patterns, water supply, sea level, floods and droughts, water demands, water temperature, plant and animal life including livestock, hydroelectric power, wild fires, recreation, water quality, soil moisture, groundwater and ecosystems."
In July, DWR released Progress Incorporating Climate Change into Management of California's Water Resources, which outlines the unknown variables wrought by climate change. "Weather was expected to change. But at a climactic timescale 30 years or more, it was assumed that the … frequency and severity of future droughts would be much like that of the past; precipitation would continue to fall as winter snow, and snow would continue to melt in spring and early summer to fill reservoirs," the report said. "That the assumption, and a changing climate may threaten to destabilize infrastructure and operations dependent on that assumption."
The debate is polarizing and far from conclusive. Gazing at such a relative blip in the eons of time, some skeptical there is a direct, correlative link between human activities global climate change. But others, including the California Climate Action Team, a 16-member panel high-level state officials assembled Gov. Arnold Schwarzenegger, say human activities are having an effect that urgent action is necessary address "one of the most daunting challenges of our time."
"Although there is some uncertainty about exactly how and when earth's climate will respond to increasing concentrations of climate change emissions, observations … indicate that detectable changes are underway," states their March 2006 report to the governor and the Legislature. "Implementation of precautionary and proactive measures is imperative if climate change emissions are to be reduced and communities are to adapt successfully to the adverse impacts."
Climate change is, pardon the pun, a hot topic. In May, the Al Gore An Inconvenient Truth was released. Its $23 million in box office receipts to date have made it the third highest-grossing documentary ever. Meanwhile, a slew of scientific reports have been released by state and federal agencies, non-profit groups and academic institutions. On Aug. 1, the California Climate Change Center released Our Changing Climate: Assessing the Risks to California, which found that "signs of a changing climate are evident" throughout California and the West, including warmer temperatures and less snow.
"Continued global warming will increase pressure on California's water resources, which are already overstretched by the demands of a growing economy and population," the Climate Change Center report says. "Decreasing snowmelt and spring stream flows coupled with increasing demand for water resulting from both a growing population and hotter climate could lead to increasing water shortages."
Schwarzenegger capped the discussion of global warming at the end of the legislative session by agreeing to the terms of legislation authored by Democrats (AB 32) that makes the state the first in the nation to impose a cap on all greenhouse gas emissions. The pact aims to reduce its emissions of carbon dioxide and other greenhouse gases by an estimated 25 percent by 2020.
"We can now move forward with developing a market-based system that makes California a world leader in the effort to reduce carbon emissions," Schwarzenegger said in a statement. "The success of our system will be an example for other states and nations to follow as the fight against climate change continues."
DWR's July report catalogues the potential impacts of warmer temperatures on California, incorporating everything from anticipated changes in runoff management to the potential for sea level rise in the Sacramento- San Joaquin Delta. The report, produced by a joint DWR/U.S. Bureau of Reclamation (Reclamation) Climate Change Work Team, is a first step towards determining how flexible existing water systems are to cope with climate change and what steps can be taken to minimize the effects. At its core lies the conclusion that warmer temperatures "will likely push the snow level in watersheds to higher elevations."
And it's not just water resources that can be affected. Sea level increases would have serious consequences for the Delta, where aging levees and subsiding islands are pressing issues of concern. The more salt water intrudes into the region, the more fresh water would be needed from upstream reservoirs to maintain water quality.
"Future sea level rise, while projected to be a relatively slow and gradual process, presents a somewhat alarming prospect for California, especially in the case of the more extreme projections," DWR says. "Increased sea water intrusion into the Delta threatens the operations of the State Water Project [SWP] and the Central Valley Project [CVP], as well as other Delta water supply diversions due to water quality degradation."
Climate change has garnered the attention of state leaders, including Schwarzenegger, who has voiced his concern regarding the issue at several forums, including the June meeting of the Western Governors' Association in Sedona, AZ. The governors adopted a series of recommendations for future water management, taking into account the impacts of climate change. "While recognizing the uncertainties inherent in climate prediction, efforts should be made to focus on vulnerabilities and building increased resiliency to climate extremes," one of the recommendations says.
There is not universal agreement on the causes and impacts of climate change. Uncertainties remain regarding how and when climate change impacts will be manifested, where the effects will have the greatest impact and what actions can be taken in the absence of complete understanding. Controversy exists because of proposals to limit emissions of greenhouse gases and the potential economic impacts of such actions. Political debate has centered on the merits of the science used to justify various claims.
Business interests say efforts to enact greenhouse gas emission reductions in California through arbitrary means are counterproductive, given the scale of global emissions.
"It is foolish to adopt a policy that purports to reduce emissions but only moves those emissions elsewhere for no benefit to the planet," said Jack Stewart, president of the California Manufacturers and Technology Association. "Better to keep manufacturers here with the tools to be as efficient as possible."
The focus on climate change has prompted many in the water community to call for a comprehensive response on the part of state, federal and local officials, and in fact many providers already include climate change impacts in their long-term planning. That discussion covers a range of topics, from increased conservation and groundwater banking methods, to new surface storage projects, a perennial political hot-button.
"Whether or not you believe that there is global climate change, the point is the public has a perception about this issue and that perception is affecting us in the Mid-Pacific Region," said Bill Rohwer, deputy planning division chief with Reclamation's Mid-Pacific Region.
Reclamation and DWR are collaborating with the U.S. Geological Survey (USGS) and Santa Clara University on a follow-up study that investigates impacts from nearly two dozen scenarios and includes estimation of relative scenario probabilities to estimate future risk, said Levi Brekke, hydraulic engineer in Reclamation's Denver office. The Central Valley is being used as a case study that can be applied to other regions.
"For [Reclamation] managers in the Central Valley, this project will give them a more complete picture of the range of possibilities and probabilities of potential future impacts, conditional on what the climate projections are saying, and that's a big condition," Brekke said.
This issue of Western Water looks at climate change and its implications on water management in a region that is wholly dependent on steady, predictable wet seasons to recharge supplies for the lengthy dry periods. To what degree has climate change occurred and what are the scenarios under which impacts will have to be considered by water providers? The future is anything but clear.
NOTE: A complete copy of this 16-page magazine is available from the Foundation for $3. Visit our Products Page and add the September/October 2006 issue of Western Water to your shopping cart, http://www.watereducation.org/store/default.asp?parentid=7
Editor's Desk
Eight years ago, "Climate Change and Water – What Might the Future Hold?," was the subject of the May/June Western Water. In that article, we delved into the speculation that climate change could cause more severe droughts and floods throughout the West and that California Delta levees could be overcome by rising sea levels – affecting statewide water supply. Or perhaps we thought in 1998 that this scenario might not happen at all.
As Gary Pitzer writes in this article, "while there is not universal agreement on the causes and impacts of climate change," state and federal officials are taking a close look at potential changes affecting the state's snow pack, water supply, rising sea levels and related floods, and more.
In the past, water agencies – and those of us covering water issues – looked to historic droughts and floods and based development of our water systems to meet the challenges of these periods. Now we face making decisions for a changing time in which these projects might not perform as planned. How flexible those systems are and what steps can be taken to minimize the effects of climate change are the focus of a new report, Progress on Incorporating Climate Change into Management of California's Water Resources, developed by a joint Department of Water Resources/ U.S. Bureau of Reclamation Climate Change Work Team.
People in the West have always been concerned about whether the growing population and agriculture would have enough water in the future. And the new report closes with a sobering conclusion that a hotter climate could definitely lead to increased water shortages since the snow will melt earlier, and at a time when dams and reservoirs already are making flood management releases.
But it's not just water supply. It's also the projected rise in sea level. A rising sea level in California's Delta would increase pressure on its fragile levees and could degrade the drinking water for a huge portion of people in the state because of an increase in salt water intrusion.
Hopefully all this attention on climate change – which Gary calls a "hot" topic – will lead to a coordinated look at the problems we will all face together in the future.
*****
One year after Hurricane Katrina and the devastating New Orleans flood, the California Legislature adjourned without passing any significant flood control legislation. Last minute efforts to pass a package of flood control bills were unsuccessful and the session adjourned without reaching agreement on sharing the responsibility for flood liability or on restrictions, if any, on floodplain development. This doesn't bode well for the future as California goes into another winter without making some critical flood control decisions.
In the News
State Proposes Drinking Water Standard for Perchlorate
After nearly a decade of monitoring, the Department of Health Services (DHS) announced Aug. 28 a proposed drinking water standard of 6 parts per billion (ppb) for perchlorate, a chemical associated with rocket fuel and explosives production that has been particularly nettlesome in groundwater basins throughout the state.
If adopted, the proposed maximum contaminant level (MCL) means that public water systems cannot provide drinking water that exceeds the standard without notifying their customers and must take steps to bring their water supply into compliance, according to DHS.
"Establishing the MCL allows [us] to address a contaminant that, unfortunately, is quite common in certain areas of California," said Mark Horton, state public health officer. "Perchlorate's potential for harm is of concern to pregnant women and their developing fetuses, as well as children, so limiting exposure to this contaminant is important for protecting public health."
Perchlorate at high levels in drinking water can interfere with the body's thyroid functions by reducing iodine uptake. DHS' monitoring revealed perchlorate in 450 water sources among 110 public water systems, primarily wells in Los Angeles, Orange, Riverside, San Bernardino and Sacramento counties. Perchlorate also has been detected in the Colorado River, a key component of southern California's water supply.
There is not unanimity of opinion on an appropriate perchlorate level. The Department of Defense has proposed a cleanup level of 200 ppb at sites where it's responsible. Earlier this year the U.S. Environmental Protection Agency released a "recommended reference dose" of 24.5 ppb for perchlorate in drinking water. Massachusetts became the first state in the nation to adopt a drinking water standard for perchlorate when a 2 ppb level took effect in July.
While the disparity between the numbers proposed by different government agencies "is a reflection of improved understanding of how perchlorate may affect human health, it has nonetheless fueled confusion and even suspicion within the public community," according to the Groundwater Resources Association of California (GRA). The group's fourth National Perchlorate Symposium "clearly demonstrated that we are making progress toward understanding perchlorate occurrence, health effects and cleanup, but questions and complications remain," GRA stated in its summer newsletter.
Perchlorate contamination has been a persistent problem in San Bernardino County. More than 20 wells in Rialto, Colton and Fontana are contaminated by an underground plume. Officials have installed treatment equipment at some of the wells to remove perchlorate from the water. In addition, Rialto is suing about 40 potentially responsible parties to recover the cost of treating and replacing water.
"Polluters responsible for the contamination of Rialto's drinking water supplies should immediately step up to the plate and clean up the mess they've made," said Sujatha Jahagirdar, Clean Water Advocate for Environment California, in a July press release.
Jahagirdar authored a white paper that describes how levels of perchlorate pollution in one monitoring well increased from 53 ppb in April 2005 to an April 2006 concentration of 10,000 ppb. According to the paper, the spike in contamination was likely caused by heavy rains which increased the level of the water table. Dissolved perchlorate in the soil then moved into local groundwater, raising the amount of contamination.
A public hearing on the proposed MCL will be held at 10 a.m. Oct. 30 at DHS' auditorium, 1500 Capitol Ave., Sacramento.