A Drought-Proof Supply: The Promise of Recycled Water
July/August 2008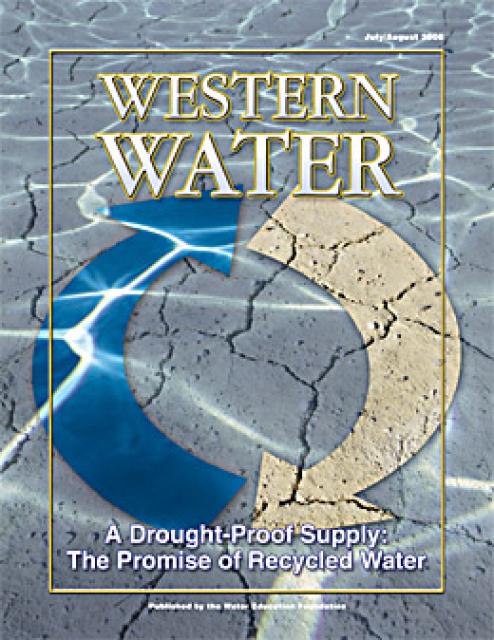 Introduction
When a drought occurs as it has this year, the response is couched in the three Rs of the waste hierarchy: reduce, reuse and recycle.
The reduction part is well-known. State and local officials are urging people to use less water in everything they do, from landscape irrigation to shorter showers. Spurred by California's difficulties, Gov. Arnold Schwarzenegger on June 4 declared a statewide drought. On July 10, the governor and Sen. Dianne Feinstein announced their support of the Safe, Clean, Reliable Drinking Water Supply Act of 2008 – a $9.3 billion bond proposal that would allocate $250 million for water recycling projects.
Prior to the drought declaration, the city of Los Angeles took a major step by unveiling a $1.5 billion, long-term water management strategy that includes what the city deems an "unprecedented" water recycling program. The plan includes an expansion of the present "purple pipe" distribution system and a groundwater replenishment process that will result in more than 4 billion gallons of water injected into San Fernando Valley aquifers by 2018.
Declaring that no less than the city's future is at stake, Mayor Antonio Villaraigosa pledged that 100 percent of the city's new demand will be met through conservation and water recycling. "If we don't commit ourselves to conserving and recycling water, we will tap ourselves out," he said in a May 15 press release.
But implementing recycled water projects, whether in Los Angeles or elsewhere, is not always a slam-dunk proposition. The public sometimes is mistrustful of the relative safety of recycled water (highly treated wastewater), especially when its intended use is to be blended with existing underground water supplies. Even the use of recycled water for irrigation at schools and parks has generated controversy.
While California leaders grapple with water management policy, water recycling remains a vital enterprise. State officials are aware of recycled water's importance and are striving to expand its role in future water supplies. The Legislature has a goal of 1 million acre-feet annual recycled water use by 2010, or about 400,000 more acre-feet than current estimated use. Whether that target is met remains to be seen and is influenced by several factors – public perception, economics and the regulatory oversight of state water quality regulators.
Despite the many hurdles, proponents believe chronic water shortages will move agencies toward a greater reliance on recycled water. "Recycled water is suitable for a wide range of uses – agricultural irrigation, toilet flushing – there are many uses and opportunities," said Gary Wolff, vice chair of the California State Water Resources Control Board (State Water Board).
Millions of gallons of municipal wastewater are treated and returned to use each day in a variety of uses, including injection into underground aquifers to boost groundwater supplies. Recycled water is sprayed on outdoor landscapes and agricultural crops, saving potable (drinkable) water. Recycled water keeps golf courses green – an important consideration for an industry whose economic sustainability is based on a reliable water supply.
"I am pro-recycled water," said Mike McCullough, director of environmental and water resources with the Northern California Golf Association. "Look at the state – given the situation everybody's in with water, it's pretty dire."
Those in the know are sold on the value of recycled water and are spreading the word of its usefulness.
"It's expanding," said Phyllis Stanin, a vice president with Todd Engineers in Alameda. "Our goal is to try to help our clients manage a groundwater basin. We focus on groundwater recharge and we find now with decreased reliability of imported water that we really need another source of water for irrigation, non-potable use and groundwater recharge. It turns out that recycled water is the most reliable source because it's available year round whether it rains or not."
While it may seem that developing guidelines for the approval of recycled water projects would be a simple process, the actual drafting of these guidelines has proven challenging. An attempt last year by the State Water Board to create a draft recycled water policy was met unfavorably by the water industry and environmentalists, with the former concerned about possibly excessive regulatory requirements and the latter worried that improperly monitored recycled water use could harm the quality of surface water and groundwater.
The proposed policy emerged in the wake of a 2003 Recycled Water Task Force report that found inconsistent regulation of recycled water to be an impediment to its increased use. Crafting an appropriate recycling policy has been a challenging process marked by fits and starts. Recycled water's properties – among them salt content and possible emerging contaminants – have challenged authorities to write guidelines that carefully balances the demand for water with the existing statutory protections provisions. Environmentalists and water treatment agencies want a set of rules that are practical, protective and not burdensome.
"Both sides want to promote it," said Bert Michalczyk, general manager of Dublin San Ramon Services District. "There are different perspectives on what exactly the impediments are and how they can be loosened without compromising environmental protection or causing undue cost."
Participants from the water industry and the environmental community have sought to put together a compromise solution that satisfies the goal of expanded recycled water use while assuaging environmentalists' concerns about human health and the environment. The draft proposal, due to be heard by the State Water Board Sept. 2, covers all aspects of the recycling policy, some mundane and others quite controversial. The more difficult issues involve water quality, including whether to regulate the "incidental" runoff of recycled water and how recycled water fits within the state's anti-degradation policy, which requires continued maintenance of existing high quality waters and the conditions under which a change in water quality is allowable.
"We are optimistic that what we bring back will help cut some of the Gordian knots we've experienced in the past," said Martha Davis, executive manager for policy development with the Inland Empire Utilities Agency (IEUA) in Chino.
This issue of Western Water examines recycled water – its use, the ongoing issues and the prospects it holds for extending water supplies. For more information, see the Layperson's Guide to Water Recycling.
Click here to purchase a copy of the complete article.
Editor's Desk
Flying over California, I am struck by the dryness of so much of the land. It's not surprising that drought dominates the news headlines. And next year could bring the worst drought in California history, says Department of Water Resources Director Lester Snow. It's a bleak time for users of water and that includes all users – farmers, urbanites and the environment. We are all short of this precious resource.
Gov. Arnold Schwarzenegger has declared an official drought and reworked his proposed $9.2 billion bond issue that includes money for many diverse water programs, including water recycling, the focus of this magazine. Though all agree water use efficiency measures and more storage are needed, the building of new dams remains the most controversial part of the governor's package.
Meanwhile, Bay Area, Southern California and San Joaquin Valley water users have seen their water supplies from the Sacramento-San Joaquin Delta cut about 30 percent because of the drought and a judicial decision to reduce pumping to protect fish. The hidden resource, groundwater, is always tapped more in a drought, and wells are being pumped to add water to the California Aqueduct for thirsty customers.
Recently, the Public Policy Institute of California (PPIC) released a report identifying a Peripheral Canal as the "most viable solution" to the problem of getting fresh water through the Delta.
The Delta is the heart of the California water problem. Simply put, California was built because a reliable source of water was developed and moved around the state. Today that water is much less reliable. As our readers know, water moves through the Delta via an aging earthen levee system that is susceptible to tides, earthquakes, floods and now sea level rise. Environmental problems include more invasive species moving into the Delta, export pumps pulling fish in the wrong direction and into the pumps and degraded water quality.
The PPIC report was authored by a multidisciplinary team - including six professors from U.C. Davis – who looked at four conveyance options and chose a Peripheral Canal as the best option. They reasoned that within 50 years it is highly likely that numerous Delta islands will fail and flood permanently. A canal around the Delta is the most cost effective way to export water, save select Delta levees, the local infrastructure and meet ecosystem goals of the Delta, they agreed. Another option of ending all water exports may be the best for fish, they concluded, but it would be "an extremely costly solution" for the state's economy.
Bringing back a Peripheral Canal into the discussion of Delta problems may seem to some long-term observers of California's water wars as turning back time. The canal was defeated by a large margin in the 1982 election.
The canal also is being studied by the Delta Vision process established by Schwarzenegger. This Blue Ribbon Task Force continues the work of developing a strategic long-term plan for the Delta and will release its own set of recommendations this fall.
I think agreement on issues of trust, governance and operation of any system to move water through or around the Delta will be key to moving forward. And I don't think we have any time to waste to make the Delta decision.
In the News
Water Agencies Seek Federal Aid in Fight Against Quagga Mussel
The pest with the odd-sounding name is causing a major headache for Western water providers.
The invasive quagga mussel may be small, but its tenacity and strength of numbers can clog water pipes and spell trouble for native habitats. Water agencies are asking for help in dealing with the problem, which can cost tens of millions of dollars to keep in check.
"The presence and spawning of quagga mussels in the Lower Colorado River system from Lake Mead through Lake Havasu, other downstream locations and in reservoirs located in Southern California pose an immediate threat to water and power systems affecting more than 25 million people in the Southwestern United States," said Ric De Leon, microbiology unit manager with the Metropolitan Water District of Southern California (MWD), at a June 24 hearing of the House Subcommittee on Water and Power.
Quagga mussels were discovered in Lake Mead on Jan. 6, 2007 - their first appearance in the West after first appearing in the Great Lakes region in the 1980s. About the size of a fingernail, they attach themselves to metal, glass, plastic and wood and feed on microscopic nutrients in the water. In enclosed areas, mussels pack themselves so tightly into confined spaces that they restrict or stop the flow of water completely. Even when the mussels are killed, their shells remain affixed to most surfaces. To remove them, an enclosed water delivery system often has to be shut down completely.
Ronald Zegers, director of the Southern Nevada Water System for the Southern Nevada Water Authority, told committee members the quagga "has become arguably the most serious non-indigenous biofouling pest ever to be introduced into North American freshwater systems," adding that federal agencies "can provide a leadership role" in ensuring regional control efforts are well coordinated.
MWD uses divers to clear mussels from its intake pumps at Lake Havasu and adds 9,000 gallons of chlorine to the Colorado River Aqueduct each day to kill mussel larvae. Officials say chlorine has proven effective elsewhere in killing quagga larvae, which is important considering a single adult quagga releases as many as 10,000 larvae at a time, as many as 1 million in a single reproductive season.
Federal officials are taking steps to manage the invasive species. For facilities already impacted by the quagga, the U.S. Bureau of Reclamation (Reclamation) is currently testing 19 different coatings to determine the most appropriate for specific conditions. A bacterial product under development to neutralize the mussels shows great promise in the laboratory; Reclamation is to begin field testing later this year. Officials also said they are working with processes developed around the Great Lakes region – oxygen deprivation, temperature treatments, exposure, barrier filtration, sonic vibration and other measures – to try and control the mussel population in the Colorado River Basin.