Delta Conveyance: The Debate Continues
March/April 2009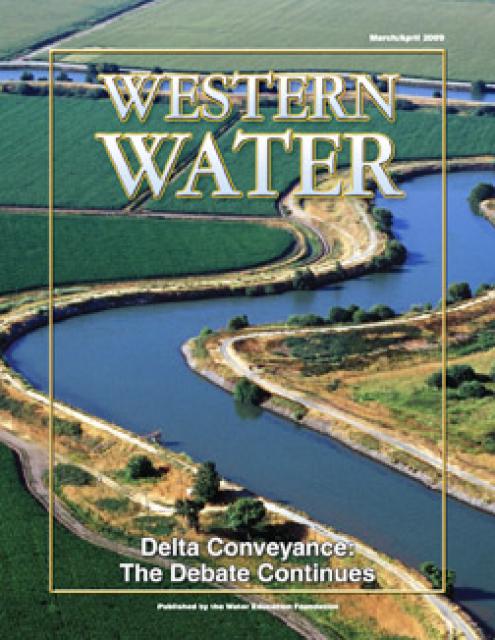 Introduction
The critical condition of the Sacramento-San Joaquin Delta has prompted the question of how it can continue to serve as a source of water for 25 million people while remaining a viable ecosystem, agricultural community and growing residential center. Developing a "dual conveyance" system of continuing to use Delta waterways to convey water to the export pumps but also building a new pipeline or canal to move some water supplies around the Delta is an issue of great scrutiny.
Before such a proposal is imple­mented, a multitude of questions will have to be answered. How much will it cost and how will it be financed? Where will the water be drawn from? How much water is needed for a healthy ecosystem? How will right-of-way requirements be settled? Will it be an unlined canal, lined canal or a pipeline? How will it be coordinated with upstream projects and users?
Managing the Delta for the state's water supply needs has come into focus as a series of developments have revealed the extremely poor condi­tion of several fish species that are the bellwether of the estuary's overall well-being. In particular, the Delta smelt's near-extinct status has been the basis of litigation and subsequent court ac­tions that have put officials on a course to find another way to manage the Delta for the many uses it serves.
"We have a tremendous problem going on in the Delta right now," said Jeff Kightlinger, general manager of the Metropolitan Water District of Southern California (MWD). "The State Water Project is severely stressed; the Delta is in a complete state of ecological collapse – it's astonishing in its rapidity. This supply loss will lead to mandatory conservation for much of California."
Last year, the Delta Vision Blue Ribbon Task Force – a panel of experts appointed by Gov. Arnold Schwarzenegger – recommended a two-pronged approach for a sustain able Delta, a process predicated on the co-equal goals of ecosystem health and water supply reliability. In addition to calling for increased surface storage and groundwater storage, the panel said Californians "need to become less dependent" on water supply from the Delta because of its fragile state.
The Schwarzenegger adminis­tration's cabinet-level Delta Vision Implementation Committee took the Task Force's recommendations and released a list of "fundamental actions" in December 2008. First on their list was a new system of dual water convey­ance through and around the Delta, with groundbreaking slated for 2011. That announcement took some aback and sparked the concern of an addi­tional conveyance system being built without any legislative oversight. State lawmakers balked at being left out of the equation.
Speaking at a Feb. 24 Senate Natural Resources and Water Commit­tee hearing, Joe Grindstaff, deputy sec­retary for water policy with the Natural Resources Agency, said while the state has the legal authority to construct additional conveyance, "it is clear that we want to work with the Legislature" and that "this project is not something this administration could totally imple­ment on its own.
"We are talking about the most controversial project in the history of the state," he said. "It is clear the Legislature could stop it. We have to work together as a team to make this successful."
With the state budget finally resolved, several legislators have introduced bills that involve Delta oversight and the financing of projects, including Sen. Fran Pavley, D-Agoura Hills, chair of the Senate Natural Resources and Water Committee, and Assemblyman Jared Huffman, D-San Rafael, chair of the Water, Parks and Wildlife Committee.
Under the existing conveyance system, water from the Sacramento River is sent through the Delta to enormous pumps at its southern edge where water is exported to the Cen­tral Valley, Southern California and the Bay Area. But many people say that process no longer works from an economic or environmental standpoint and that it is more practical to move water around the Delta during the time it is available.
The extremely complicated nature of dealing with a system that has been so extensively altered for more than a century leads to different approaches to Delta "fixes" and equally variable responses. The analysis requires a com­prehensive view of the many water­sheds in Northern California, the de­mands for water and the many factors affecting the health of the ecosystem. Some environmentalists view dual conveyance as a way to restore a more balanced flow regime in the Delta.
"If we don't take steps to repair some of the Delta's natural ecological functions, we have no hope of saving the species that depend on this deli­cate ecosystem," said Mike Sweeney, executive director for The Nature Conservancy's California Program. "The Nature Conservancy's analysis led us to the conclusion that, short of ending water exports from the Delta, a peripheral canal is an essential compo­nent to restoring the conditions that Delta species need to survive."
The idea of building a peripheral canal to convey export water around the Delta instead of through the Delta has been talked about for decades. The subject is controversial and prompts impassioned debate. Some water users applaud the idea as a means to return some stability to a Delta system that has been in upheaval after various court-ordered pumping restrictions. "There is a movement toward recog­nizing this has to happen," said Byron Buck, a water resources and environ­mental consultant. "We have to do this as a state."
Others caution against any rush to a pre-ordained solution.
"Given the enormous unknowns about the actual costs, benefits, design, rules for operation and impacts, it is grossly premature to take a position either in favor of, or in opposi­tion to, the peripheral canal," wrote Peter Gleick, president of the Pacific Institute, in a Jan. 18 commentary in The Sacramento Bee. "Everyone who struggles with California's water problems understands that a 'portfolio' of solutions is needed – a complex mix of concrete infrastructure and smart management using economic, regula­tory and educational tools. It would be irresponsible at this point for policy­makers to fast-track a canal without knowing more …"
Opposition to a peripheral canal runs strong, in some cases spanning generations. Contra Costa County Supervisor Mary Piepho's father, for­mer Sen. John Nejedly, was a leading opponent of a peripheral canal propo­sition that was pushed in the 1980s. Today, she is continuing his legacy of striving to protect the Delta.
"Contra Costa County remains very concerned about any additional exporting of water from the Delta," she said. "We are very concerned about the current state of the ecosystem and any discussion of additional conveyance that would bypass freshwater flows through the Delta."
But others say the old arguments against additional Delta conveyance have been trumped by the reality that maintaining the existing system is not sustainable. Randele Kanouse, a lobby­ist for the East Bay Municipal Utility District, believes a canal "will hap­pen" because the discussion has moved beyond the flashpoints of the past.
"The politics are so much different than 25 years ago," he said. "Today, there is a much broader understanding of the issues and much stronger politi­cal momentum."
Since the time the Delta became the hub of the state's water system, government officials and stakeholders have struggled to balance the many competing needs placed on the unique ecosystem, the largest estuary on the west coast of the Americas. The list of negative developments – from revela­tions of earthquake vulnerability to poor water quality and crashing fish populations – has produced near unan­imous agreement that maintaining the current course is not a reasonable solu­tion for the ecosystem or water supply. Recent court decisions and regulatory actions have highlighted the poor condition of Delta fish species and the extent to which pumping operations affects their survival. In early March, the longfin smelt was added to the state endangered species list.
In a January 2009 draft report, the Natural Resources Agency's Bay Delta Conservation Plan (BDCP), which is tasked with creating a Habitat Con­servation Plan (HCP) for the Delta, found that the current Delta water supply system "does not work from either an environmental or economic perspective, and it calls out for funda­mental, systemic change." The BDCP committee expects to have a draft document in June outlining how a dual Delta conveyance system is conceived and operated. The BDCP stakeholder group, which includes water users and environmentalists, is tasked with draft­ing a HCP that allows for continued water exports in the least harmful way to fish listed under the Endangered Species Act.
"The agreement is everyone at the table has determined this dual convey­ance is the most promising approach to further analyze and understand the effects of," said Ann Hayden, senior water resource analyst with Environ­mental Defense Fund (EDF).
Unlike Delta Vision, the BDCP "is a plan with a regulatory outcome focused on water supply and ecosys­tem restoration," said Keith Coolidge, deputy director for program perfor­mance and communications with the Bay-Delta Authority.
The immense complexity of moving some water around the Delta instead of through it demands a high level of analysis for factors both con­templated and unanticipated. Those involved readily acknowledge the devil is in the details with such an ambitious undertaking.
"There will be an impact on the Delta and it will have to be mitigated," said Leo Winternitz, Delta projects director for The Nature Conservancy. New conveyance "can improve the Delta; it all depends on how it's oper­ated. How it's operated is dependent on how it's governed."
According to the BDCP draft, dual conveyance "would provide the flexibility to operate the water export system such that the Delta ecosystem and covered fish species habitat can be greatly improved over existing condi­tions." Dual conveyance would allow habitat restoration to be implemented in the western, eastern and south Delta "because additional organic production generated from these restored habitats could pass through the interior Delta with reduced risk of entrainment at the south Delta facilities."
Dual conveyance is controversial.
Representatives of the five Delta counties – Contra Costa, Sacramento, San Joaquin, Solano and Yolo – are near-unanimous in their opposition to conveying any water around the Delta. In December testimony to the Delta Vision Blue Ribbon Task Force, San Joaquin County Supervisor Larry Ruhstaller said that greater regional self-sufficiency will help the state meet its water supply needs "rather than the inopportune resurrection and perpetu­ation of historically divisive project alternatives such as the peripheral canal or … a dual conveyance alternative."
Some environmentalists view the quest for dual conveyance as the same water grab that was feared in years past. They also question whether officials truly know the amount of water avail­able given the anticipated reductions in precipitation from climate change.
"It is a fantasy to expect that pumping from the Delta could be maintained … or even increased at a time when we are seeing total avail­ability of water decrease," said Jonas Minton, water policy advisor to the Planning and Conservation League.
Ultimately, all involved in the process acknowledge a peripheral canal or dual conveyance facility will have to be legally valid and have political sup­port before becoming a reality. It is also a given that any approved project will immediately draw a legal challenge, which would not be surprising given the acrimony that has surrounded the discussion for more than 25 years. The ghost of the peripheral canal and the battles from years past still echo today.
This issue of Western Water pro­vides an overview of the idea of a dual conveyance facility, including ques­tions surrounding its cost, operation and governance. More background information on the Delta can be found in the Foundation's Layperson's Guide to the Delta as well as back issues of Western Water.
Click here to purchase a copy of the entire article.
Editor's Desk
Every day I hear stories of the drought in California and water shortages throughout the West. Many of the stories are about the hardships imposed on San Joaquin Valley farmers and laid off farm work­ers because of the drastic water cutbacks. There also are stories of fishermen who can't fish because the season has been closed for salmon protection. And a few urban water districts are considering actually banning outdoor watering which would cause a great expense in lost landscaping.
In California, a combination of dry weather, low reservoir levels and Delta water export cut­backs to protect endangered fish have left the state facing one of the worst droughts in history. The state's two largest water projects are predicting record-low deliveries and communities are feeling the impacts.
Listening to the arguments around water issues, I notice that a lot of people who consider themselves well informed are operating on old information. State­ments about farmers paying too little for water, about this being a battle between fish vs. people and about more storage being the only way to solve the problem are very simplistic and wrong – or at least wrong in part.
Some of the thoughts people have on water conservation is not up-to-date. In the last 15 years there have been great strides in farm and urban water con­servation. It hasn't always been voluntary on the part of farmers, such as when agricultural water prices went up under the federal system. But agricultural water conservation happened. Urban water districts also have made great strides in water conservation, pushing for lower water-use household appliances and moving to tiered pricing and water budgets. Even Central Valley cities like Sacramento are installing water meters in an effort to enforce water conservation. Meanwhile, cities and water agencies are struggling with equity issues regarding how to fairly charge customers who are asked to further cutback water use after previously reducing their water use.
But is all of this enough? Can the state keep growing in population while trying to keep a viable agriculture, fishing industry and save some of our environ­ment?
We have to try. And we can look to other countries to learn how. We know that many people in developed countries use far less water than we Westerners and still have a good quality of life. Think of the small water fountain in an arid landscape in Spain or New Mexico that is just as refreshing to the mind as the large water feature.
The Governor has issued an executive order calling on all Californians to conserve water by 20 percent this year. Achieving that goal will only be possible if the public is motivated. And understanding the facts about water issues will help all of us work together to make this goal possible.
To learn the latest on California's drought, check out the daily web news blog http://aquafornia.com the Foundation launched late last year – it's the best site to get your daily water fix on the latest headlines.
In the News
Drought Drastically Affects Water Distribution
Reservoir levels at or near record lows and little February precipitation prompted Gov. Arnold Schwarzenegger to request that all water agencies increase their conservation efforts to achieve an immediate 20 percent reduction in urban water use.
"Even with the recent rainfall, California faces its third consecutive year of drought and we must prepare for the worst – a fourth, fifth or even sixth year of drought," the governor said in a Feb. 27 emergency declaration. "Last year we experienced the driest spring and summer on record and storage in the state's reservoir system is near historic lows."
A day earlier, the State Water Resources Control Board informed water rights holders "it is prudent to assume" there will not be enough surface water available for all this year and that "if water supply conditions do not improve, permit, license and registration holders may be curtailed."
"If you plan to grow crops that will need water beyond the limited supply available, you may find yourself in a very serious dilemma," wrote Victoria Whitney, deputy direc­tor for water rights, in the Feb. 26 letter. "There is a strong possibility that your water right will be curtailed due to a lack of surface water or a low priority of right."
The latest developments come on the heels of the Department of Water Resourc­es' (DWR) notification of initial State Water Project (SWP) allocations for 2009 – 15 percent of contractor requests. Meanwhile, the U.S. Bureau of Reclamation's Mid-Pacific Region announced that some of its agricultural contractors will not receive any water from the Central Valley Project, while municipal customers will receive one-half their contracted amount.
"If dry conditions persist through the spring, California will be facing its worst drought ever recorded, and the forecasts for projected runoff suggest tough times ahead," said Donald Glaser, regional director for Reclamation's Mid-Pacific Region.
Those dependent on imported water reacted grimly to the news.
"No water deliveries this year from the federal Central Valley Project to our farm­ers will deepen the already terrible economic situation in our San Joaquin Valley and have a rippling affect that will extend through California and into the nation," said Dan Nelson, executive director of the San Luis and Delta-Mendota Water Authority, in a press release.
Laura King Moon, assistant general manager of the State Water Contractors, said in a press release that state officials "need to move forward as quickly as possible with a proactive, comprehensive approach to protect fish as well as the water supply people depend on."
"We are in a very tight situation, even with the latest round of storms," she said. "Our drought reserves are being depleted rapidly, and we have lost most of our flex­ibility to move water this year and in coming years, even when it is available. Water agencies up and down the state will be forced to adopt increasingly restrictive water management approaches, including mandatory conservation, rationing and rate hikes."
Even with recent snow and rain, reservoir storage in Northern California remains below normal and areas south and southwest of the Delta are facing water supply export reductions.
Schwarzenegger's order directs DWR to expedite water transfers and to report on the state's drought conditions and water availability March 30. If the emergency conditions have not been sufficiently mitigated, "additional steps" will be considered, including mandatory water rationing and reductions in water use, reoperation of major reservoirs, additional regulatory relief or permit streamlining and "other actions neces­sary to prevent, remedy or mitigate the effects of the extreme drought conditions."