Summer 2021 California Project WET Gazette
Volume XXVl, Issue IIl
The One Ring to Rule Them All
"One ring to rule them all. One ring to find them. One ring to bring them all and in the darkness bind them."
― J.R.R. Tolkien, The Lord of the Rings
Many of us have spent the past year taking every opportunity to watch shows from our favorite streaming accounts to escape our pandemic reality. I recently rediscovered the 'Lord of the Rings' trilogy in our pre-streaming-era movie collection. The expected escape from reality it was not. One of the earliest lines of the tale – "I feel thin, sort of stretched, like butter scraped over too much bread" – hits awful close to our current reality.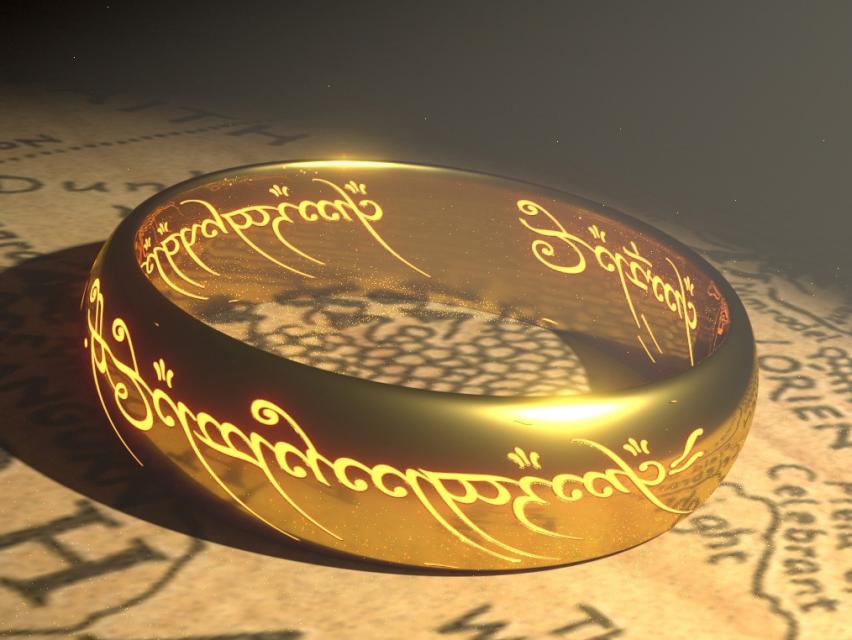 Then there is the ring. Forged by human hands, its power binds and controls all other rings as its destructive influence grows throughout the story. It is hard for anyone who studies natural cycles to not see an allegory to the growing evidence that a climate cycle supercharged by rampant increases in atmospheric carbon dioxide is increasing extreme events in the water, weather, life, fire and flood cycles of California.
One also can't miss the fact that our rampant increases in atmospheric carbon dioxide are directly linked to the burning of fossil fuels – and the ring in the story is connected to a monstrously flaming eye on a tower, like a sentient gas flare. Decades-old predictions foretelling of less consistent snow, greater periods of drought punctuated by more extreme flood events and longer fire seasons were things not so much forgotten as ignored as time passed without immediately visible consequences.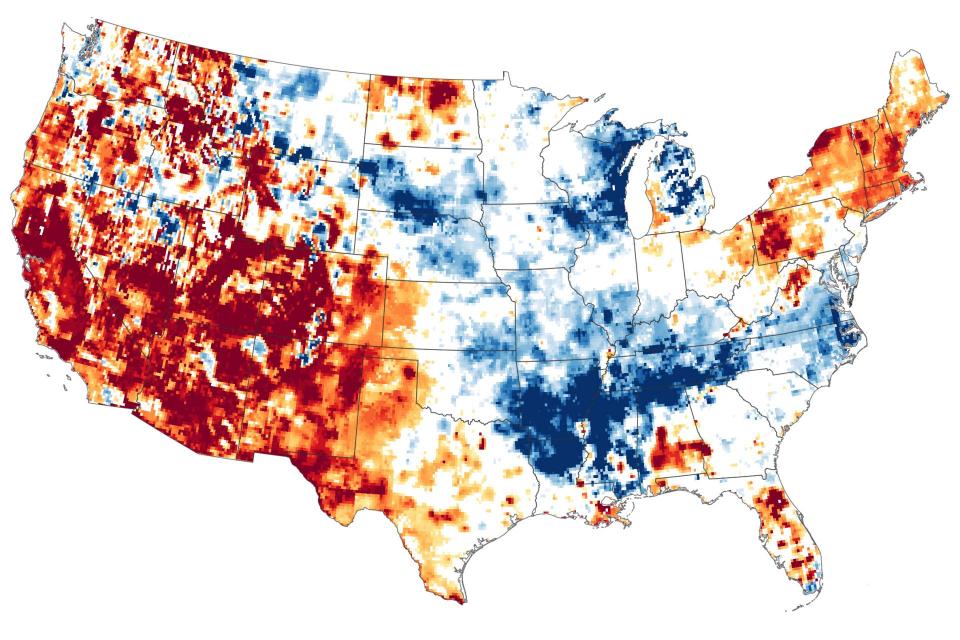 Much like the ring, no one event can immediately be tied to climate change until it can be viewed in the context of a sequence of events. In the case of changes in climate, it is assessed by datasets of temperature and precipitation over 30-year periods. These datasets – known as '30 – year normals' – were updated in May and confirm California and the rest of the Southwest have gotten warmer and drier consistent with long-standing climate change predictions.
'Here the hammer stroke will fall hardest.'
– Gandalf, The Lord of the Rings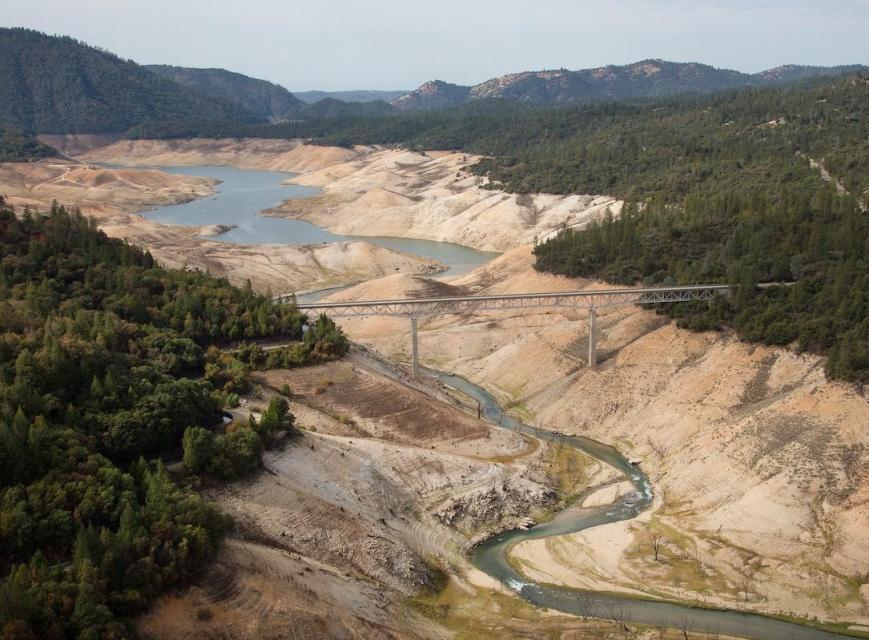 Our Mediterranean climate is unique in the United States and naturally prone to cycles of drought and flood. It should be no surprise the more extreme swings of a changing climate would first become most visible here. In the past decade, California has experienced a five-year drought that devastated farms, forests and other human and natural communities. The dry spell was broken by our wettest winter on record, followed by our hottest summer and most extreme fire season on record. Now we find ourselves in the second driest water year on record with record low reservoirs, little to no snowpack and a fire season that has already sparked to life.
"Side? I am on nobody's side, because nobody is on my side."
– Treebeard, The Lord of the Rings
The interrelationships of beings of different races and the environment are central to the 'Lord of the Rings'– as is analyzing the fine line where self-interest of a group or individual can tilt into a force that can destroy or work for the collective good. There are few altruists in the 'Lord of the Rings.' Even the Ents, the sentient trees who tend the forests, refuse to act until the destruction of their forest is finally staring them in the face – and their action is limited to addressing the immediate challenge to their community, as it is with nearly all in the tale. The existential threat of the ring – like climate change – is lost in the needs of the present.
"Better to burn sooner than late, for burn we must…The West has failed. It shall all go up in a great fire, and all shall be ended."
- Lord Denethor, The Lord of the Rings
For California, the immediate challenge of the present is severe drought and a need to conserve water. Unfortunately, we do have our versions of Lord Denethor, who believe no action can make a difference and act as if there is no tomorrow, and the Hobbits of the Shire, who go about life completely oblivious to the peril that impacts all. Both are easily identified in my neighborhood by their bright green lawns with water flowing day and night in a community surrounded by blue oak studded grasslands that have been dead since mid-April. The rest of us knuckle down on conserving while dreading the arrival of our summer water bills with every turn of a valve.
"Despair is only for those who see the end beyond all doubt. We do not."
– Gandalf, The Lord of the Rings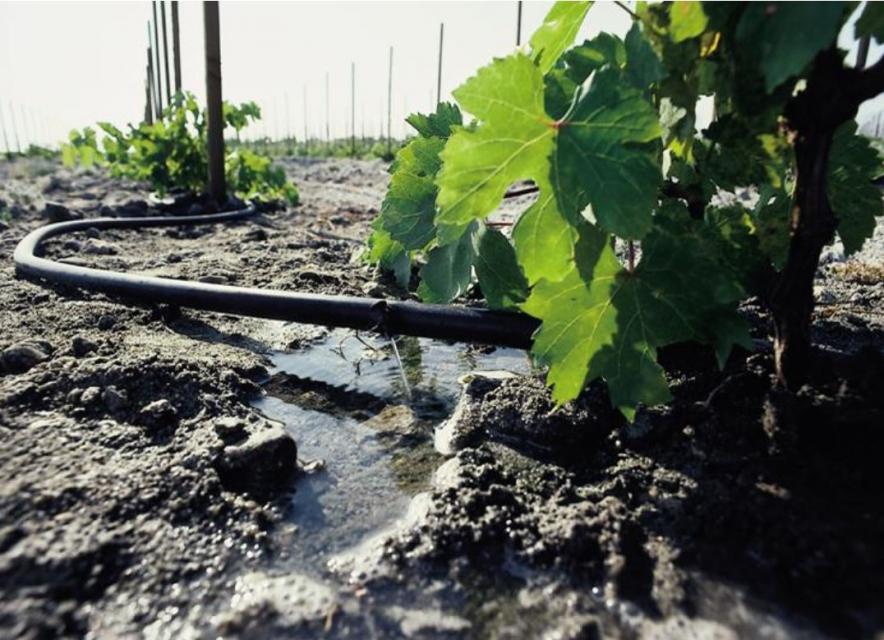 While dire drought news might drive one to despair, we are entering this drought in a different place than the last. The environment and agriculture use most of the water in the state. Projects borne from our previous drought have brought together members of the research, agriculture, government, nonprofit and environmental services sectors to increase the capacity of soils to hold water and carbon, increase water infiltration to recharge groundwater aquifers, reduce agriculture water demand with more drought-tolerant crops, change irrigation practices and restore ecosystems.
The municipal and residential sectors use far less water than the environment and agriculture, but our choices as individual citizens can have a major impact when multiplied with others. Our daily home water use has dropped from an average of 231 gallons per person per day around the year 2000 to an average of 92 gallons per day as of last year, according to the California Water Resources Control Board. Sacramento and San Joaquin Valley residents are currently using the most with an average of 125 to 136 gallons a day per person compared to 86 gallons in Southern California and an average of 71 to 73 gallons per day in the San Francisco Bay Area and along the Central Coast and North Coast regions.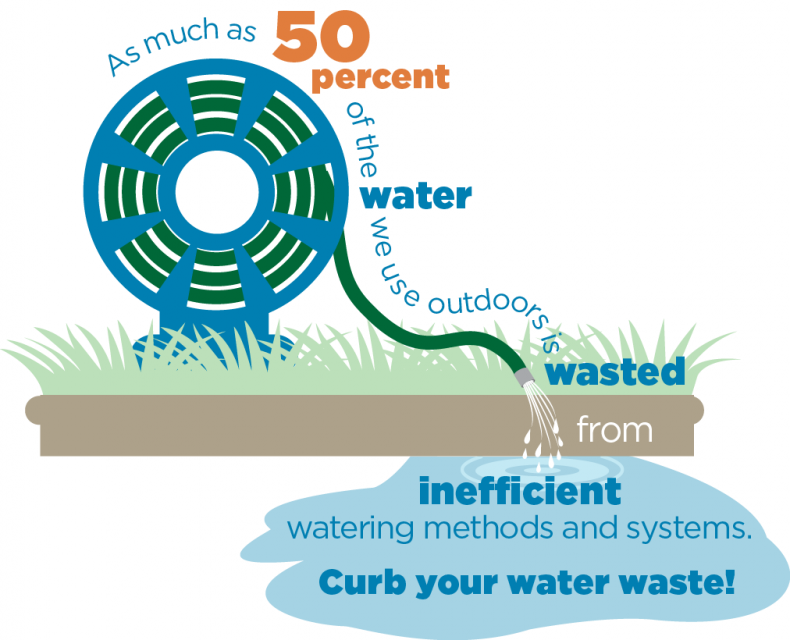 For those lucky enough to have yards, landscape water – especially lawns – can account for more than 50% of home use during drought periods. Many people took advantage of the California Turf Replacement Rebate Program that ran from the end of the last drought in 2015 to 2020 to replace 5.5 million square feet of lawn. That saved roughly 529,507,875 gallons of water, 2,366 megawatt-hours of power that would have been used pumping that water and 529 metric tons of greenhouse gases from running those pumps.
This is equivalent to the annual water used by 5,700 California households, the power use of 400 California households and greenhouse gas-reduction equivalent to taking 114 passenger vehicles a year off the road. I suspect climate was not on the minds of most of those who chose to act.
Water conservation is a climate action and a very powerful one in California, where water is used to generate energy and energy is used to treat and move water. Our simple choices to use a broom rather than water to clean a sidewalk or driveway, to turn off the tap – and lights – sooner, to eliminate seemingly minor leaks, to wait and do full loads in the laundry and dishwasher and to do any other conservation measures – they all add up. When joined by others in the community in conserving, we amplify the savings of water, ease the strain on our water and energy supply systems and, most importantly, reduce the amount of carbon-producing energy needed to meet our water demand.
"Even the smallest person can change the course of the future."
– Galadriel, The Lord of the Rings
Water conservation IS an action anyone of any age can do! Whether you are looking for activities to do with students in summer school, at home or just looking for an opportunity to be a kid again this summer, the following Project WET activities can help you with any of these options. I'm hoping you'll find an activity or two to supplement your existing curriculum, plus some great ideas for saving a couple more dollars around the house while shrinking your personal 'footprint' on the California water supply!
'Thirsty Plants' (Portal): Place a few plastic bags on leaves around your home or school for a few hours, then compare the weight and volume of water each transpires during your experiment. Like people, some plants are better water-savers than others. According to the US Geological Survey, an acre of corn can transpire 3,000-4,000 gallons of water a day, whereas a large oak tree may only transpire 40,000 gallons a year. Trees can help lower summer temperatures, decrease the need for air conditioning, and reduce stormwater runoff. You may decide after your Project WET experiment it is time to replace or add a few new plants this fall!
'My Water Footprint' (p: 441): How much water do YOU use in a day? Make your own personal water meter, keep track of your water usage in a day, estimate where you use the most water and calculate your personal daily water use impact. Click here for a pocket meter template and check-out this activity in your Project WET Guide 2.0 to get started today!
'Every Drop Counts' (Portal): A wonderful activity to help identify water conservation measures rather than just brainstorming a list – click here for an expanded list of conservation actions for the water charades part of the activity. Take a look at the 'Wrap Up and Action' and 'Extensions' sections of the activity.
'Virtual Water' (p: 289): This activity as written introduces the concept of direct versus indirect – or virtual – water use. The activity demonstrating the links between water users is great with a group of students. But rather than just sharing the few product factoids listed in the activity, it is far more engaging to have individuals or groups try to match products with volume of water required to make them. You will be amazed at the questions and complexity of discussions that often develop. Click here for an expanded selection of foods and other products with their correlating virtual water volumes.
'Water Audit' (p: 469): How much water is consumed by the light bulbs or flows through devices and fixtures in and around your home or classroom? This Project WET Guide 2.0 activity will have you and/or students measuring and calculating how much water you are using every time you turn on a tap, appliance, or a light bulb. Click here for investigation sheets and modified directions to use less water during your investigation. If you have a lawn with sprinklers, you and/or your kids can include a simple outdoor water audit to fine tune the amount of water necessary.
'Irrigation Interpretation' (Portal): Do part one of this activity outdoors in locations that need the water. Rather than using paper towels as a proxy for water absorption, have students measure and compare the surface area and depth of soil dampened by each irrigation method.
Building the models in part two could be a fun project when summer heat drives everyone inside, but why not compare real-life irrigation differences if you have access to a yard with a mix of irrigation heads? Note the comparison chart suggested in the wrap-up and the experiments for older students with a side of history in Part three and for K-2 students in the extensions.
'Money Down the Drain' (p: 328): This is a wonderful outdoor activity on a warm summer day that involves a lot of math! Run the activity as directed to get the skills down, then have students look for leaks around home or the school and apply what they learned to assess any leaks found. Use the student page edited for use in California and use the local water rate from your home bill or water provider's website for the calculations.
'Water Concentration' (Portal): Another great activity for a too-hot-to-be-outside summer day. This version of the classic card game of Concentration looks at home water use practices and technology through time with students assessing the environmental and energy impacts of each practice and use that knowledge to engineer a better design for the future.
'Pass the Jug' (p: 447): Students will not only want to drink plain old water if this activity is led right after doing something active outdoors, but you'll also have a far more engaged discussion on how water is allocated when it runs out with people still thirsty. Click here to get copies of activity cards based on a California history timeline and overview of the primary water rights in our state.
Our individual conservation actions do matter – and not just to combat the immediate threat of drought. As in 'The Lord of the Rings,' it was the collective sum of individuals choosing to act for the good of the larger community that led to the destruction of the one ring and it will take the same for our communities to become more sustainable and resilient against a changing climate. I also hope you will have some fun exploring the Project WET activities listed and use them with students in the upcoming school year.
It has been a tough couple of months, and I hope everyone will be getting a chance for a break before diving into the next school year. You'll find a variety of upcoming summer 'Events' in this Gazette. The 'Websites of Interest' section focuses on connections between climate and drought as well as water and energy conservation. You'll also find an array of upcoming 'Professional Development Opportunities' and 'Grants, Scholarships & Contests' for schools. Have a good summer!
"I wish none of this had happened."
"So do all who live to see such times, but that is not for them to decide. All we have to decide is what to do with the time that is given to us."
― J.R.R. Tolkien, The Lord of the Rings
WEBSITES OF INTEREST
Article: "The West's historic drought in 3 maps"
Vast swaths of the West are experiencing a historic and unrelenting drought, the worst in the region in at least 20 years. Climate change is playing a key role in these compounding crises: Drought and extreme heat are fueling wildfires; reduced snowpack and the lack of substantial precipitation are exacerbating water demands for millions of people, as well as agriculture, ecosystems and deteriorating infrastructure.
Article: "The numbers California's drought manager wants you to see"
It's clear the Golden State is in a drought and it could escalate to a crisis, but, you may be wondering, just how bad is it? As of early June, major reservoirs across the state were below half capacity and the snow water equivalent of the snowpack was just 3% of normal to date. The most alarming takeaway is that this year's water supply in Northern California's four largest watersheds is tracking below the most severe years in the last drought.
Water Education Foundation: All Things Drought
This Water Education Foundation page is where you can find real-time reservoir levels, drought severity maps, special reports, a newsfeed of current developments and general background on droughts in California and the West, as well as answers to common drought questions and tips for how you can save water at home.
Article: "The new U.S. Climate Normals are here. What do they tell us about climate change?"
The Normals are the basis for judging how daily, monthly and annual climate conditions compare to what's normal for a specific location in today's climate. For the past decade, the Normals have been based on weather observations from 1981 to 2010. In early May, climate experts at NOAA's National Centers for Environmental Information issued an updated collection based on the weather occurring from 1991 to 2020.
Article: "Satellites Show How Earth's Water Cycle Is Ramping Up as Climate Warms"
The rate at which plants and the land surface release moisture into the air has increased on a global scale between 2003 and 2019. These processes are collectively known as evapotranspiration, and a new NASA study has calculated its increase. This is important because evapotranspiration represents a critical branch of the global water cycle – a cycle that creates the conditions for life on land.
Humans have done a lot of damage to Earth's natural systems, and it can be hard to stop that type of damage once it's got some momentum (such as climate change,). But if we can change those trajectories – whether through concerted community actions like reducing our carbon dioxide emissions or individual actions like planting native species in our yards – we can keep that damage to a minimum, and even reverse it. Being informed is the best way to start making a difference!
Indicators of Climate Change in California
Climate change poses an immediate and growing threat to California's environment, public health, and economic vitality. Monitoring and research efforts across the state generate observational data that describe changes that are already underway. The indicator data help to track, evaluate, and report on climate trends over time on the issues the state is working to address.
The data available on this site offer a view of how climate change might affect California at the local level through the end of this century. Explore charts, maps and data of observed and projected climate variables for California. You can work with visualization tools, access data, and participate in community sharing to contribute your own knowledge.
Californians have made great progress in recent years embracing wise water use as a daily habit. But our lawns have a drinking problem. About 50% of water is used for outdoor irrigation. Transforming a lawn with drought-resistant California native plants is easy, will save you money, and is more critical than ever to help California move toward a more sustainable and secure future.
We are dedicated to helping people find ways to save money in and around their homes. Water conservation is in important practice in a variety of regions around the world. It does not matter if water appears to be in abundant supply in the area where you reside. Implementing water conserving techniques in and around your home can help to save money on utility bills, reduce pollution resulting from leaks and help septic systems run better and last longer. We even have tips for lawns!
Greywater Action is a collaborative of educators who teach residents and tradespeople about affordable, simple household water systems that dramatically reduce water use and foster sustainable cultures of water. We believe that decentralized conservation measures can play a critical role in drought resilience, climate adaptation, and the return of healthy stream ecosystems. Click here to see examples of greywater systems in use!
i-Tree Design allows you to make a simple estimation of the benefits provided by individual trees in your yard with easy to gather data. An additional step allows you to of draw a footprint of your home or school and virtually "plant" or place a tree to estimate its impact on building energy use through tome.
Reducing water use also saves energy. More than 19 percent of the energy used in California goes to water-related activities, including treating, pumping, and delivering water to your home, treating wastewater or heating the water for your shower. By brushing up on your water-saving tips and spreading the word to your friends and family, you can help California conserve water and electricity.
WaterSense partners with manufacturers, retailers and distributors, homebuilders, irrigation professionals, and utilities to bring water–efficient products your community. WaterSense-labeled products are certified to use at least 20 percent less water, save energy, and perform as well as or better than regular models - inside and outside your home.
Using water-saving techniques can save you money and reduce water and wastewater treatment costs and the amount of energy used to treat, pump, and heat water. Homes with high-efficiency plumbing fixtures and appliances save about 30 percent of indoor water use and yield substantial savings on water, sewer, and energy bills. ENERGY STAR can help you start saving today.
Article: "How air conditioning could keep everyone cool without cooking the planet"
Last year, as a record heat wave roasted California, statewide energy consumption skyrocketed, forcing grid operators to issue rolling blackouts. The reason the grid was under so much strain? Millions upon millions of air conditioners were running full tilt. It was a stark illustration of the challenge humanity will face trying to keep everybody cool as the planet overheats.
PROFESSIONAL DEVELOPMENT OPPORTUNITIES
Forestry Institute for Teachers – Shasta County
Spend July 4 – 10, 2021 with natural resource professionals gaining a deeper understanding of California's forested watersheds, ecosystems and human use of natural resources while gaining experience with interdisciplinary content, practices and skills at the heart of Common Core and Next Generation Science Standards. A $75 registration fee includes all housing, meals and materials for the week – and an opportunity to receive credit and a $200 stipend!
California Water Institute for Teachers – Sacramento Valley
Join us for the 4-day California Water Institute for Teachers (Aug. 9-10, Sept. 25 and a TBD Nov. date). The institute will focus on the natural and human systems that support the State Water Project and the impacts of climate change to this important water source. Learn about programs for students including Salmon in the Classroom and experience a variety Project WET activities focused on water conservation that students can apply at school or home. A $35.00 refundable deposit will reserve your spot. An opportunity to receive a $200 stipend and 2 Continuing Education Units upon completion of a curriculum integration project. Questions? Contact Dr. Anne Stephens at akstephens@csuchico.edu or click here to register by Friday, July 16!
The Forestry Challenge is an academic event for high school students in technical forestry and current forestry topics. Participants spend four days in the forest learning about the ecology and management of the forested landscapes that provide communities with water, recreational opportunities, wood products, and wildlife habitat. Registration is open for Fall 2021 event dates!
California Water Institute for Teachers'– Solano County
This multi-day training for K-12 teachers on August 4 – 6, 2021 will focus on the water resources that serve Solano County and provide teachers with tools to engage students in learning about their local watersheds and development of their environmental literacy about the places where they live and recreate. Participants will be able to earn up to 18 hours of continuing education credit and an opportunity to receive a $200 stipend.
Project WET – Climate, Water & Resilience Virtual Training
Aligned with Common Core and NGSS standards, Project WET's new 'Climate, Water & Resilience' curriculum for Secondary grades covers a wide variety of phenomena encompassed by climate change, including weather vs. climate, the greenhouse effect, sea-level rise, ocean acidification, soil moisture and agriculture, freeze-thaw cycles, aquatic invasive species, shared water resources, and waterborne disease.
Wanted: Ten middle grade teachers (6-8) interested in becoming the WATERS Science Teachers in California. Training will occur July 27-30, 2021 in Sanger. The WATERS curriculum incorporates hands-on local data and geospatial analysis to explore geographic, social, political, and environmental concepts and problems related to students' watersheds. Participation will include an opportunity to earn $1,000 for completion of a curriculum integration project.
California Environmental Education Interagency Network
The California Environmental Education Interagency Network (CEEIN) is a state consortium of environmental educators representing state departments and partner organizations. CEEIN maintains an online calendar, where educators can find a variety of professional learning experiences and participatory stewardship opportunities related to environmental education and environmental literacy offered by California agencies and their partnership network.
SUMMER EVENTS
July 3 and September 4, 2021: California Free Fishing Days
Free Fishing Days provide a great, low-cost way to give fishing a try. Some CDFW Regions offer a Fishing in the City program and free fishing day clinics designed to educate novice anglers about fishing and where you can go fishing in the major metropolitan areas. You can even learn how to clean and prepare your catch so you can enjoy it for dinner that night!
August 25, 2021 - Free Entrance Days in the National Parks
Mark your calendar to celebrate the National Park Service's 105th birthday on August 25, 2021! National parks across the country will be hosting in-park programs and virtual experiences. Entrance fees are also waived to encourage everyone to come out to enjoy their national parks
September 18, 2021: California Coastal Cleanup Day
Join the fight to help clean the beach by picking up litter that can travel through storm drains, creeks, and rivers to become beach and ocean pollution. Cleaning your neighborhoods, local parks, streets, and storm drains helps protect our coast. Plan to spend a day outside connecting with your community to celebrate California! Click here for information on how you can participate one your own or with your students.
September 25, 2021: National Public Lands Day
The COVID-19 pandemic has upended many aspects of daily life in this country, and our public lands are no exception. In 2020, we were thrilled to introduce virtual events celebrating our public lands and complementing many socially distanced in-person events. We are currently working with our federal, state, and local partners to monitor the situation to ensure a safe and enjoyable NPLD for everyone – whether virtually or in-person. Click here to stay tuned!
September 25, 2021: Free Entrance Days in the National Parks
Help care for your national parks by volunteering during a one-time event or on a reoccurring basis. National Public Lands Day is the nation's largest single-day volunteer effort. It celebrates the connection between people and green space in their community, inspires environmental stewardship, and encourages use of open space for education, recreation, and health benefits.
September 23-25, 2021: California Agriculture in the Classroom Conference
Join us in beautiful Ventura County for an invaluable opportunity to collaborate with other educators who share your passion for agriculture. From tomatoes and cucumbers to victory gardens and onions, we were very excited to explore Ventura County agriculture and the importance of educating our youth about food and fiber.
October 8 – 10, 2021: California Science Education Conference
Join us virtually for high–quality virtual workshops and courses led by educators and experts and gain practical knowledge to be the best science educator. Our conference provides unique and engaging opportunities to share with and learn from other educators and network with friends, educators and supporters throughout California and beyond. Have fun with the science community during virtual socials and more!
October 10 - 16, 2021: Earth Science Week 2021
Celebrate the theme "Water Today and for the Future," as this year's event focuses on learning how to understand, conserve, and protect water – perhaps Earth's most vital resource. We will feature learning resources and activities to engage people of all backgrounds, ages, and abilities in exploring the importance of water, water science and water's role in topics including energy, climate change, technology, the environment, natural hazards, industry, agriculture, recreation, and the economy.
GRANTS, SCHOLARSHIPS & CONTESTS
Coastal and Ocean Amateur Photography Contest​ – Deadline July 17, 2021
Entries are NOW OPEN for the 22nd Annual Coastal and Ocean Amateur Photography Contest. Submit your photos of the following subjects: the scenic coast and Pacific Ocean off California, people and the California Coast, or the California ocean and coastal wildlife. Entry is free and open to the public. Visit mycoastalphoto.com for details.
Environmental Justice Small Grant - Deadline: June 30, 2021
The California Environmental Protection Agency's EJ Small Grants Program supports environmental justice projects across California. Grants of up to $50,000 are available to assist non-profit community organizations and Tribal governments address environmental justice issues in areas disproportionately affected by environmental pollution and hazards.
School Garden Grant Program - Applications Open: September 1, 2021
The California Fertilizer Foundation provides 24 grants for $1,200 each to schools throughout California. We will begin accepting Garden Grant application on September 1st, 2021, with a submission deadline of October 31st, 2021. Please email Kayla Gangl if you would like to be notified when we begin accepting grant applications.
Growing Future Organic Professionals - Applications Open: September 1, 2021
The California Certified Organic Farmers (CCOF) Foundation offers grants of $1,000 to help middle and high school students cover the expenses of conducting organic FFA Supervised Agricultural Experience (SAE) project. Applicants must be students in grades 7-12 who are current FFA members planning to do a SAE project. Application deadline is November 12, 2021.
Toshiba America Foundation K – 5 Grant - Deadline: October 1, 2021
Do you have an innovative idea for improving STEM learning in your classroom? Is your idea project-based learning with measurable outcomes? What do you need to make learning math and science fun for your students? K-5 grade teachers are invited to apply on-line for a $1,000 Toshiba America Foundation grant to help bring an innovative hands-on project into their own classroom.
Toshiba America Foundation 6 - 12 Grant - Deadline: November 1, 2021
Do you teach in a middle and high school classroom and have an innovative idea for improving STEM (Science, technology, engineering and math) learning in your classroom? Sixth to 12th grade teachers are invited to apply on-line for a Toshiba America Foundation grant of up to $5,000 and more than $5,000 to help bring an innovative project into their own classroom.
CREDITS
California Project WET Gazette is published by the Water Education Foundation, which serves as the state coordinator and host institution for Project WET USA, a program of the Project WET Foundation.
This material is based upon work supported by the U.S. Geological Survey under Grant/Cooperative Agreement No. G21AC10429. The views and conclusions contained in this document are those of the authors and should not be interpreted as representing the opinions or policies of the U.S. Geological Survey. Mention of trade names or commercial products does not constitute their endorsement by the U.S. Geological Survey.
Editor: Brian Brown, California Project WET Coordinator
Water Education Foundation
1401 21st Street, Suite 200
Sacramento, CA 95811
916.444.6240
email: projectwet@watereducation.org