Project WET Guide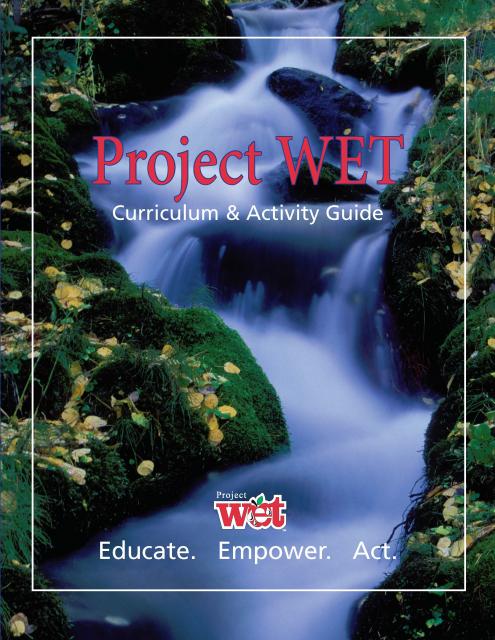 Project WET activities are designed to engage students of all ages – in formal and non-formal education settings – in the study of water through interactive simulations, use of models and reality-based scenarios. The award-winning, NSTA-recommended Project WET Curriculum and Activity Guide 2.0 continues our dedication to 21st-century, cutting-edge water education with 64 activities studying water science, as well as water challenges from multiple viewpoints.
The Project WET activities are designed:
using nationally recognized education principles and practices and each activity is field tested by educators in classroom and non-formal settings prior to inclusion in the guide.
to accommodate diverse learning styles with activities that are not only thought-provoking and engaging, but practical and low cost for educators to use.
to be interdisciplinary and address water topics from a wide angle, based in the tenet of "water for all water users."
by teachers and resource managers to engage students in the study of water concepts and skills as they apply to current water science and management topics including water conservation, storm water, water quality, groundwater, weather and climate change and watershed management.
to focus on developing critical thinking skills by teaching students HOW to think, not WHAT to think.'
to generate enthusiasm for further, more in-depth study of water and a goal of nurturing learners from awareness to action.
All Project WET Curriculum and Activity Guide 2.0 activities have been correlated to and reinforce practices integrated within Common Core, Next Generation Science and California History/Social Science Standards and provide strong support for STEAM, Project-Based and Service Learning programs