Water 101 Workshop
Learn the Basics and Beyond of this Critical Resource
Participants had an opportunity to learn from top experts at our popular Water 101 Workshop in the Sacramento area, held on February 4-5, 2016. This daylong workshop with an optional second, half-day offered the opportunity to learn about California water basics, hot topics and water district board member governance.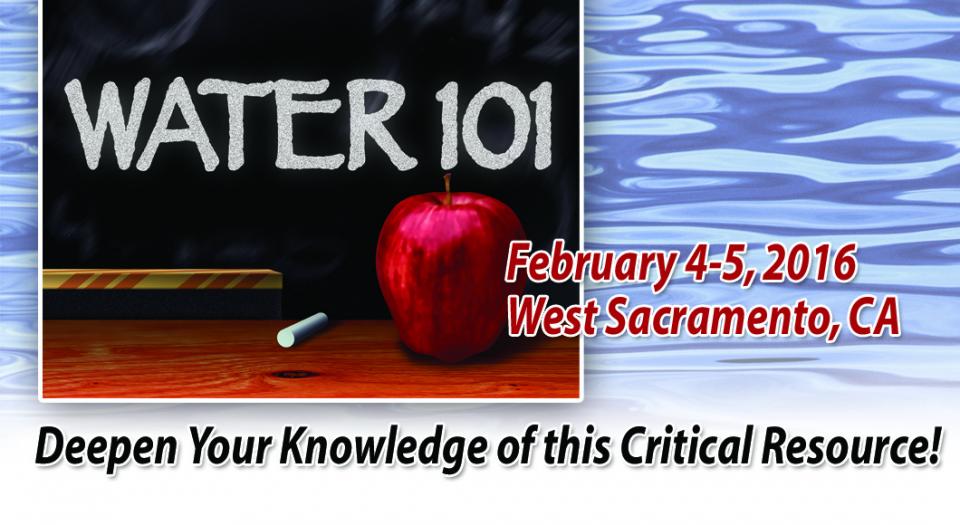 Water 101 is open to anyone interested in learning more about the history of and the management structure of water in California, water rights, which agencies regulate water in California, how the Legislature handles water issues, alternative supplies and the key water issues facing the state – including the ongoing drought and the historic groundwater law enacted in 2015.
The optional second day in the morning was geared toward elected officials serving on water boards. It was especially helpful to newly elected board members.
Speakers included:
Lester Snow: Former California Natural Resources Secretary and Director of the state Department of Water Resources who now heads the California Water Foundation, discussing the crisis of groundwater management and other hot topics
Dennis O'Connor: Principal Consultant of the California Senate Committee on Natural Resources and Water, discussing working with and understanding the state Legislature and current legislative proposals.
Jennifer Harder: Attorney and McGeorge Law School Professor, providing an overview of California water rights system.
Paula Landis: Executive Officer of the California Water Commission, providing an update from the agency tasked with allocating $2.7 billion for investments in water storage projects under the 2014 Water Bond known as Prop. 1.
What attendees say about our Water 101 Workshop:
"Great workshop. Loved it! Learned a lot and I feel inspired."

"Outstanding in all aspects. Great job done by everyone."

"You folks put on phenomenal events: Well thought-out agenda, logical order, fantastic speakers, and ample breaks/networking opportunities."
Location:
West Sacramento City Hall
Civic Center Galleria
1110 West Capitol Ave.
West Sacramento, CA 95691
Parking:
Across the street in the city's parking lot at 1271 West Capitol Ave.
Download the parking map on the upper right-hand of this screen.
Cost/Refund Policy:
Cost includes lunch on Day 1, coffee breaks, materials and a certificate of completion. Last day to cancel for a full refund is January 21, 2016. Substitutions can be made three days prior to event.
Register Here!