Quagga mussel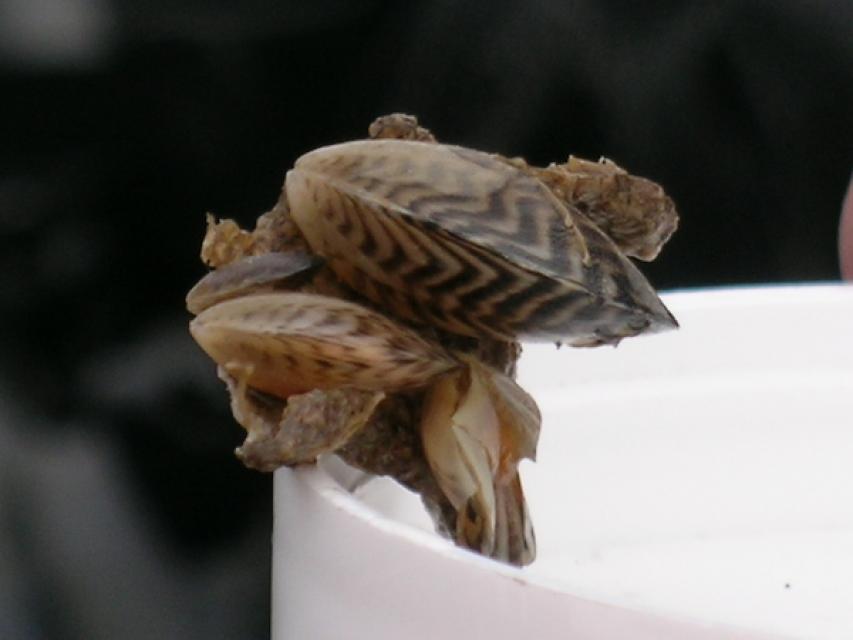 A troublesome invasive species is the quagga mussel, a tiny freshwater mollusk that attaches itself to water utility infrastructure and reproduces at a rapid rate, causing damage to pipes and pumps.
First found in the Great Lakes in 1988 (dumped with ballast water from overseas ships), the quagga mussel along with the zebra mussel are native to the rivers and lakes of eastern Europe and western Asia, including the Black, Caspian and Azov Seas and the Dneiper River drainage of Ukraine and Ponto-Caspian Sea.
Quagga mussels are transported by recreational boats and commercial boats. Their larvae are not visible to the human eye, meaning boats showing no signs of infestation can harbor or transport them in the bait wells, bilge tanks, ballast bladders, or on parts of the boat trailer. Female quagga mussels produce 1 million eggs annually.
Because they filter as much as a liter of water per day, quagga mussels impact the food chain of native fish and other aquatic wildlife by decreasing the food supply. They can live as deep as 400 feet below the surface.
Quagga mussels were discovered in Lake Mead's Boulder Basin in 2007, the first time they appeared in the western United States. They have been found in Lake Mohave, Lake Havasu and parts of California. They are present at the Metropolitan Water District of Southern California's Colorado River Aqueduct as far south as Lake Skinner, near Temecula.
The presence of quagga mussels in Lake Mead required the Southern Nevada Water Authority to add pipes to mix ammonia and chlorine at its new intake to kill the larvae before they entered the system. Ultimately, by the time quagga are detected, it's too late to do anything about it since eradication is impossible. That leaves water agencies in the position of limiting their presence through control measures.