Western Water: Two States, One Lake — Keeping Lake Tahoe Blue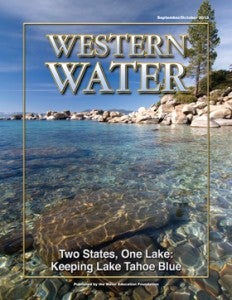 The Water Education Foundation's September/October 2013 issue of Western Water discusses some of the issues associated with the effort to preserve and restore the clarity of Lake Tahoe. Much of the information originated from the August 2013 Lake Tahoe Summit.
Lake Tahoe has a way of inspiring superlative descriptions, some of which have come from well-known people. Mark Twain called it "surely the fairest picture the whole earth affords," while John Muir called it the "queen of lakes" and "a kind of water heaven."
Coinciding with the Summit was the release of the annual State of the Lake Report by the University of California, Davis, Tahoe Environmental Research Center. The report found an improvement in clarity for the second straight year, with average readings better by more than 6 feet.
Protecting Tahoe for native species and getting rid of those that don't belong is part of the Lake Tahoe Restoration Act, a bill introduced by U.S. Sen. Dianne Feinstein that continues the federal government's fiscal commitment by authorizing $415 million over 10 years. "The time to act is now and the federal government must take a leading role," Feinstein said.
The digital format of Western Water includes videos, audio interviews, animated graphics and easy-to-access links to the reports cited in the article and related background information. Click here to receive a free preview.
Become an e-subscriber and access the digital version and all the additional content on your desktop computer or laptop. And view the article on your laptop and download the free Foundation app to view each issue of Western Water in the new interactive format on your iPad or iPhone. Click here to learn more about how to subscribe to this exciting new downloadable digital version of Western Water. Also available on the Foundation's website are excerpts from this excellent article written by Gary Pitzer.
Click to launch the full edition in a new window