Western Water: Partnership with Mexico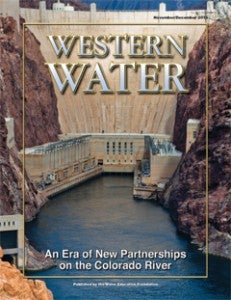 Excerpts from "An Era of New Partnerships on the Colorado River," the Water Education Foundation's Nov./Dec. 2013 issue of Western Water, written by Sue McClurg, are included below:
The effort to find agreement on Colorado River issues extends across the U.S.-Mexico border. After several years of negotiations, the two countries signed an historic agreement in late 2012 — Minute 319 to the 1944 U.S.-Mexican Treaty. Minute 319 establishes new cooperative measures for sharing Colorado River water.

Minute 319 is a work in progress, said Edward Drusina, commissioner of the IBWC's United States Section. "We have a lot of things to do. But we have a strong team behind us that is making it easier. We're united and that makes all the difference in the world."

Implementation of Minute 319 is now underway, including provisions to provide a flow of water for the first time in history to assess opportunities to enhance the Colorado River Delta. A binational effort to restore wetlands in Mexico by supplying riparian flows and reestablishing native habitat has been underway for about a decade under the direction of environmentalists and scientists on both sides of the border. Included in Minute 319 is a pulse flow of approximately 105,392 acre-feet tentatively planned during 2014 but no later than 2016. The goal is to implement the flow in 2014, plus base flows totaling 52,696 acre-feet.
Continue reading by ordering the digital version of this issue of Western Water. Or, order the printed copy from this link.