Western Water: A More Certain Variability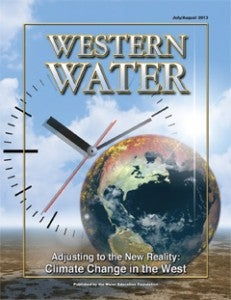 As announced yesterday, the Water Education Foundation's July/August 2013 issue of Western Water looks at climate change through the lens of some of the latest scientific research and responses from experts regarding mitigation and adaptation. Read more from the July/August 2013 issue written by Gary Pitzer:
Speaking to an irrigation conference in Los Angeles more than a century ago, John Wesley Powell, the famed explorer of the Grand Canyon and second director of the U.S. Geological Survey, sounded a cautious, and as it turned out, prophetic warning to those in attendance.
Since Powell's speech, a remarkable amount of innovation, investment, technical achievement and can-do spirit have enabled the West to house large cities and farms because of the ability to provide water. Nonetheless, the stark reminder of the region's weather extremes constantly reminds people that water is not something to be taken for granted.
When Powell spoke, the term climate change was unheard of. Today, the president of the United States says the science is clear and the time for action is now.
"The 12 warmest years in recorded history have all come in the last 15 years," President Barack Obama said in a June 25 speech at Georgetown University. "Last year, temperatures in some areas of the ocean reached record highs, and ice in the Arctic shrank to its smallest size on record – faster than most models had predicted it would. These are facts."
Continue reading by ordering the digital version of this issue of Western Water – check out the free preview below! Or, order the printed copy.