Western Water Magazine: Two States, United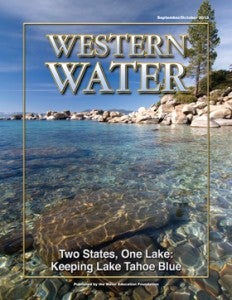 Excerpts from the Water Education Foundation's September/October 2013 issue of Western Water written by Gary Pitzer continue today on Aquafornia:
Keeping Lake Tahoe blue becomes controversial when the regulations designed to maintain and improve clarity are viewed as onerous and detrimental to the economic well-being of the surrounding community. In 2011, the Nevada Legislature passed a law that sought to remove the state from the Tahoe Compact because of concerns that environmental restrictions were crippling economic development. The state backed down in 2013 after the approval of the updated Regional Plan, with Gov. Sandoval pledging to continue the "shared partnership" between Nevada and California in doing "what's best for the environment and economy of the Lake Tahoe region. Nevada's commitment to remain in the Compact is contingent on the signing of SB 630 into law. Authored by Democratic Sen. Fran Pavley of Agoura Hills, the bill requires, among other things, that TRPA ensures the Regional Plan "reflects economic considerations in the Lake Tahoe Basin." Proponents of the bill said its approval would not detrimentally impact the environmental protection of the lake and that the Regional Plan achieves and maintains environmental standards to protect Lake Tahoe.
Continue reading by ordering the digital version of this issue of Western Water – check out the free preview below. Or, order the printed copy.