Western Water Magazine: A 'Sea Change' in Water Quality Management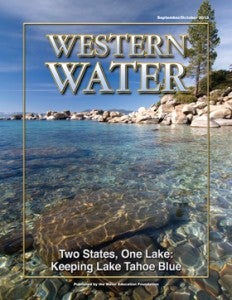 Continued from yesterday, excerpts from the Water Education Foundation's September/October 2013 issue of Western Water written by Gary Pitzer are included below:
"For many years, clarity was in a downward spiral, dropping from 136 feet in 1962 to 66 feet in 2001 as measured by Secchi disk. The lake's clarity increases or decreases based on the amount of fine particles, algae growth, sediment runoff and snowmelt. Algae, the lake's slow cycle of circulation and the introduction of phosphates stymied the clarity. Furthermore, the disappearance of the wet¬lands ringing the lake took away the natural filtration system that stemmed the tide of sediment. The Lake Tahoe TMDL addresses fine sediment, nitrogen, and phosphorus, which are considered to be the primary pollutants responsible for the continued loss of clarity in the lake. The Tahoe Regional Planning Agency (TRPA) works with businesses and commercial properties to help control the amount of fine sediment and nutrients entering the lake through the use of best management practices to filter runoff on-site."
Continue reading by ordering the digital version of this issue of Western Water – check out the free preview below. Or, order the printed copy.
Click to launch the full edition in a new window