Watershed: Water Word of the Week
[caption id="attachment_93695" align="alignleft" width="240"]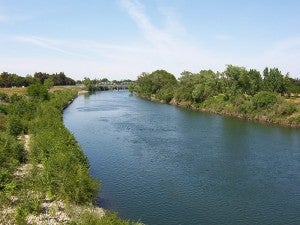 Sacramento River[/caption]
Aquafornia's Water Word of the Week from sister site Aquapedia is watershed, a newly added entry to the Water Education Foundation's new interactive online water encyclopedia.
"A watershed is the land area that drains runoff — snowmelt and rain — into a connected system of lakes, streams, rivers, and other waterways," according to Aquapedia's definition. "It typically is identified by the largest draining watercourse within the system. In California, for example, the Sierra Nevada is one of the state's major watersheds."

To learn more about watersheds, Aquapedia lists additional resources, including these from the Foundation: the Santa Ana River Watershed Conference, which has links to speaker presentations, "Looking to the Source: Watersheds of the Sierra Nevada," "Viewing Water with a Wide Angle Lens: A Roundtable Discussion, Western Water, January/February 2013" and a video clip from "Restoring a River: Voices of the San Joaquin."

Watersheds will be discussed during the Foundation's Northern California Tour Oct. 16-18 and San Joaquin River Restoration Tour Nov. 7-8.
To receive breaking daily news on watersheds, go to the related page on Aquapedia and click on "Search This Topic on Aquafornia" for the latest information.