New Layperson's Guide to California Wastewater Now Available!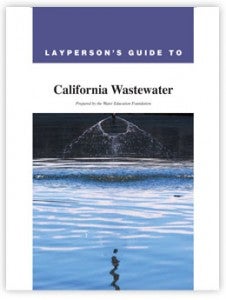 The Water Education Foundation's new Layperson's Guide to California Wastewater is now available! This 28-page comprehensive guide is an excellent source of information about California wastewater.
The guide includes a history of wastewater treatment; explains how wastewater is collected, conveyed and treated; outlines the legal and regulatory primer for wastewater treatment and discharge permits; and discusses the current challenges facing the industry.
Case studies highlight several California facilities that use different treatment methods. The guide also includes a glossary and sidebars with information on the primary agencies involved in wastewater and additional resources to learn more.
Copies of the Layperson's Guide to California Wastewater are available for $10 each – $7 each if you order 10 copies or more. Contact the Foundation at (916) 444-6240 for details. Click here to order your copy today!