Aquafornia Water Word(s) of the Week: Flood Management
[caption id="attachment_91099" align="alignleft" width="270"]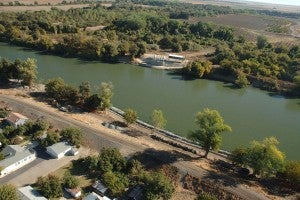 Aerial view showing levee repair work on the Sacramento River. Photo credit: DWR 12/27/07[/caption]
Aquafornia's Water Word of the Week from sister site Aquapedia — the Water Education Foundation's new interactive online water encyclopedia — is actually two words: Flood Management.
The topic of Flood Management is covered in-depth on Aquapedia, which begins with the following overview: "Devastating floods are almost annual occurrences in the West and in California. With the anticipated sea level rise and other impacts of a changing climate, particularly heavy winter rains, flood management is increasingly critical in California. Compounding the issue are man-made flood hazards such as levee stability. With such issues in mind, flood management includes giving constricted rivers more breathing room by setting back levees, reducing floodplain development and giving equal weight to environmental and economic factors in making management decisions."

As an added bonus, the entry also included these following sections: Flood Management Issues, Flood Management Infrastructure, Flood Mitigation Efforts and Local Flood Management Efforts.

Entries in Aquapedia also have additional references for people who want to dig deeper into the subject. For further Flood Management studies, there are these Foundation resources: "Layperson's Guide to Flood Management," "Levees and Flood Protections: A Shared Responsibility, Western Water, May/June 2012," "Are We Keeping Up With Water Infrastructure Needs? Western Water, Jan/Feb 2012," and "Plausible and Inevitable: The ARkStorm Scenario, Western Water, March/April 2011." "Overcoming the Deluge: California's Plan for Managing Floods" is a DVD released by the Foundation.

Upcoming Foundation Tours: To get an up close and personal look at the many issues surrounding flood management, join the Foundation Oct. 16-18 on its Northern California Tour and Nov. 7-8 on its San Joaquin River Restoration Tour.

To receive breaking daily news on Flood Management, go to the related page on Aquapedia and click on "Search This Topic on Aquafornia" for the latest information.