10 Seats Left on Water Education Foundation's Nov. 7-8 San Joaquin River Restoration Tour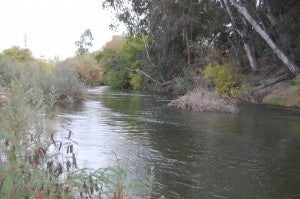 The Water Education Foundation's two-day, one-night San Joaquin River Restoration Tour Nov. 7-8 will explore challenges associated with restoring flows and Chinook salmon to the San Joaquin River from below Friant Dam to the confluence with the Merced River.
This year's tour will return to Gravelly Ford Ranch and visit key locations such as Mendota Pool, Camp Pashayan, Sand Slough, Merced National Wildlife Refuge and farm lands effected by the settlement.
Participants will learn about water project operations, salmon spawning and rearing, flood management, agricultural diversions, subsidence issues and gravel mining impacts. The tour begins and ends in Fresno.
Registration is $450 for one person or $375 each for two people sharing a room.
Learn more, or sign up to secure your spot!
Among the recent posts on Aquafornia related to San Joaquin River restoration issues included the following:
State Proposes Salmon Hatchery for San Joaquin River Restoration
Blog: San Joaquin River Restoration Update
News Release: Environmental Documents Released for San Joaquin River Restoration Program's Interim Facility Funding