Water Education Foundation Report Highlights Year of Accomplishment and Celebration
Just-released 2017 Annual Report recaps 40th Anniversary celebration and water education efforts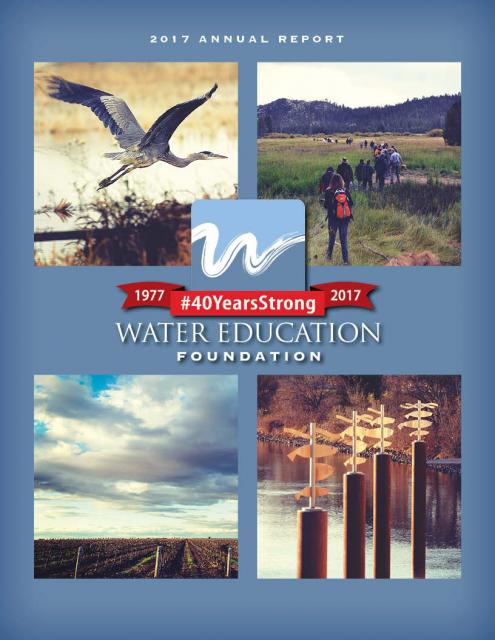 The Water Education Foundation's just-released 2017 Annual Report takes readers along to see the array of educational events, trainings and publications we produced last year to create a better understanding of water resources in California and the Southwest.
Marking its 40th anniversary in 2017, the Foundation's annual report recaps its efforts for the year in words and photos.
Those efforts include workshops and conferences, its invitation-only Colorado River Symposium, its tours of critical watersheds in California and along the lower Colorado River, Project WET's teacher training programs, the Foundation's popular poster-size water maps and Layperson's Guides on climate change, groundwater and the Colorado River Delta, and its flagship publication, Western Water.
The report also highlights two important milestones – the Foundation's 40th anniversary celebration in October, and the 20th anniversary of a major Foundation initiative, its Water Leaders program for early to mid-career water professionals. In addition, the report recognizes its board of directors and the many supporters whose contributions allow us to do this work.
You can read the Annual Report here.