Plunge into the Ecology of California Fish on our Bay-Delta Tour May 16-18
Learn about dozens of species – some endangered — that live in the Sacramento-San Joaquin Delta and the San Francisco Bay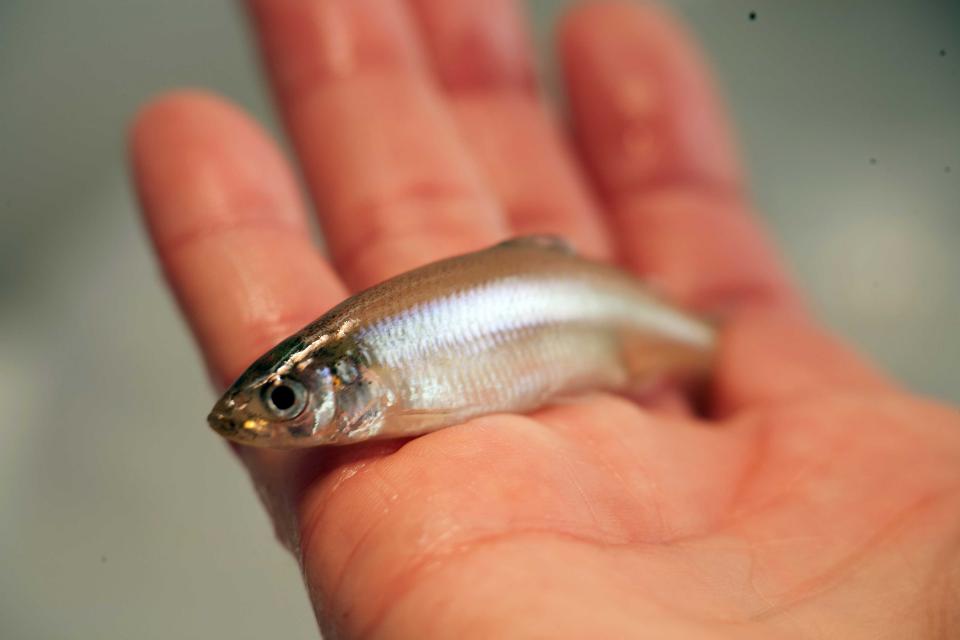 One of the most frequently discussed animals in the Sacramento-San Joaquin Delta is fish. From the anadromous life cycle of the salmon to the controversial and little-understood Delta smelt to invasive species such as the largemouth bass, few animals have a larger impact on water policy and infrastructure in the Delta than the dozens of native and introduced fish found there, especially those species considered endangered.
On our annual Bay-Delta Tour, May 16-18, you will spend three days immersed in water-related topics, and among them is fish. Most notable is the endangered Delta smelt, whose protections have at times halted the pumps that send water from the Delta to the San Joaquin Valley and Southern California.
But do you know what a Delta smelt smells like? You'll experience it firsthand and see the most cutting-edge aquaculture techniques at the University of California, Davis Fish Conservation and Culture Lab. (By the way, they smell like cucumbers.)
Want to learn about the latest strategies in restoring fish habitat in the Delta, including the Delta Landscapes Project? We will have expert speakers from groups at the heart of this groundbreaking effort.
Want to see what California wetlands looked like before the modern reclamation era? We will visit Big Break Regional Shoreline and see where Delta waters mix with the Bay.
Want to learn about California's vital fishing industry? Noah Oppenheim, executive director of the Pacific Coast Federation of Fishermen's Associations and the Institute for Fisheries Resources, will update us on ever-changing conditions and markets.
Want to peek into the array of marine animals that live in the San Francisco Bay? You'll also see fish and other aquatic life up close at the Aquarium of the Bay in San Francisco.
Fish biologists will accompany us for all three days to answer questions and provide insight as we travel from the Delta to the Bay.
Register here for this educational – and fun – tour being held May 16 -18. Don't delay, this tour always sells out and our buses are filling up quickly. For an additional fee, you can receive continuing education credits for the tour.
Click here for information about all our tours or contact Tour Director Dan Scott by email or at 916-444-6240 for more details.