Enjoy Water History, Cultural Treats and Locales During Lower Colorado River Tour
Three-day tour of the 'lifeblood of the Southwest' starts April 11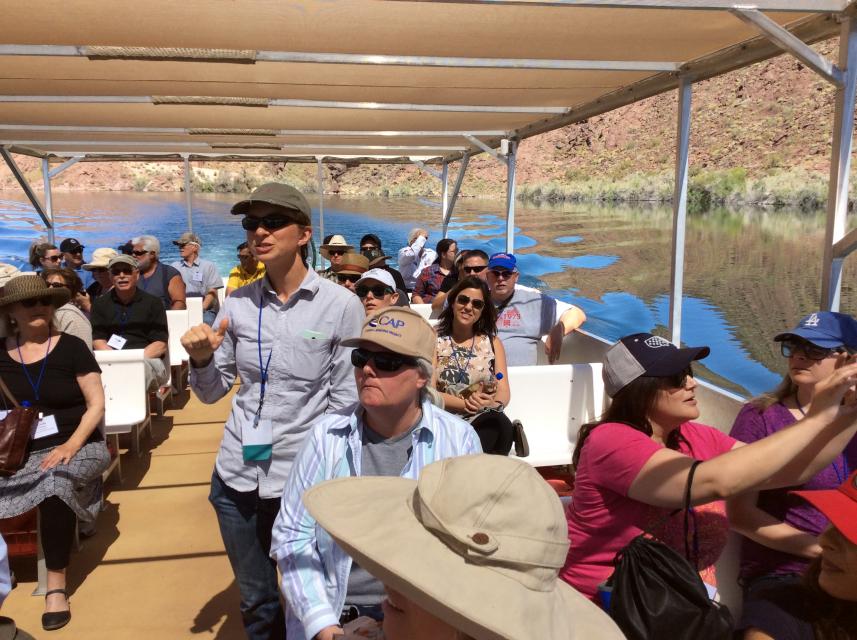 On our upcoming Lower Colorado River Tour, you will not only meet water experts across the Southwest and tour key infrastructure such as Hoover Dam, but also enjoy recreational and cultural attractions.
Have you ever tasted a date shake? This treat is exclusive to California's southeast corner, where the Coachella Valley is known as the nation's largest date-growing region. You'll have the chance to enjoy one as we make a pit stop at a farm store.
After a private boat ride on Copper Basin, one of the Colorado River's reservoirs that serves Southern California, we will have lunch at the historic Gene Camp managed by Metropolitan Water District of Southern California. The camp was built at the direction of William Mulholland more than 80 years ago to house workers constructing the Colorado River Aqueduct as a public works project during the Great Depression. Today, Gene Camp is also famous for having surprisingly authentic Southern fried chicken, biscuits and fruit cobbler in the middle of the desert.
We will also visit Lake Havasu, one of America's premiere spring break destinations. At dinner, we will sample craft beer from a local brewery and walk along the historic London Bridge, imported from Great Britain and rebuilt brick by brick. And don't forget that the tour begins in America's playground, Las Vegas!
Register here for this educational – and fun – tour. Tour transportation, accommodations and meals are included in the ticket price. For an additional fee, you can receive continuing education credits for the tour.
Click here for information about all our tours or contact Tour Director Dan Scott at 916-444-6240 for more details.